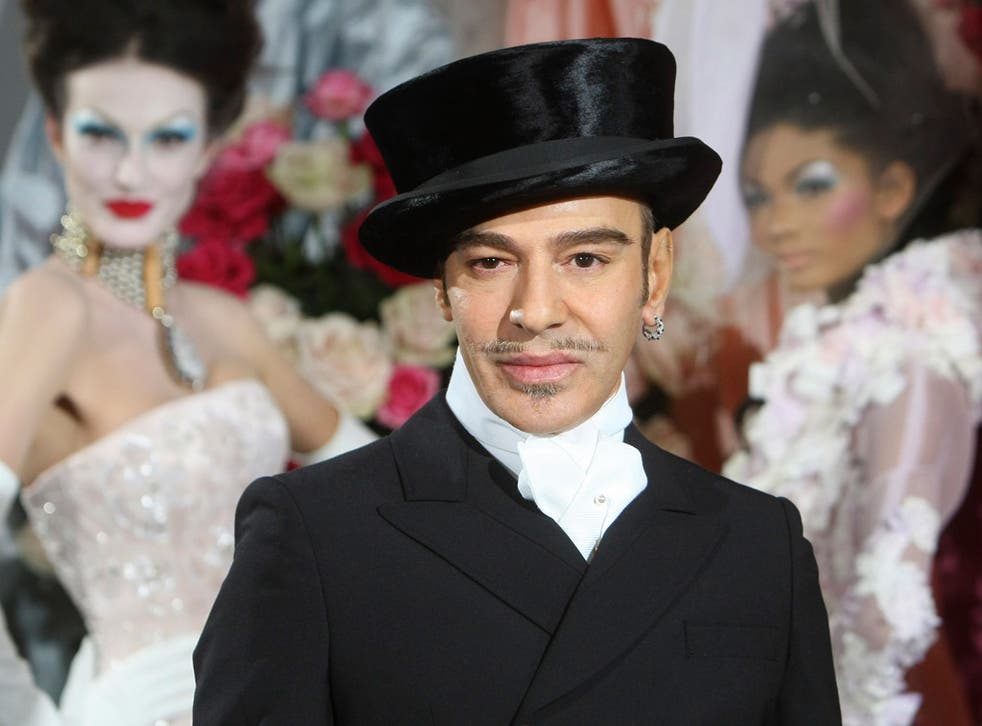 Fashion forecast: From John Galliano to Beyonce, what to look out for in 2015
The Independent's style team highlight the shows, clothes, launches and literature set to cut a dash in the year ahead.
Alexander Fury
,
Rebecca Gonsalves
,
Emma Akbareian
Monday 05 January 2015 14:02 Comments
From designer debuts and new launches, to major exhibitions, books and birthdays. There's a lot to look forward to in 2015.
New kids on the block: Old labels new talent - the big designer debuts of 2015
John Galliano at Maison Martin Margiela
With his first show set to be staged in ­London next Monday, John Galliano's debut as the creative director of the house of Maison Martin Margiela has already raised expectations. The founder himself has reputedly given the appointment his seal of approval, while Anna Wintour's gown at the British Fashion Awards in December gave a hint of what may come with the unlikely marriage of ­Galliano's romanticism and ­Margiela's signature deconstruction. All eyes are on London and breath is decidedly bated for his standing-room only debut a week from today. Alexander Fury
Guillame Henry to Nina Ricci
In his five-year tenure at Carven, Guillame Henry resuscitated the mothballed couture label, turning it into a fresh and fun ready-to-wear brand that has serious cachet among cool girls. We can only assume that he's been set the same task at the eternally romantic Ricci, which is flatlining among the young. Rebecca Gonsalves
Peter Copping takes the reins at Oscar de la Renta
Last year the world said a sad farewell to Oscar de la Renta, the undisputed master of American red-carpet dressing for half a ­century. Peter Copping was approached by de la Renta himself to carry the mantle, and little wonder – his elegant designs are set to be an ideal fit. Emma Akbareian
Johnny Coca moves to Mulberry
Remember when Mulberry was the British accessories brand to beat? Its shareholders surely do and they must have been rubbing their hands with glee when a new ­creative director – the designer responsible for Celine's covetable accessories offering, no less – was finally announced. RG
To be seen in 2015: The year's major launches - collaborations and labels to look out for in 2015
Beyoncé teams up with Topshop
Queen Bey doesn't do anything by halves, so this is sure to be a collaboration like no other. Rather than simply lend her name to the retailer, Beyoncé has invested in a 50/50 venture with the brand that will see her produce an athletic streetwear label in the autumn. topshop.com EA
Finery London
Led by Emma Farrow, the former ­Topshop Unique head of design and Caren Downie, the ­Topshop ­buying director, Finery ­promises to be the new go-to label for ­contemporary classics, aimed at women whose tastes have outgrown high-street wares, but whose budgets haven't quite caught up. finerylondon.com RG
Christopher Kane for NARS
Christopher Kane's burgeoning business empire is set to expand even further this year, as the great Scot makes his first foray into beauty. A full-colour collection, in ­collaboration with NARS, will launch in May. We saw a sneak peek of the range on the models at his spring/summer 15 show. narscosmetics.co.uk EA
Sightseeing: 2015's key exhibitions
Savage Beauty
It was only a matter of time before the blockbuster 2011 Metropolitan Museum ­exhibition landed in London – and given Lee McQueen's propensity for pawing through their archives, the V&A was a ­natural home. Opening shortly after the fifth anniversary of his death, the British incarnation includes more than 40 new exhibits and an entire section devoted to McQueen's London shows. It has already sold in excess of 16,000 tickets – get yours while you can. From 14 March, Victoria & Albert Museum, London SW7, vam.ac.uk AF
Thea Porter 70s Bohemian Chic
Coinciding nicely with spring/summer's huge Seventies revival, is the first exhibition of the work of designer Thea Porter. Not quite achieving the household recognition of her ­contemporaries Biba, Ossie Clark and Celia Birtwell, Porter's glamorous designs nevertheless encapsulate the ­bohemian chic of the era. From 6 February, Fashion and Textile Museum, London SE1, ftmlondon.org RG
Shoes: Pleasure and Pain
No prizes for guessing the subject of this exhibition. Shoe addicts will be hard pressed to find another collection that rivals this one, but don't expect to find any trainers; the ­exhibition's focus is on ornamental footwear through the ages, with little regard for ­practicality or comfort. From 13 June, vam.ac.uk EA
China: Through the Looking-Glass
Given that 2014 saw China surpass the US to become the world's largest economy, the timing of the Metropolitan Museum of Art's ode to the East couldn't be more appropriate. The latest exhibition to be staged at the freshly rechristened Anna Wintour ­Costume Centre will trace the Occidental fascination with Chinese culture as ­represented in clothes by Dior, Chanel, Louis Vuitton and contemporary designers such as Mary ­Katrantzou and Jason Wu. From 7 May, metmuseum.org AF
Paging: Upcoming stylish reads for 2015
Stephen Sprouse: Drawings and Ephemera
The late Stephen Sprouse is best known for his graffiti-tagged team-up with Louis Vuitton, but that was only the final chapter in a career spanning three decades which saw Sprouse boom, then bust, then boom again before his untimely death in 2004. Introduced by Blondie frontwoman ­Debbie Harry – whose 1978 single-shoulder ­static-print dress in the "Heart of Glass" video introduced the designer to the public at large – this volume offers a lavish leaf through Sprouse's continually-influential back-catalogue. Stephen Sprouse: Xerox/Rock/Art: An Archive of Drawings and Ephemera, £35, available March AF
Relive one night in Versailles
On a cold night in 1973, fashion history was made when five young American ­designers faced off against traditional ­Parisian ­couturiers under the roof of Versailles. Old World versus New World, fashion-wise – the Americans helped by a galaxy of star guests. This new book by Pulitzer prize-winning fashion journalist Robin Givhan promises to bring the night – one of the most important in the development of contemporary New York fashion – to life once again. The Battle of Versailles, £18.99, available March RG
Strictly Personal
A fashion show begins the moment that you receive the invite for it: that's a cliché that the acclaimed fashion journalist Iain R Webb is hoping to prove as fact, with a hefty tome documenting 40 years of designer invites. Forget gold-tipped cardboard slabs and think clutches of keys, designer facemasks, ballet shoes and roses, each as individual as the designers they represent (including Gaultier, Ossie Clark, Chanel and Versace). Invitation Strictly Personal, £30, available February AF
Birthday suits: Fashionable anniversaries in 2015
Gareth Pugh turns 10
One of London fashion's most extraordinary talents, Gareth Pugh, makes his rightful return in February, as he marks 10 years of his eponymous business. We can but pray that he'll stay, as the designer's ethereal take on the unexpected would make a welcome addition to the capital's increasingly commercially-minded offerings. RG
Happy 40th Giorgio Armani
Armani the man may have marked a very big birthday last year, but now it's the turn of the brand to celebrate clocking up an impressive 40 years of success. Four decades on from Mr Armani's iconic first designs, he now ­presides over an empire that includes ­cosmetics, furniture and hotels. EA
Karl Lagerfeld's 60th at Fendi
Kaiser Karl famously hates to look at the past, so, despite 2015 marking a momentous 60 years since he began designing at Fendi, don't expect a reflective collection come Milan fashion week. The retrospective, in fact, opens in March at the Bundeskunsthalle in Bonn, curated by Lady Amanda Harlech.
Register for free to continue reading
Registration is a free and easy way to support our truly independent journalism
By registering, you will also enjoy limited access to Premium articles, exclusive newsletters, commenting, and virtual events with our leading journalists
Already have an account? sign in
Join our new commenting forum
Join thought-provoking conversations, follow other Independent readers and see their replies