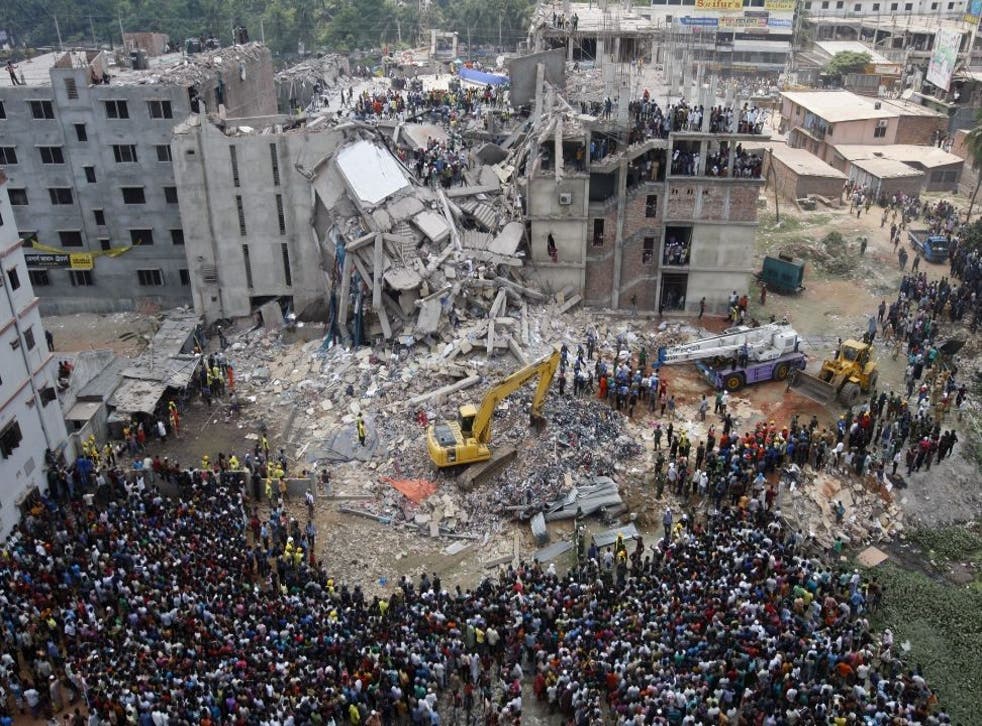 Fashion Revolution Day: #whomademyclothes campaign remembers Rana Plaza disaster
More than 1,000 people died when the clothing factory collapsed in Dhaka
Two years ago, these photos of the unimaginable devastation at a clothes factory that collapsed in Bangladesh shocked the world.
After almost a month of searching the rubble of Rana for bodies the death count stood at 1,129 and the remains of 135 missing people have still not been found.
Shops and a bank in the eight-storey building had been closed immediately when cracks were discovered in the building but garment workers were ordered to return on 24 April.
The horror at the factory, which manufactured products for brands including Matalan and Primark, threw the spotlight on the fast fashion industry in the West and the true cost of cheap clothes.
Today, people are commemorating the Rana Plaza disaster by holding companies to account with the #whomademyclothes campaign.
The date has been renamed Fashion Revolution Day, which started last year in 71 countries, including the UK, to encourage transparency across the supply chain.
"If companies don't know how and where their products are made, then there's no way for them to ensure their workers are protected," said Orsola de Castro, co-founder of the event.
"Transparency is important because it shows a company's willingness to be held accountable for its supply chain and this builds up public trust."
Fellow co-founder Carry Somers added just 30p extra per item could make a dramatic difference in the standard of living in Bangladesh and other manufacturing countries.
Fashion Revolution Day marks the anniversary of the Rana Plaza factory collapse

Show all 13
"The fashion industry supply chain is fractured and producers have become faceless. This is costing lives," she added.
"We have incredible power as consumers, if we choose to use it."
As the campaign spread today, people were being encouraged to look at the labels on their clothes and ask who made them.
Additional reporting by PA
Join our new commenting forum
Join thought-provoking conversations, follow other Independent readers and see their replies