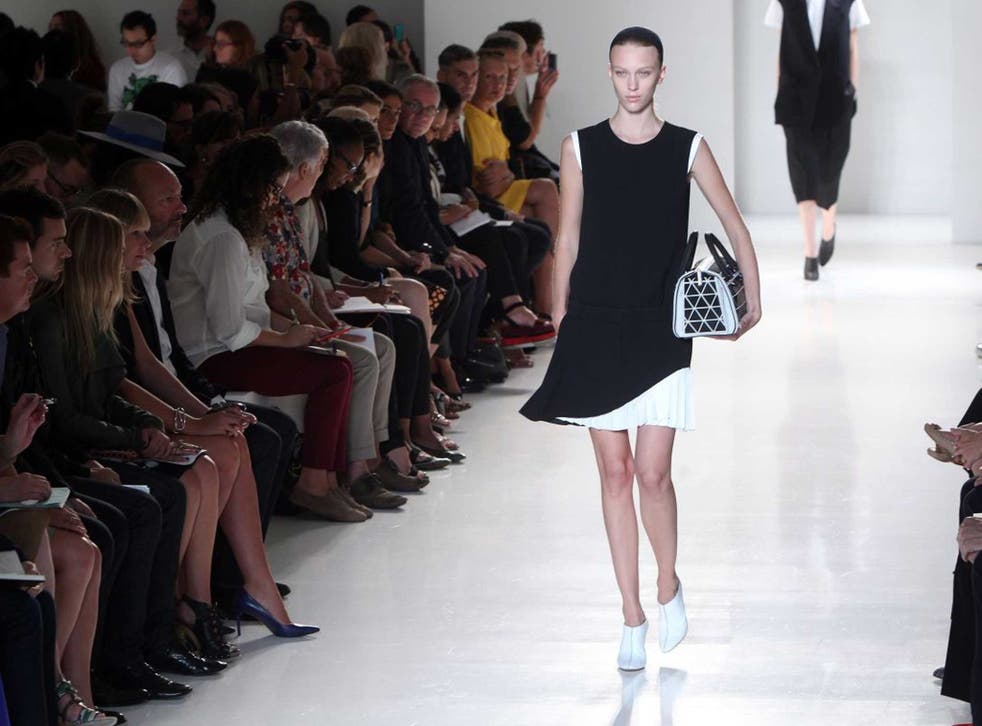 Fashion victim to style victor: Victoria Beckham's journey from Spice Girl to respected fashion designer
Once seen as a bit of a novelty, she has developed into a well regarded – and successful – designer, with a much-anticipated catwalk show in New York. Fashion editor Alexander Fury salutes her
Alexander Fury
Sunday 09 February 2014 01:00 Comments
There's a story, possibly apocryphal but entirely plausible, that the designer Tom Ford once tried to prevent Victoria Beckham from wearing his clothes. That was more than a decade ago, when Ford was head of Gucci and Beckham was "née Adams" – or more significantly "née Posh", one fifth of the Spice Girls. Despite being the biggest group on the planet, the Spice Girls, rather like ABBA, never really shook off the novelty tag. Especially where fashion was concerned.
What has happened between then – when Victoria and David sported matching Gucci leather jackets – and now? It's nothing short of a complete transformation: the re-education of Victoria Beckham, from clothes-horse to bona fide fashion designer. Today, she will present her mainline collection to a heavyweight audience of retailers, editors and critics at New York Fashion Week.
"I'm never going to be 'angry' when people mention my past, I mean it is what it is … but people don't mention the Spice Girls so much now," Beckham said in an interview with LOVE magazine last year. "People do consider me a relevant fashion designer and the brand being incredibly relevant – and that's great."
Victoria Beckham - New York Fashion Week spring/summer 2014

Show all 8
You get the feeling it's something of a Cinderella story. Beckham was always a fashion fan. Even when she was Posh Spice she wore great clothes. They weren't just blazing, brazen brands – Gucci, Dolce and Versace. In the film Spice World, she performed in a dress from Alexander McQueen's first ready-to-wear collection for Givenchy. It was not exactly the Gucci double-G when it came to brand registry.
Brand Beckham is, though. It has been used to sell everything from denim to perfume, to a line of H&M bodywear. But Victoria Beckham is more than her name – the industry term for her would be creative director. That's the new favourite moniker for fashion designer – a title awarded to Donatella Versace, Alber Elbaz at Lanvin and Karl Lagerfeld at Chanel and Fendi. And it's a title that actually says a lot. It doesn't imply that Beckham deals with the nitty-gritty of pattern cutting and godet placement.
Beckham is reportedly hands-on when it comes to her fashion, trying on garments to test the fit. She's an exacting consumer, and has brought the perfectionism of an avid luxury goods shopper to her clothes. Prices are high (this season, a silk and wool day dress retails for £1,450, a matt satin evening gown for £2,750), but the fine finishing and fabrics warrant them. Her handbags range in price from about £900 to £2,500, but have soared up to £18,000.
The real test? Women are buying Beckham. Beckham Ventures, the company behind the clothing label, reported a turnover of £15.4m in 2012, and a profit of £1.5m.
Beckham's name carries cachet, sure. It will, perhaps, shift some fragrance at the lower end of the market, but it will not shift a £2,000 dress, or a £1,500 handbag. These clothes are selling because they're good. Because Beckham is good. Buyers from Selfridges say that the clothes fly off the hangers.
The fashion industry seems to have taken Victoria Beckham to its heart. Last year, she was guest editor for the December/January issue of too-cool-for-école French Vogue, and tomorrow she will discuss "her career as a designer and the growth of her namesake brand" as part of a panel discussion with Simon Collins, dean of fashion at Parsons, The New School for Design, on Fifth Avenue.
Victoria Beckham is taken seriously because she takes fashion seriously. Look at her shows: originally intimate presentations with Beckham herself talking the fashion press through her wares, they are now full-scale catwalk shows, but still not blockbuster affairs. Contrast that with Jennifer Lopez's short-lived "Sweetface" range, or Sean "P Diddy" Comb's "Sean John" line, both launched with much fanfare around the time Posh and Becks wore their matching Guccis. Beckham learnt from her predecessors.
It's also worth noting that the fashion line is the focus of Beckham's career. There are no "fashion designer/..." afterthoughts to her work. "It wasn't until after the Spice Girls that I could really knuckle down and I was in a position to do what I really wanted to do," she said last year. "Which was fashion."
Read any Beckham profile – or that weighty guest-edited issue of French Vogue – and she's described as a fashion designer. Because today, that's Victoria Beckham's job. One she does very well indeed.
Register for free to continue reading
Registration is a free and easy way to support our truly independent journalism
By registering, you will also enjoy limited access to Premium articles, exclusive newsletters, commenting, and virtual events with our leading journalists
Already have an account? sign in
Join our new commenting forum
Join thought-provoking conversations, follow other Independent readers and see their replies