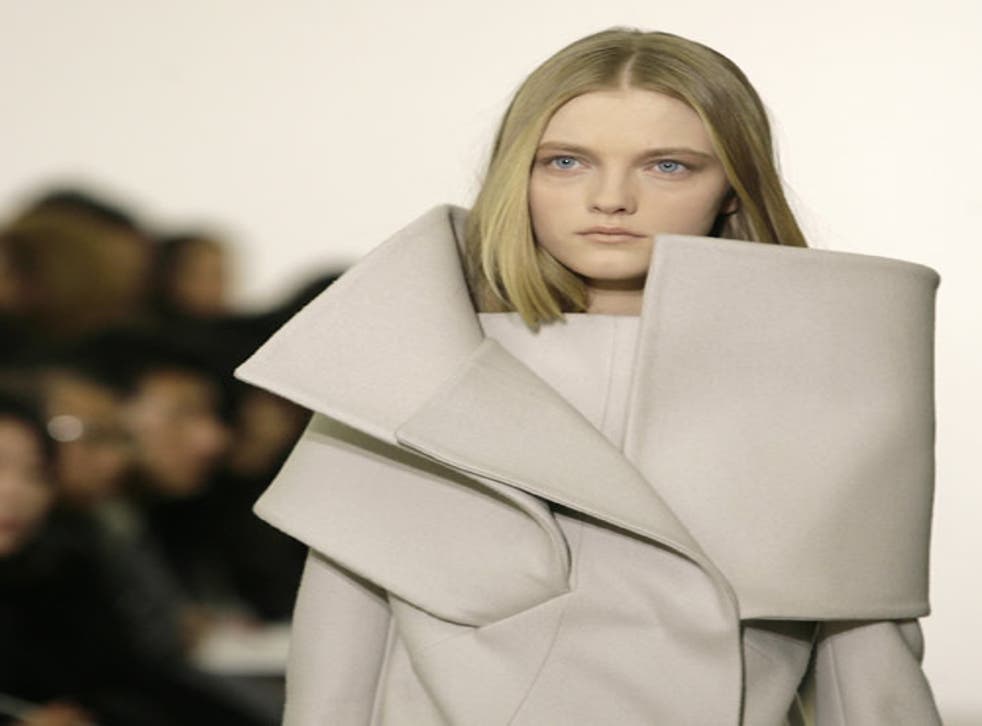 Ferragamo revives the sexy Seventies with shiny jumpsuits aplenty
If anyone at Milan Fashion Week was in any doubt that the Seventies had returned, the Salvatore Ferragamo show yesterday drove home the message. With shiny jumpsuits, flared trousers and shaggy coats aplenty, references to the decade were about as subtle as a lit-up dance floor and big shiny glitter-ball.
This was the first collection by the new designer Christina Ortiz who joined Ferragamo last August, and she was clearly keen to make a big statement for the company's 80th anniversary this year. The show screamed wealthy disco diva panache, with a touch of glam rock attitude thrown in courtesy of a bronze leather trench coat and sequinned cape.
With plunging necklines and tiny straps, these were clothes for showing off the body. Jumpsuits came in wool and satin, flared trousers in velvet and silk jersey and with matching jackets. Dresses were either short and crafted in chain mail or floor-length in silk. In addition to a basic colour palette of black, off white and nude, there were lashings of Seventies-style purple and olive green – both quickly establishing themselves as the hues of the autumn/winter 2008 season.
Ferragamo may have been focusing on the "sexy Seventies" but this week's shows have explored different sartorial sides to the decade. One thing they all have in common is that they are following the lead of Miuccia Prada. The Prada spring/summer collection, currently selling like hot cakes at a designer store near you, featured flared trousers, full skirts, and long cardigans in Seventies patterns and palettes. And where Italy's first lady of fashion leads others will surely follow.
Taking on the decade of the season in a more conservative way, D&G's collection recalled a more suburban British take. Here were tartan flares, velvet trousers some with a paisley pattern, and silk headscarves, while a full brown skirt teamed with a paisley pussy bow blouse and diamond-knit tank top could have come straight from The Good Life.
Purple and green featured strongly, as they did at Alberta Ferretti, and the Burberry show, where creative director Christopher Bailey offered up shot silk flares in damson and moss. Bailey moved away from the hard-edged warrior woman mood of last season to a more carefree "it-girl-about-town" feel that seemed to sit more easily with the label's heritage even if it wasn't radically new. The designer also built on the brand's signature pieces with takes on the classic trench coat that included oversized, tiered and balloon-sleeved versions, and silver and copper fabrics.
Not everyone succumbed to the Seventies, however. Raf Simons blazed his modernist trail at Jil Sander with minimalist structured dresses, slim trousers, and jackets with high folded collars accessorised with neoprene sock boots.
Register for free to continue reading
Registration is a free and easy way to support our truly independent journalism
By registering, you will also enjoy limited access to Premium articles, exclusive newsletters, commenting, and virtual events with our leading journalists
Already have an account? sign in
Join our new commenting forum
Join thought-provoking conversations, follow other Independent readers and see their replies