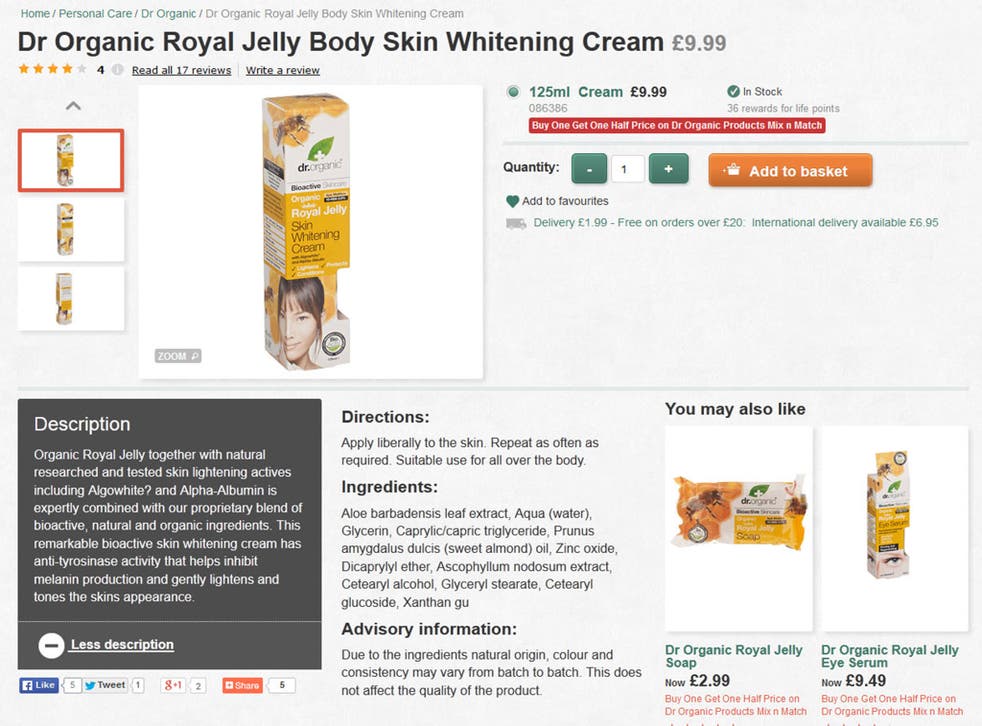 Holland & Barrett under fire for selling skin-whitening product
Holland & Barratt says the product is intended for treating age spots and similar blemishes
Pavan Amara
Monday 29 September 2014 05:18 Comments
Holland & Barrett, the health food chain, has been criticised for "exploiting racism to make money" by race equality charities which have called on it to remove a skin-whitening product from its shelves.
The £9.99 Dr Organic Royal Jelly Skin Body Whitening Cream is described on the company's website as helping to inhibit melanin production and containing skin-lightening ingredients.
The company claims it is intended to help people with age spots or sun-darkened skin, but equality campaigners say they are "shocked and quite disturbed" that a high street shop is "promoting a throwback to the racial hierarchies of colonialism and segregation".
Jabeer Bhutt, the deputy chief executive of the Race Equality Foundation, said it was "hugely irresponsible" of the company to sell the product, and asked for it to be removed from shelves immediately. "The fact that they are openly selling this is so damaging to the self-esteem of black and minority ethnic people in the UK," he said.
"During the 1970s these creams were illegally sold in market stalls. They contained bleach, and people of African-Caribbean, Asian, and mixed-race heritage used them. Some disfigured themselves trying to whiten their skin. I don't believe a big company like Holland & Barrett doesn't know all of this, but is still prepared to attach itself to that history if it can make money. That horrifies me."
In a statement, Holland & Barrett said the product did not contain "harsh bleaching agents", saying the core ingredient was a brown algae that "has proven skin-whitening attributes especially for use on age spots, liver spots, freckles, sun-damaged skin, scars, blemishes, dark elbows and knees as well as general skin brightening".
The company refused to say if it would be taking the product off the market.
But Maria Sobolewska, a lecturer and researcher in race and ethnicity in Britain at the University of Manchester, said: "They've clearly done their market research and want to cater to an increasingly influential BME [black and minority ethnic] market."
Debbie Weekes-Bernard, the head of research at the Runnymede Trust race equality think-tank, said the company "clearly knows its target demographic and why they'll buy it".
She added: "Something marketed as a skin-whitening cream is not going to attract a raft of blonde women, so to say it's for age spots doesn't work. It's an insult to generations of work done to encourage darker-skinned people to have pride in their skin."
Register for free to continue reading
Registration is a free and easy way to support our truly independent journalism
By registering, you will also enjoy limited access to Premium articles, exclusive newsletters, commenting, and virtual events with our leading journalists
Already have an account? sign in
Join our new commenting forum
Join thought-provoking conversations, follow other Independent readers and see their replies