The Independent's journalism is supported by our readers. When you purchase through links on our site, we may earn commission.
How anonymous designers are trading on their creators' lack of ego
Designs with no name attached, labels without words – what does that offer customers? An antidote to the anodyne, says Alexander Fury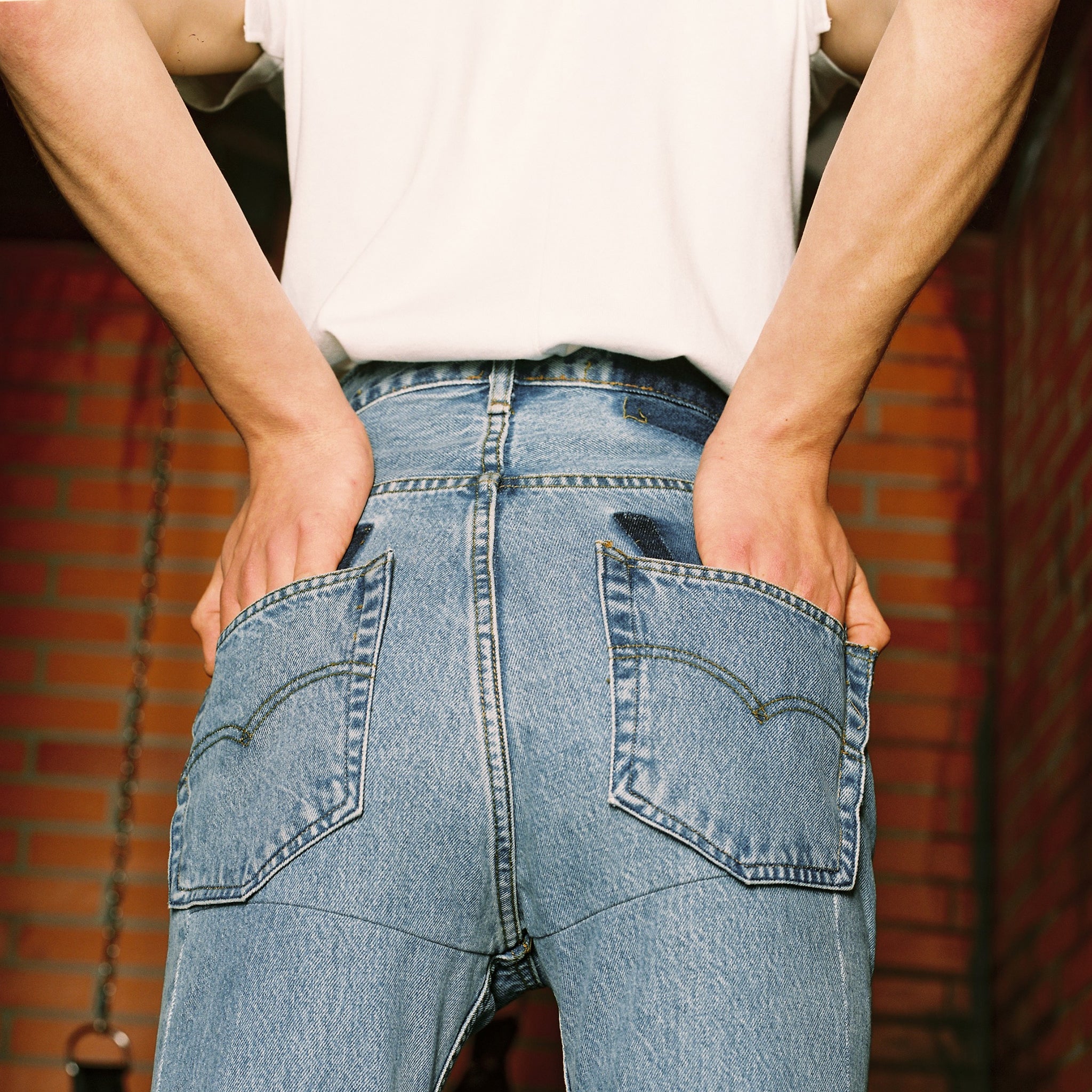 The most talked-about show of autumn/winter 2015 Paris fashion week wasn't staged by a big brand, in a big tent, with a big load of hoo-hah. It was held in the dingy enclaves of a subterranean gay sex club, Le Dépot, in the Marais. The models were street-cast, a rag-tag bunch of fascinating but not exactly beautiful faces, wearing jumble sale garments; things like "Welcome" doormat-print skirts, chopped up T-shirts, oversized bomber jackets and sloppy tailoring.
The labels inside those oddball clothes – now reaching stores worldwide, including MatchesFashion.com, Joyce and Opening Ceremony – didn't carry a designer name. Instead, they said "Vetements," almost-French for "clothing". (Apparently, trademarking the word "vêtements" with the correct circumflex accent is especially difficult). And it turns out that this non-label is headed by designer Demna Gvasalia alongside two others. Until recently, those two were moonlighting while designing for existing Paris houses, hence the need for anonymity. Gvasalia also used to work for enormous brands; for example, Louis Vuitton and Maison Margiela, stars of the fashion establishment. Now Vetements is star of a new establishment, a fast-rising undercurrent of designer brands who eschew singular names and many of the trappings of traditional luxury.
The generation before them - people like Christopher Kane, Mary Katrantzou, Anthony Vacarello and Joseph Altuzarra, who only designs under his surname - offer polished clothing, prominently labelled to justify its expense. Evening and cocktail wear predominates. However, the new generation of nameless names, spearheaded by Vetements but including 1205 in London, Off-White and Hood By Air in New York, as well as Blazé Milano, which specialises in tailored jackets, propose something different. Not all are turning clothes inside out or upside down in the Vetements mould, but they share a personal distaste for the limelight, and a professional focus on product. They're also dressing women for the everyday.
Vetements are the most interesting example. They've also, arguably, risen the furthest and the fastest. They presented their first collection, on rails rather than the catwalk, in Paris in March 2014. It was made in Gvasalia's bedroom. This year, they were finalists for the prestigious LVMH prize. "It felt like there was a niche of people… who wanted just clothes," says Gvasalia earnestly, about the impetus to begin Vetements. "No statements… just proportion, certain volumes, certain kinds of pieces, that they wanted to wear. And we had 27 stores [buying], in the first season." They now have 84.
The notion of a nameless label isn't completely new. Maison Margiela, founded in 1989, is the best example (and was also Gvasalia's training ground). The house may bear the name of a single designer, but its labels are either blank – boldly stitched with four loops of thread visible on the exterior of garments – or demarcated with a series of numbers, which denote the different strands of the house. Influenced by his experiences working with the highly-visible designer Jean Paul Gaultier, Margiela refused to be photographed for press, or take a bow at the end of his shows.
The house of Margiela is an obvious influence on this new type of designer – conceptually, and clothing-wise – with their unfinished hems and patched-together garments. Rei Kawakubo is another. She also refuses to acknowledge applause at the end of her shows; her label is called Comme des Garçons, a bamboozling moniker which hides Kawakubo's cultural origins (Japanese, not French) and also her gender. And as with Margiela's blank label and faceless designer, it adds a touch of mystery. It makes it all a bit more difficult.
Vetements like being difficult too. Their name is a nightmare to Google; try tapping it into YouTube, to see their debut and sophomore shows, and you're as likely to be confronted with dodgy lingerie catwalk presentations and French vlogger "haul" videos. I ask Gvasalia why he called it that, and he shrugs. "We thought about it – it's generic. What is it about? In the end, it's really just about clothes. We're based here [in Paris] so we thought it sounds kind of fancy in French! It really was very… logical." And there's lots of logic to these labels, too, as a movement – the fundamental one being to dress people, rather than create a designer look. "The ultimate designer, for me, is the woman who wears it," says Gvasalia. "It's how she interprets it, her personality, her style." And Paula Gerbase of 1205 characterises her customer as "someone of substance – free to make their own choices". Gerbase, with her blunt-cut fringe and precise diction, is as no-nonsense as her clothes, cut sharply in cottons, wools and interesting synthetics, with minimal decoration. The fact that her label doesn't bear her name doesn't divorce Gerbase from it: 1205 is derived from her birthdate – personal but still anonymous.
So gone is the idea of designer as arty-farty titular head, like Charles Frederick Worth, the godfather of haute couture and the first man to put his name on a label inside clothing. (He used to sport a beret and an artist's smock, declaring that he had a colour sense to equal Delacroix's.) Today, rather than didactic designer fashion – the old-fashioned dictation of the whens and wheres of hemline heights – the approach of a new kind of designer labels is more modern, less prescribed. Their philosophy? Here's some stuff. Try it on. You may like it. "Commercial", Gvasalia says, isn't a dirty word.
It is an approach what you see across the board, among this new breed. Hood By Air, for intance, the conceptual label by Shayne Oliver, is grounded in the nuts-and-bolts of streetwear. The latter is a description many designers chafe at, claiming it demeans the design inherent in their clothing, reducing it to the level of tracksuits, T-shirts and trainers. But what's wrong with being worn on the street?
That's the appeal of these vêtements – by Vetements, and everyone else. There's a concept and a meaning to what they do, sure. But they don't make you wear that, or even their name, on your back. They don't turn you into a walking billboard, where your clothes wear you. In short, they're anonymous, but ensure that you're not. In a fashion landscape of screaming, boldface branding and designers as celebrities (with multi-million Instagram followers to boot), that's not just refreshing. It may be revolutionary.
Join our commenting forum
Join thought-provoking conversations, follow other Independent readers and see their replies