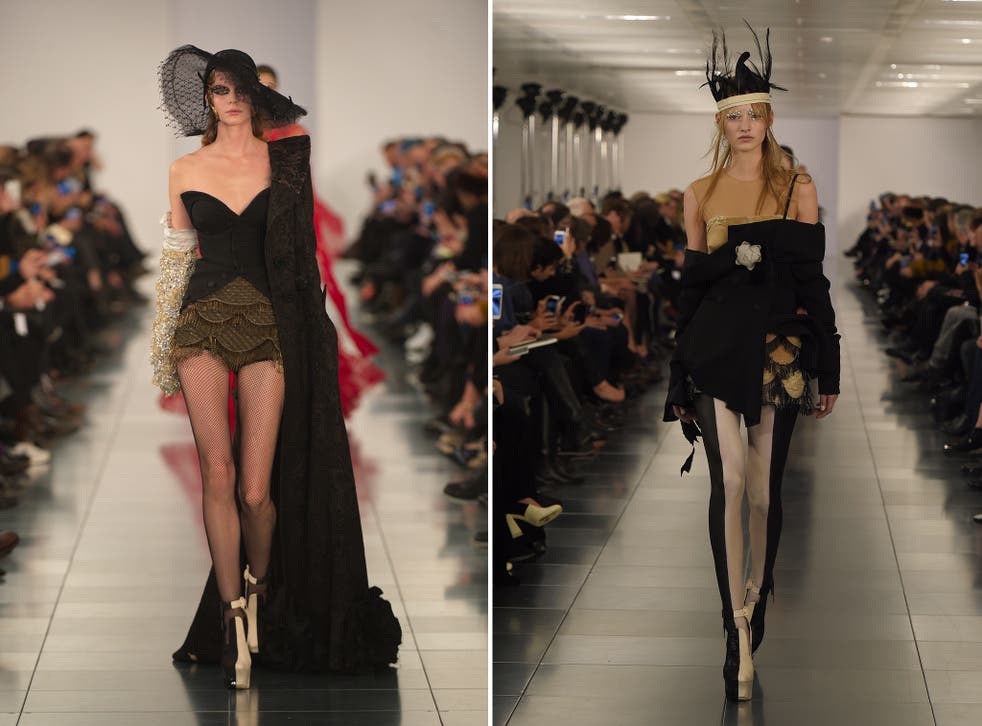 John Galliano returns to London with ingenious and experimental debut collection for Maison Margiela
First outing for Maison Margiela features delicate tulle dresses and swaggering coats torn apart and reconfigured, and a shredded coat skewed from the waist into a ball gown
Alexander Fury
Monday 12 January 2015 20:34 Comments
In a brand spanking new, antiseptically clean, state-of-the-art office block in central London, John Galliano – the former creative director of the house of Christian Dior - presented his debut collection for Maison Margiela to a hundred friends. Friends, and international fashion editors, one per publication who fought tooth-and-nail, bayed and teeth bared, for a coveted seat. With a reputation at Dior for showing in grand national monuments (a multiple-thousand seater tent in the grounds of Paris' Musee Rodin was a favourite), and in elegiac environs for his eponymous label (disused mansions or storied Parisian chateaux), read into that venue what you will. A blank slate? A fresh start? A white backdrop – much in the Margiela tradition, a house whose label is famously left blank?
Maybe all of the above. Everything, but everything, in this fashion show was searched eagerly for meaning. Because it was entirely unique, even before a model appeared. Galliano was, of course, dismissed from both Dior and his own label in 2011, following a drunken rant in a Paris bar. He entered personal rehabilitation days after the event, flying to the Meadows facility in Arizona, but his professional rehabilitation has been a far longer process. Four years, to be precise.
Those were exceptional circumstances. Add to them the fact Galliano chose to leapfrog the entire haute couture season, and the channel, to show his collection on the final day of London's autumn/winter menswear showcase. No other member of the Chambre Syndicale de la Haute Couture, the governing body of the French fashion industry, has ever done that. It resulted in Maison Margiela being struck off the calendar of the official couture week, staged at the end of January. This event was a true one-off.
That felt appropriate. It is, after all, the point of haute couture, where garments are only crafted by hand entirely to order, for specific clientele. It's labour-intensive, and hence heinously expensive. Example: the wedding dress Galliano's Dior created in 2005 for Melania Trump, bride of Donald, cost £130k. Margiela's line, although shown under the couture parapluie, is dubbed 'artisanal,' emphasising the importance of the craftsmen behind their construction. Frequently, that has been reduced to the man-hours taken to, say, whip a batch of cellophane tinsel into a jacket, or hand-sew hundreds of leather gloves into a sleeveless bodice. A focus on human ingenuity over mere expense.
Compare and contrast: Margiela and Galliano on the catwalk

Show all 26
John Galliano, as a designer, is ingenious. His return to London emphasised that. London was the scene of Galliano's early triumphs: his swaggeringly-confident BA graduation collection, for instance, titled Les Incroyables and inspired by French aristocratic rebels. That landed him the window of Browns boutique aged just 23, with coats made from tattered curtain brocade made on domestic sewing machines. Later collections featured corks as buttons, and matted twigs and clocks in models' hair, twine wrapped around waists as makeshift belts. It was madcap, unwearable, but exploding with ideas.
His first outing for what seems to be the newly-renamed Maison Margiela (dropping the 'Martin') captured some of that exuberant energy and sense of experimentation. Delicate tulle dresses and swaggering coats were torn apart, reconfigured so a pair of tuxedo trousers flipped upside-down into a strapless dress, or a shredded coat skewed from the waist into a ball gown. Flotsam – shells, scraps of haberdashery, toy cars and soldiers, none of it especially fashionable – were bricollaged together, Arcimboldo-style, to form faces. Galliano referred to them as a 'Cabinet de Curiosités'. Perhaps they were also a wry side-swipe at a house known for being unknown (during his whole career, the founding 'Martin' never showed his face to the press), from a design known for taking his bows dressed as anything from Napoleon to Neil Armstrong (yes, in a real space-suit). He restrained himself chez Margiela to a barely-there wave in the house's signature white coat.
I met with Galliano a few months ago – the conversation was decidedly off the record, but he did talk about delving into the house's archives and unearthing the beating heart of the label. It was reflected here, on the record. Galliano referred to 'returning to one's roots'. Meaning both his own, and Margiela's. The label's leitmotif is the undone – the unfinished, the work in progress, the partially-realised. Deconstruction was the tagline applied to it, when Margiela first began showing his revolutionary clothes in Paris in the late eighties. And they were revolutionary, ripping apart garments and inverting received notions of luxury.
Galliano's a revolutionary too. As finale to this show, he paraded not the same outfits again, as convention decrees, but the toiles – the "works in progress" rendered in cotton calico. They showed the process of trial, error and experiment that resulted in each garment. Representing the work in progress, they underscored the mood of Galliano's Margiela debut. In a sense, they also could be read as indicating Galliano's emotional journey to this point – his trials, his errors. His toils, through toiles. Emotion is never far away from the work of John Galliano. On a more practical level, they are also the blueprints of garments, private affairs rarely if ever seen outside a couture house's workroom. Which underlined exactly what John Galliano is good at: showing us something we have never seen before.
Regardless of the name on the label – or, in this case, absent from it – that is what his talent will always stand for.
Register for free to continue reading
Registration is a free and easy way to support our truly independent journalism
By registering, you will also enjoy limited access to Premium articles, exclusive newsletters, commenting, and virtual events with our leading journalists
Already have an account? sign in
Join our new commenting forum
Join thought-provoking conversations, follow other Independent readers and see their replies