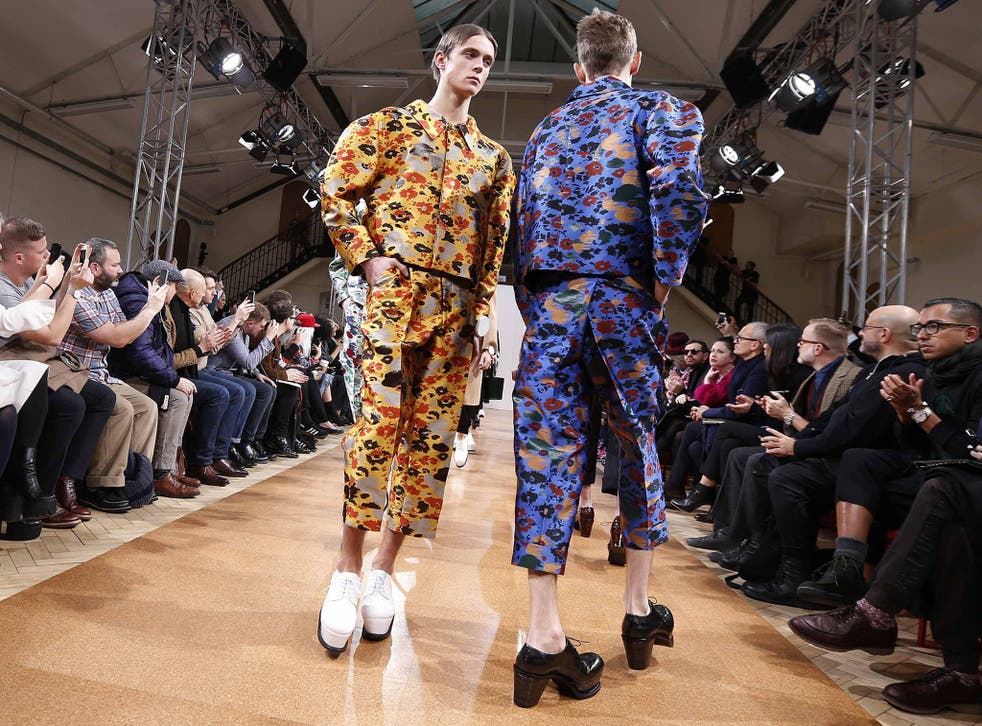 London Collections: Men: Sarah Burton's Alexander McQueen collection takes inspiration from street photography and JW Anderson's heels clog up catwalk
Show summoned some of the menace synonymous with founder's name
Alexander Fury
Tuesday 07 January 2014 20:01 Comments
A Maverick Eye. That's the title of a tome chronicling the street photography of John Deakin, an inspiration for Sarah Burton's autumn/winter 2014 Alexander McQueen menswear collection.
The truly maverick eyes of  London Collections: Men this season belong to three designers: Craig Green, whose MAN show on Monday was a highlight; the young Irish designer seen as London fashion's next big brand in the making, JW Anderson; and Sarah Burton. Over the past 48 hours they are the mavericks who have elicited applause, annoyance and much heated debate.
Burton is the most established: the McQueen label has just turned 20, and its namesake founder's aesthetic found fertile ground in both men's and womenswear. Burton staged her show in a disused church, summoning some of the menace synonymous with McQueen's name. Bauhaus boomed about Bela Lugosi on the soundtrack and her models flocked out frocked-up as Frankensteins, complete with lug-soled platform boots. Despite patchworks in gold lamé and lavish embroideries, the results never felt overly rich, or complicated, even when Deakin's imagery was digitally printed and woven into tailoring.
Oddly, Burton's hyped-up crepe soles found a reflection in the work of JW Anderson. Luxury goods behemoth LVMH purchased a stake in his business in September, the fruits of which could be felt in a refinement of quality, an expansion of range and a focus on accessories.
This player is used within article copy as first element. Default size is 630w but FC code uses it for 460w article layout.
If Burton's platforms referenced Goth subculture and street-style, Anderson's aims were loftier. Inspired by portraits of aristocrats, those elevated heels placed Anderson's men, cloaked and cravatted in abstract takes on 18th-century attire, on literal podiatric pedestals.
Rather than kings, for many, Anderson's shoes rang of the emperor's new clothes, a gimmick for gimmickry's sake. Those clodhoppers also acted as distraction from a collection that was straightforward, often saleable, frequently covetable. At least when you dissected the outfits, and discarded a few.
London Collections: Men autumn/winter 2014 in pictures

Show all 24
Register for free to continue reading
Registration is a free and easy way to support our truly independent journalism
By registering, you will also enjoy limited access to Premium articles, exclusive newsletters, commenting, and virtual events with our leading journalists
Already have an account? sign in
Join our new commenting forum
Join thought-provoking conversations, follow other Independent readers and see their replies