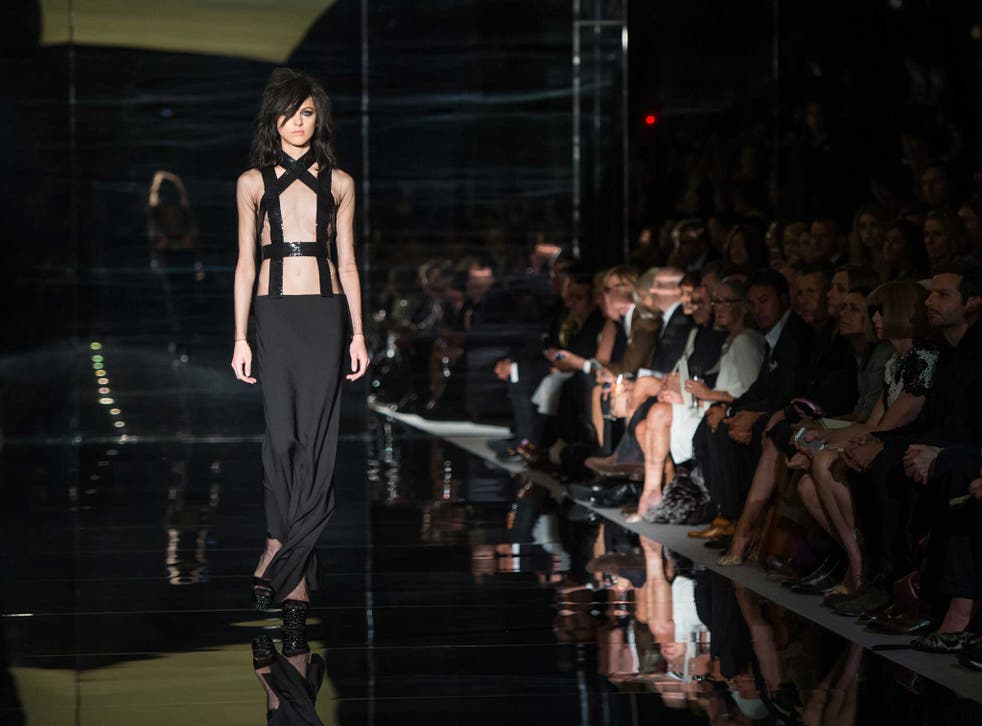 London Fashion Week: Tom Ford strides ahead in search of the perfect Fordean fashion
That's the power, and the perfection, of Ford's style. It's utterly, unequivocally convincing
Alexander Fury
Tuesday 16 September 2014 10:08 Comments
There's fashion. And then there's Tom Ford. The man stands outside of it - not woefully, but wilfully. Tom Ford helped forge the path of fashion today - he numbers amongst very few in the pantheon of fashion greats. Another is Karl Lagerfeld, and another was Yves Saint Laurent. It's interesting to see how these greats operate. They march, entirely convinced, to the beat of their own drums. God knows where they're going. It's rarely where the rest of fashion's Lemmings are following.
That's what makes Tom Ford a great designer, if not a designer definer the way he used to be. The decade he defined was the nineties, then in turn the noughts. And today? Today, Tom Ford is arguably following the path of the late, great Yves Saint Laurent, who once stated: "I am no longer concerned with sensation and innovation, but with the perfection of my style."
Arguably. By contrast, Ford is certainly concerned with sensation (hence the almost-bared breasts) and, to a lesser extent, with innovation (certainly, his clothes always look new versus what he did the season prior). But more than anything else, and just like Yves, Ford is concerned with the perfection of Fordean fashion.
What Fordean fashion means is the extreme gesture: the higher heel, the shorter skirt. A certain aesthetic exaggeration. It is a woman walking around in a dress made of three million feathers. Wait, that's camp. But the Fordean and the camp are frequently bedfellows.
London Fashion Week in pictures

Show all 45
Bedfellows. That cuts to the real essence of Fordean style: sex. He made it a mainstay of his aesthetic at Gucci, then translated that to Yves Saint Laurent. I didn't throw out that YSL quote by chance: Ford designed the ready-to-wear label for four years, following its acquisition by the Gucci group. Oddly enough, he replaced Hedi Slimane as head of menswear, who is now helming the house.
That's a history lesson for those naysayers who snarked that this collection smacked of Saint Laurent. When it comes to the reactivation of that label, Ford started it all. He even redesigned the label before Hedi did, rinsing off the Pop Art squares of orange and pink that had been in place since the mid sixties. Ford's first Yves Saint Laurent show, in 2000, was an ode to Betty Catroux.
She rode high on his own label catwalk today - literally, high, the platform heels of pony skin clogs easily clearing eight inches and hence rendering legs ectomorphic in proportion, sometimes with shoes hidden under puddly trousers for an extra suspension of disbelief. The height of those heels was only matched by the hemlines, which rode so far up the thigh the top of stockings were mostly visible. Incidentally, Ford allegedly insisted all the models in his debut Saint Laurent show wear garters and stockings. It made them feel, and hence walk, differently. It was sexier, he said.
So that's the saint Laurent stuff out of the way - and the argument as to why Ford owns the look. Especially when, in actual fact, this was more referential of his sex-saturated Gucci years, including the kicked-out flared trousers, the hemlines and the salacious, bubbling eroticism of almost-exposed skin. There were slithers of chiffon splicing apart dresses, visible under fringes of suede, in cut-outs on the hip or parting breasts covered in a strategic smattering of pailettes.
The caricature quality of the models' attenuated height was eye-popping. Jack a six-foot girl up on eight-inch heels in a skirt about eighteen inches above her thigh, and the result is simple: the world is your gynaecologist. Nevertheless, it worked. Gloriously. That's the power, and the perfection, of Ford's style. It's utterly, unequivocally convincing. As exaggerated and unreal as these women looked, you somehow knew who they were. And they are willing - and able - to pay a fortune to look like that.
So there is my psalm to the Good Ford Almighty come spring/summer 2015. He came, He saw, He conquered.
Register for free to continue reading
Registration is a free and easy way to support our truly independent journalism
By registering, you will also enjoy limited access to Premium articles, exclusive newsletters, commenting, and virtual events with our leading journalists
Already have an account? sign in
Join our new commenting forum
Join thought-provoking conversations, follow other Independent readers and see their replies