Luella Bartley is latest fashion victim of recession
Designer's eponymous label is forced to stop trading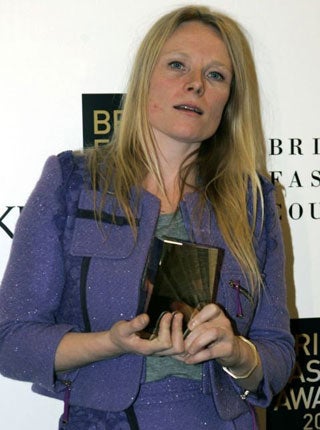 Luella Bartley, the Warwick-shire-born designer integral to the recent rejuvenation of British fashion, has become a surprise victim of the recession. Her eponymous label has been forced out of business after one of its main suppliers closed.
It is a shock to those who have followed the progress of Bartley, Designer of the Year at the British Fashion Awards in 2008. On Monday night, it was still business as usual: she hosted a party at the London store Liberty, where she has designed the Christmas grotto and window display.
"This is a very disappointing situation for everyone involved," she said yesterday. "I have had an incredible team around me... and it is upsetting not to be able to protect jobs in this difficult economic climate."
Known for its idiosyncratic and humorous mix of punk details and party dresses, Luella is the label of choice for the streetwise British girl-about-town and is regularly worn by London gossip-page royalty Alexa Chung, Lily Allen and the Geldof sisters. The designer once described her look as "the kind of clothes you can get drunk and fall over in".
The closure last month of Luella's Italian production company, Carla Carini, meant that orders for the label's spring/summer 2010 collection could not be fulfilled – and so the Singapore-based company in charge of distributing Bartley's clothing and accessories, VSQ, announced that it had "reluctantly" decided to withdraw its backing. Five people in her design studio and 13 in distribution face losing their jobs.
Bartley launched Luella in 1999. Her fusion of traditional British influences – Crombie coats and hunting jackets – with quirky modern details chimed with a nascent Cool Britannia 2.0 movement. She opened her flagship store on Mayfair's Brook Street in 2007.
She joins Christian Lacroix and Yohji Yamamoto on the list of fashion names hit by the downturn this year. Bartley's range is known for its accessibility, and it seems hopeful that investors will see the label's commercial potential.
She is a victim of knock-on effects of the credit crunch, rather than guilty of mismanagement or lack of vision. Luella handbags, hair accessories and leather goods sell well; the dresses – around £500 each – may not be cheap but they are popular in boutiques as well as up-market high street stockists; and her range of graphic T-shirts provides a "way in" to the brand at a lower price.
One of this season's designs depicts a distressed cartoon pyramid scheme holding tightly on to a bag of US dollars. She said she hoped to revive the label. "I love the Luella character," she added yesterday, "and hope that... the Luella girl can have an exciting future."
Bartley, who worked as a journalist at the Evening Standard and Vogue before becoming a designer, lives in Cornwall with her three children and her partner, the fashion photographer David Sims.
Join our commenting forum
Join thought-provoking conversations, follow other Independent readers and see their replies