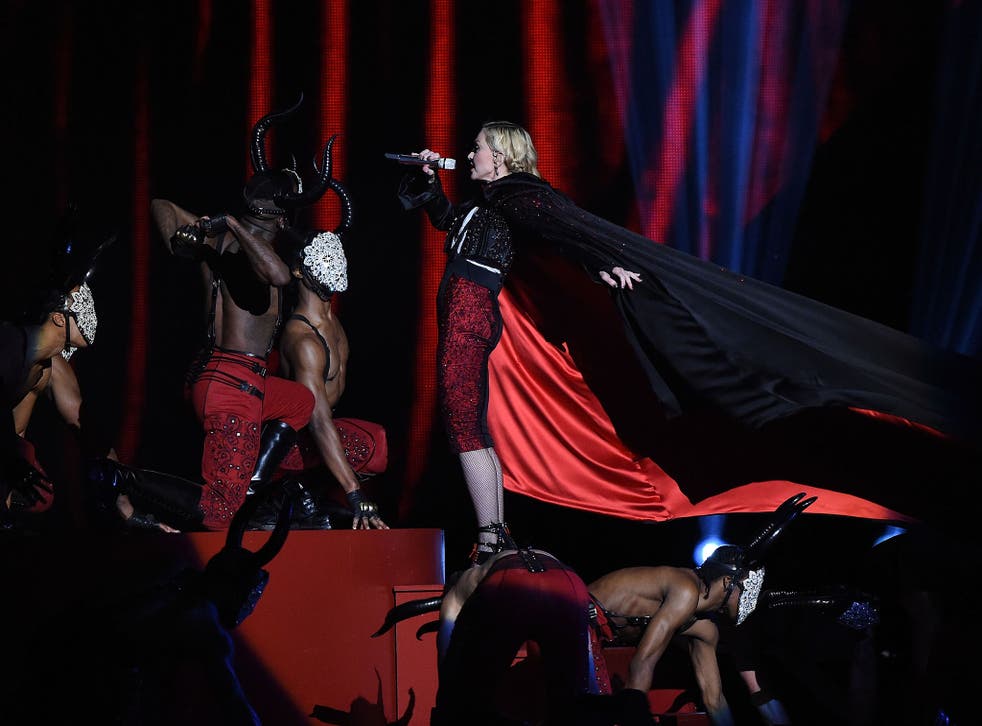 "Madonna is very difficult" Giorgio Armani weighs in on Brit Awards cape malfunction
The designer defended the costume he created for the star.
Emma Akbareian
Wednesday 04 March 2015 11:29 Comments
Giorgio Armani has weighed in on the argument over Madonna's fall at last month's Brit awards, describing the star as "very difficult."
The moment Madonna was pulled backwards by dancers during her first performance at the Brit Awards in 20 years, is far from being old news.
The 56 year old popstar had a nasty fall in front of a live audience when she was unable to untie her cape - part of a costume custom made for her by Italian designer Giorgio Armani.
Madonna was quick to speak out after the incident, uploading a sketch of her costume to Instagram alongside the comment:
"Everybody was worried that my cape was going to slide off because it's quite heavy, so they tied it really tight around my neck." she commented.
"So here I am marching in like a queen, and I got to the top of the stairs and I pulled my silky string, and it would not come undone. And my two lovely Japanese dancers basically strangled me off the stage. I had a choice: I could either be strangled or fall with the cape, and I fell."
In pictures: Famous wardrobe malfunctions

Show all 10
But Armani has now weighed in on the debate putting the blame back with Madonna.
Backstage at his autumn/winter 2015 show in Milan this week he said:
"The cape had a hook and she wanted a tie, and she wasn't able to open to open it with her hands. That's all there is to it. Madonna, as we all know, is very difficult."
Register for free to continue reading
Registration is a free and easy way to support our truly independent journalism
By registering, you will also enjoy limited access to Premium articles, exclusive newsletters, commenting, and virtual events with our leading journalists
Already have an account? sign in
Join our new commenting forum
Join thought-provoking conversations, follow other Independent readers and see their replies