Marques' Almeida wins the LVMH prize
The London duo were announced as the winners of the prize today.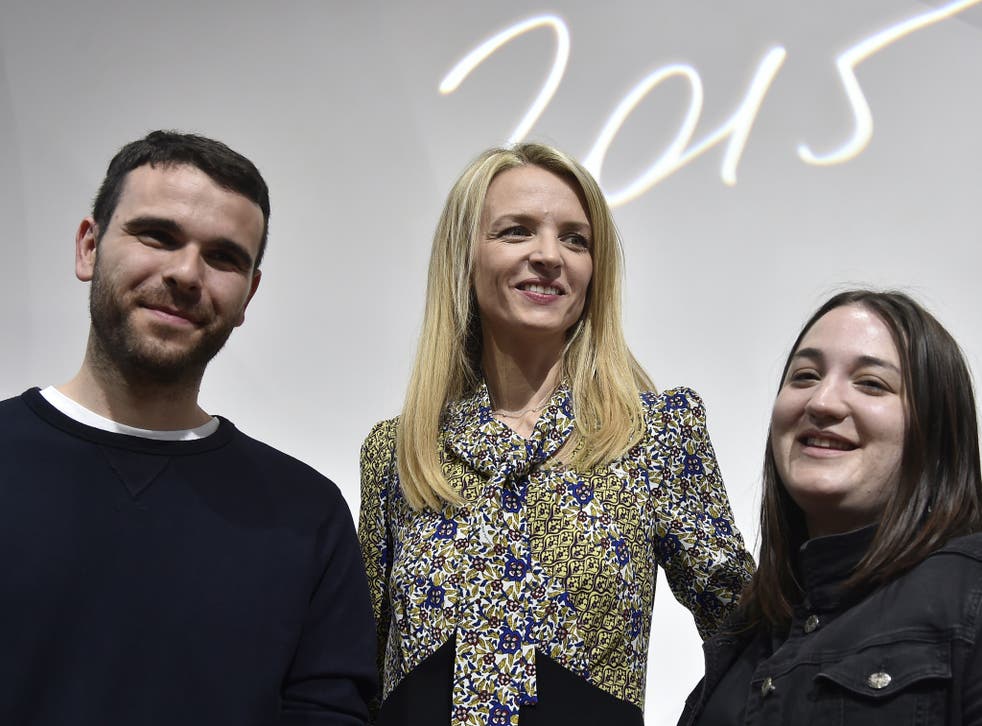 Young London duo Marques'Almeida – known for a careworn aesthetic of intricately-distressed clothing and signature chewed-up denim – have been named the recipients of the sophomore LVMH prize for 2015 - €300,000 (around £213,000) and a year's mentoring from the French luxury conglomerate's finest.
Made up of Marta Marques and Paulo Almeida, they are the second London-based label to win the award after Thomas Tait scooped the inaugural accolade last year. "We wouldn't be able to do it anywhere else," said Almeida, when I interviewed him last year. "Because the way of thinking is so different."
Despite Marques and Almeida's talent – which has been both hurrahed in press and previously rewarded (the label are prior recipients of the NEWGEN scheme and graduates of Lulu Kennedy's Fashion East showcase; they also scooped Emerging Womenswear Designer award for Womenswear at the 2014 British Fashion Awards), this win comes somewhat out of left field. Received opinion had it that the jury would award a French-based talent, or at least look away from London for the second award.
Other designers in the short-list included Illionois-born Virgil Abloh of Off-White (better known as Kanye West's creative director), the Italian Arthur Arbesser and Parisian labels Vetements and Jacquemus. The latter, a label designed by Simon Porte Jacquemus, was the favourite to win – he was the only brand to make the short-list for a second year. He did, however, receive the Jury's prize, of €150,000 and mentoring.
In pictures: Marques' Almeida wins LVMH prize

Show all 7
Marques'Almeida's aesthetic, of disarray and deconstruction, including signature frayed seams and rough-and-tumble combinations of raw hide, raw denim and luxury fabrics like brocade or crystal-strewn chiffon that seem to have been accidentally put through the tumble-drier, is difficult to reconcile with LVMH's stable. Put them next to the mean, lean Celine of Phoebe Philo, the cerebral couture of Raf Simons for Christian Dior, or the fur-throttled insanity of Karl Lagerfeld's fifty years at Fendi, and you'll find nothing in common bar sleeves, skirts and a neck-hole. Then again, as those designers were part of the final jury (comprised of nine LVMH-brand designers in total) that difference was, perhaps, the point. Marques'Almeida's clothes are different to the rest of the LVMH flock.
Interestingly, Marques' Almeida's unexpected inspiration for their autumn/winter 2015 collection were the eighties creations of French couturier Christian Lacroix. You wouldn't normally associate Marques and Almeida's grungy, bedraggled looks with the inventor of the pouf skirt who was known for shoehorning everyone from Paloma "Daughter of Pablo" Picasso, to Gloria von Thurn und Taxis (Princess TNT, the dynamite socialite) into his ruches and frills, his bustled mini-skirts and embroidered coats in rich Caribbean colours. However, in their rich, iridescent surfaces of shot taffeta and damask, his handwriting was discernible. Lacroix was the first label established by Bernard Arnault, LVMH Chairman and CEO, in 1987 – it was founded by Arnault's company Financière Agache, before the merger that formed LVMH – so this is a full circle of sorts. And a Lacroix reference will always please the French fashion establishment, who regard Lacroix as something of a sacred vache.
Lacroix was also a relatively young designer back in the eighties, who Arnaulted helped catapult to global stardom – which is, presumably, the point of these kind of contests. To unearth talent, and support it. Arnault's daughter Delphine is championing the prize - she's also executive vice president of Louis Vuitton, formerly of Dior, and has been credited as instrumental in appointing Nicolas Ghesquiere and the aforementioned Simons as creative heads of those respective houses. Being in her sightline – and that of one of the world's foremost luxury goods conglomerates – is good news for any young designer.
Register for free to continue reading
Registration is a free and easy way to support our truly independent journalism
By registering, you will also enjoy limited access to Premium articles, exclusive newsletters, commenting, and virtual events with our leading journalists
Already have an account? sign in
Register for free to continue reading
Registration is a free and easy way to support our truly independent journalism
By registering, you will also enjoy limited access to Premium articles, exclusive newsletters, commenting, and virtual events with our leading journalists
Already have an account? sign in
Join our new commenting forum
Join thought-provoking conversations, follow other Independent readers and see their replies