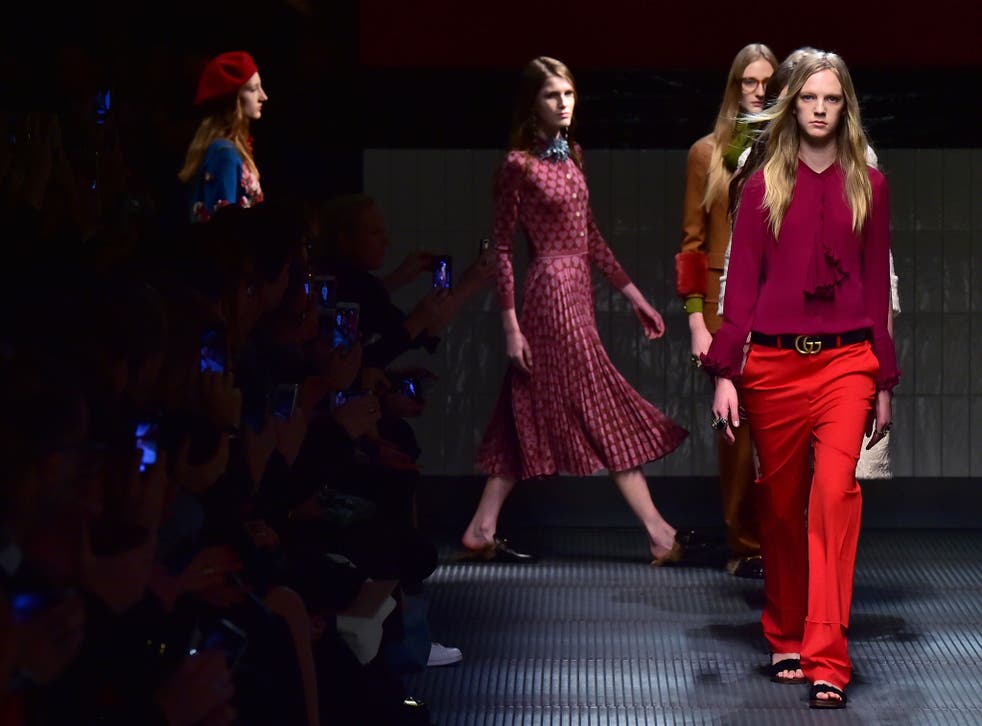 Milan Fashion Week Gucci review: Alessandro Michele makes small steps in the right direction
The Italian designer shows debut collection for the luxury fashion house
Alexander Fury
Wednesday 25 February 2015 17:13 Comments
There are certain things you expect from Gucci. Well two, actually: sex, and sales. After reaching near-bankruptcy in the early nineties, it spun into acquisition overdrive, founding its own luxury conglomerate which was then absorbed into the now-Kering group.
The other brands under the then-Gucci group - Balenciaga, Alexander McQueen, Stella McCartney - were cool, but not especially commercial. Gucci was always the behemoth - it contributes more than 60% of Kering's total income, and revenue for the label in 2014 stood at £2.26bn. Gucci is the second-highest luxury house on Forbes' 100 most valuable brands - above Hermes, Cartier or Prada, and only below Louis Vuitton.
But that £2.26bn revenue is actually representative of an annual drop of 1.1% in sales, the latest in a two year decline. Evidently, Gucci's brand of sex isn't selling as well as it used to. The result? Well, several. The Gucci CEO Patrizio di Marco departed the company in December; the creative director (also his partner) Frida Giannini left less than a month later. Giannini's formula was, in a word, formulaic. She stuck tight to the curves Tom Ford cemented as the house's signatures - the curves of women in sexy, clingy, slightly seventies dresses; the curves of masculine muscles in buttock-cupping trousers and tight jackets; and the curves of the Gucci double-G in accessories. It was reliable, but became predictable. Hence Gucci's sales stagnation.
And hence the installation of Alessandro Michele, a former assistant to Giannini, as creative director, after an interim menswear collection seen as a dress rehearsal and presented following Giannini's premature departure in January (she was scheduled to stay on until March - this collection would have been her last).
That's the back-story - one so complicated it recalls the mid-nineties intrigues and murders that kept the Gucci name in the gossip columns rather than the fashion pages. It's also one hell of a legacy for Alessandro Michele to live up to - or maybe, live down. Hence the fact his opening gambit for Gucci seemed, for want of a better-term, anti-Gucci. Or at least non-slick.
Milan Fashion Week autumn/winter 2015

Show all 26
The Gucci press release for autumn/winter 2015 opened with a quote by the Italian philosopher Giorgio Agamben. It closed with another by Roland Barthes. It was evident that the new creative director Alessandro Michele wanted to forge a distance between his Gucci and its past. Watching Michele's parade of lived in, pre-creased clothes, of heavy brocade coats, pleated chintzy chiffons and knackered furs in mildewed shades of soured cream and peat brown, you were struck by their absolute break with Gianini's tenure, and the Gucci look we know, and used to love.
So there's one goal achieved.
Buried in there were plenty of references to Gucci - the double-G pattern canvas, a cash-cow which until recently was being phased out in an urge to heighten Gucci's luxury cachet, made an appearance (and multiple reappearances) in chain-strapped envelope bags. There was even a direct throw-back to Fordean Gucci, to a slithery satin shirt in vibrating turquoise worn with hip-hugging trousers. Fords was tugged open to the navel over greased flesh; Michele's was chastely fastened. The message? Times have changed.
Overall, there was the feeling this show was about selling you clothes, rather than Gucci's previous, pre-packaged sexual buzz. Contrary to immediate impression, there was stuff here for the existing Gucci woman (all that see-through stuff, all that Gucci monogram canvas). However the intention was to appeal to more than those apparently ever-decreasing circles. A wise move. It's early days - for Michele, and for a new era at Gucci. This was a small step, bravely, in the right direction. Hopefully, it's the start of a giant leap.
Register for free to continue reading
Registration is a free and easy way to support our truly independent journalism
By registering, you will also enjoy limited access to Premium articles, exclusive newsletters, commenting, and virtual events with our leading journalists
Already have an account? sign in
Join our new commenting forum
Join thought-provoking conversations, follow other Independent readers and see their replies