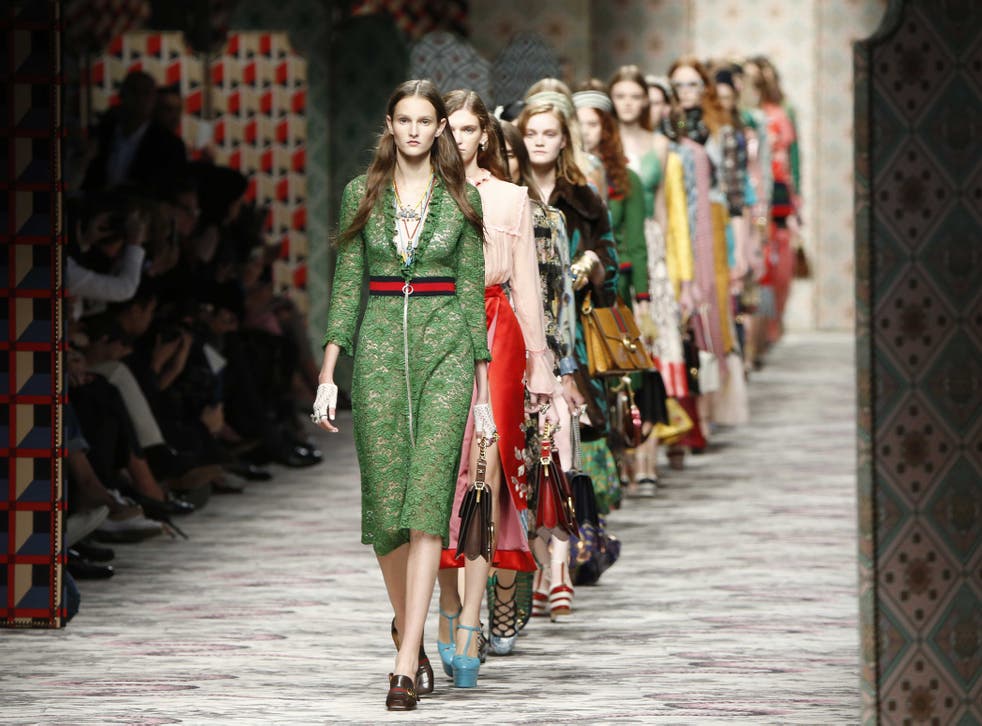 Milan Fashion Week review: Gucci spring/summer 2015
Michele brings an unexpected touch of sexiness to the spring/summer collection
This summer, I went to Gucci's museum in Florence, a great big glob of historical reenactment snuggled up against the Palazzo Vecchio. That Palazzo is a Romanesque fortress, a monument of Florentine victories past; Gucci's museum is also a palazzo, and is also about memories of past glories - the place is filled with the stuff.
The thing I was struck by, there, was the Gucci I didn't know - the stuff before the strumpets of Tom Ford, in their glossed lips and Halston-y jersey, redefined the brand's identity in the nineties. It was an identity Gucci embraced, wholeheartedly, through two successive creative directors after Ford's departure - briefly Alessandra Facchinetti, and a drawn-out spell under Frida Giannini. Honestly, they probably embraced it for a bit too long. Change is good.
That's the whole point, I suspect, of both Alessandro Michele's appointment and his aesthetic direction. To reignite interest in Gucci, and introduce something different. At the moment, different is not what most people would describe Michele's wares as - they're different to the Gucci we know and used to love, sure. But they haven't really shifted greatly, from one collection to the next, although within the collections themselves Michele's ideas buffet about, ricocheting from frumpy mid-calf skirts and granny suits through to underwear-exposing sheer dresses and, this time, platform heels. They were a big deal - it's the first time Michele's shown them. Although his Gucci tenure is only three seasons old, if we count pre-collection. Because it now counts for so much.
In pictures: Milan Fashion Week spring/summer 2016

Show all 22
That Cruise show sowed the seeds of Gucci's spring/summer 2016 offering: you headed backstage after to see the intricately-crafted details of buttons, beads and brocades, like heirlooms unearthed in some Milanese grand dame's attics and dusted off, miraculously free of moth holes. As is Gucci's way, under Michele, a proselytising manifesto unravelled the mysteries of the collection - or rather, expounded on them, whipping the whole thing up into a thick schlag of philosophy and historicism. One bit leapt out, the idea of "maps of tenderness," a sixteenth-century map of desire. It's original version came printed on a dress, but I kind of think the Gucci collection embodied its contemporary fashion counterpart.
Let me explain: the Gucci collection was about desire, just as they were under Ford and Frida. Only the desire Michele hopes to incite isn't carnal, but commercial. He's talked, multiple times, about his love of the woman on the street - his New York pre-spring show had models walking in off a New York avenue, as if clad in their everyday attire. Of course, they weren't. Few people dress exactly like this. Nevertheless, the mixed bag of Michele's Gucci - sort of playful, this time sort of sexy, sort of always all over the place - will find a place in many women's wardrobes. It's about widening the label's remit.
Michele anchored it with looks riffing on the signature Gucci green-and-red webbing straps - spanning the waistband of a green lace dress to open, banded into a full-length skirt to close. Inbetween was open season, of diaphanous chiffon and brocade dresses, gratified suits with boxy retro-style handbags, seventies suits in brilliant brocades, plenty of embroidery. Elsa Schiaparelli was the obvious antecedent here, directly quoted in embroideries of eyes and mouths and scrambling bugs (Schiap did those as a necklace back in the thirties).I suspect Michele was forcing the fact that Schiap's surreal inflected fashion was always seen as eccentrico, just like his. And, hence, that there is more than one vision of Italian fashion, and should be of Gucci too.
There is also more strings to Michele's bow, although he's still playing some kind of bohemian troubadour tune. There was an unexpected touch of sexiness to sheer dresses, and those platforms. Their heft occasionally read "Hooker" - Saint Laurent have a similar style called the "Tribute" which has been a best-seller for almost a decade. Coincidence? The shoes actually told a lot of the story, with heels inset with pearls or carved with orientalist motifs, the backs tromped down into mules, a style we've seen everywhere for spring and which originated (at least, in this recently popularised incarnation) with Michele.
Plenty of people won't like the whole thing, as a total look. No bother. I suspect plenty more will like them as individual pieces, beautifully realised, visually interesting, and oddly covetable. Michele's Gucci marks a sea-change. It's mapping out desire - and new notion of desire - in fashion today. As with many trips, not everyone will want to go all the way, but you can get why some people will want to visit it.
Join our new commenting forum
Join thought-provoking conversations, follow other Independent readers and see their replies