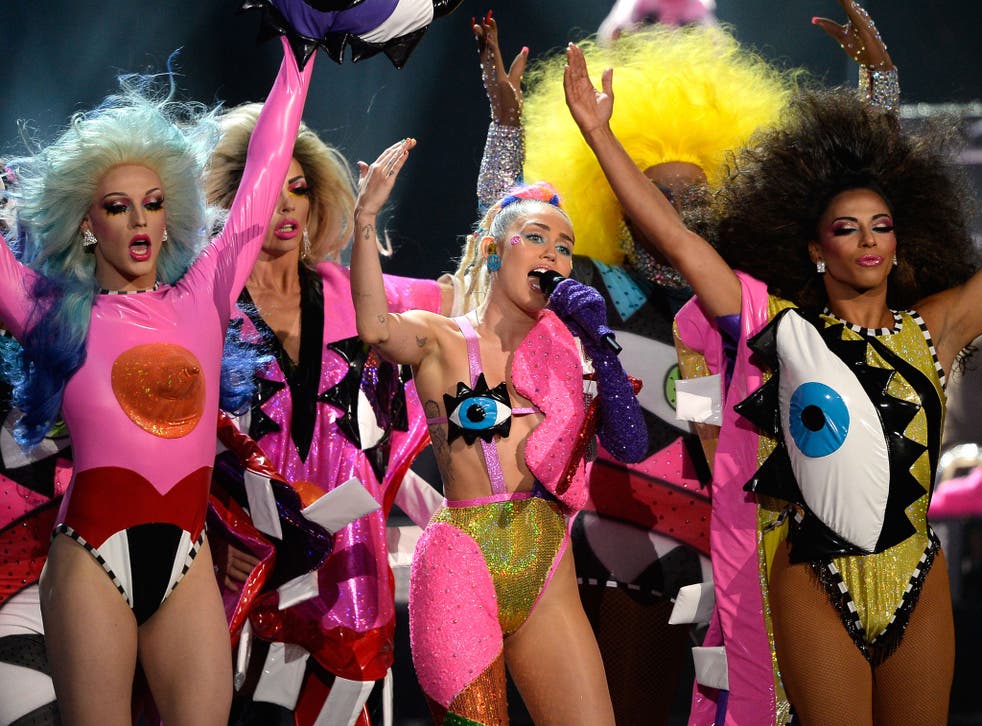 Miley Cyrus' VMA outfits spark copying controversy
Australian designer Discount Universe is accusing Miley Cyrus' costume designer of copying.
Miley Cyrus hosting the VMAs was never going to be a controversy-free event. Her choice of outfits have been a talking point and for more reasons than one.
From bondage style bikini tops to multi-colour sweetie covered latex - Cyrus' costume changes were something to behold.
But it seems one particular outfit is attracting attention and for all the wrong reasons.
Australian label Discount Universe is unhappy with Cyrus' performance outfit - a glittery bodysuit complete with eye motif nipple pastie created by BCalla - which bares resemblance to Discount Universe's own designs.
Social media users were quick to point out similarities comparing Cyrus' costume to designs from the Australian label:
Discount Universe is famous for its outlandish designs which always feature an abundance of sequins as well as the evil eye and lip details which both feature on the VMA costume in question.
Cyrus herself has sported Discount Universe's designs as well as other stars including Rihanna and Nicki Minaj.
The brand took to Instagram soon after the awards show was broadcast to express how 'distraught' they are:
Simone Harrouche - one half of the design team that makes up BCalla who are responsible for the offending costume hit out at the claims, telling Yahoo.com:
"It's very sad that people need to use Miley's amazing performance as an opportunity to create press for themselves, when they had nothing to do with the creative process. It's unfortunate that they're taking away from this young designer's opportunity to make something special for Miley."
VMAs 2015: Miley Cyrus' costume changes

Show all 11
That led to a retaliation from Discount Universe who once again took to social media to make a statement:
"Prior to posting ANYTHING on social media we were inundated with interview requests and tags CONGRATULATING US for designing the finale looks of the VMA awards. To actually suggest that we ASKED for it is atrocious. No one ASKS to get hurt."
No doubt this argument will be an ongoing one....
Join our new commenting forum
Join thought-provoking conversations, follow other Independent readers and see their replies