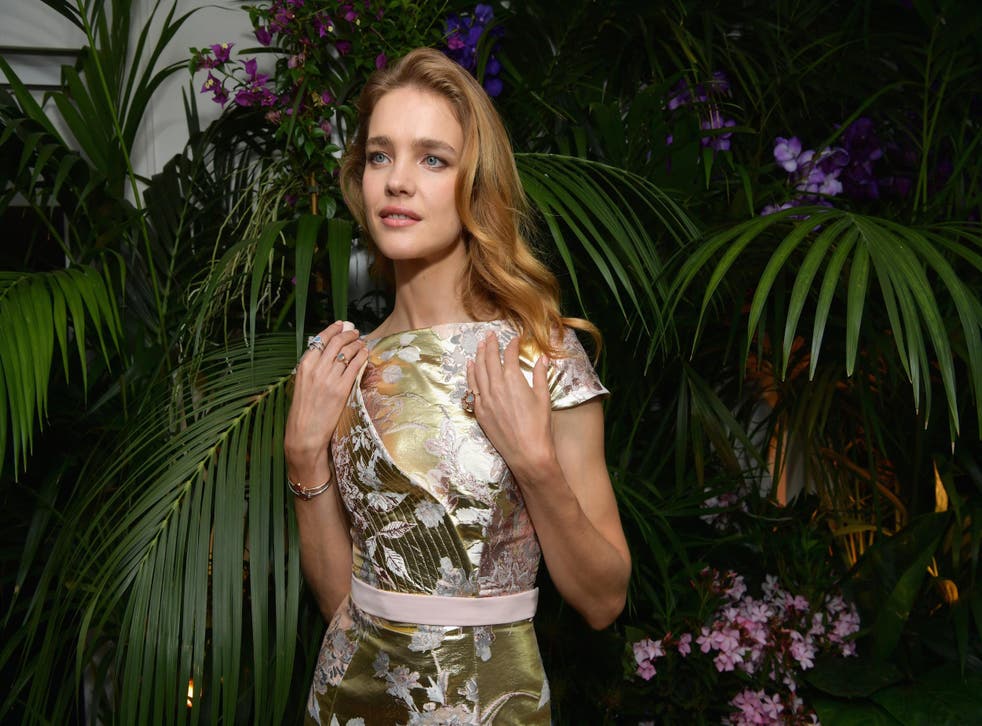 Natalia Vodianova interview: 'Models can't get jobs without telling companies how many followers they have'
'It's crazy because very beautiful girls, or whatever that means, will miss out and the job will go out to someone who is very charismatic and funny and has a lot of personality,' supermodel tells The Independent
Maya Oppenheim
Women's Correspondent
Monday 29 October 2018 14:53 Comments
One of the world's most recognisable fashion models has said the advent of social media has radically transformed the industry – with models struggling to get jobs if they do not have hefty social media followings.
Natalia Vodianova, a Russian supermodel whose nickname is Supernova, said the rising influence of social media has seen a far greater emphasis on personality over beauty since the industry.
But the 35-year-old – who had a seven-figure contract with Calvin Klein – said this shift had not manifested itself among catwalk models and it had instead moved in the other direction.
"When it comes to the catwalk, unfortunately, you see that kind of 'ideal' of very, very skinny girls who have an edge, a look, but it's not really about personality," Vodianova told The Independent.
"Even from my time when in fact girls were more themselves, we were allowed to smile, breathe and try to do our thing on the catwalk, even fifteen years ago. Now it's more faceless. It's not about them - the character - but the character imposed by the designer."
Vodianova – who was the world's third highest earning model in 2012 and is currently ranked by models.com as one of the fashion industry's New Supers – said the proliferation of social media has changed the whole fashion industry.
"For young models, it's really, really hard. It's really hard without this following. I know a lot of brands are asking models how many followers they have – this dictates whether they get the job or not.
"It's interesting because that means personality is celebrated and it's not really about the brand's ideal of the, let's say, face. It's crazy because very beautiful girls, or whatever that means, will miss out and the job will go out to someone who is very charismatic and funny and has a lot of personality. Some people find it unfair but I think it's interesting."
The model, who does a range of campaigning work, noted the "competitive" nature of this shift but said it allowed for a greater diversity of models.
She argued the growing influence of social media has led the industry to embrace a greater range of body shapes but it still had a long way to go.
"A lot of it is forced by social media and by the fact more and more of these conversations are surfacing. The industry sort of follows it like a trend. Unfortunately, it is still not normalised enough.
"The issues of one type of body and perfection are changing a lot because we now see consumers wanting to see more diversity," she added. "Big influencers and the brands themselves now have a great presence on social media so they can hear from their consumers directly about what works and what does not. I think this is really positive."
She added: "Influence has gone from the industry-at-large to a mix of important influencers. The newcomers and Instagram stars mean it is a very different landscape. It's very interesting."
But she said the issue of body diversity has yet to revolutionise the world of catwalk high fashion – noting such designers create their clothes with slim women in mind.
"That is the way they want to see it. But then often what is in the catwalk is not what you find in the shop," she said.
Asked whether she thought this provided a negative role model for young girls, she said the responsibility needed to lie with designers rather than the models themselves.
Model with Down's syndrome makes strides worldwide

Show all 18
"What is it to do with catwalk models? We can't blame catwalk models. They are beautiful. And they are often very healthy. They are naturally skinny," she said. "Whether there should be more diversity, that is another story. A lot of these girls and a lot of these models were born this way. I was born this way so I can speak on their behalf."
She called for a greater variety of female body types to be represented on the catwalk. "There will always be a place for girls who are naturally slim, but I would love to see more beautiful, curvy women on the catwalk. I see a lot of these shows and I think it should be more like in real life."
Vodianova joined the United Nations Population Fund to lead a global symposium on tackling the taboos surrounding women's health around the world in Antalya in Turkey on Thursday and Friday of this week. The event, called "Let's Talk!", was powered by her digital charitable platform Elbi and run in conjunction with the United Nations sexual and reproductive health agency.
"Too often women's health issues go unheard and unnoticed because of unwarranted stigmas and taboos which have let far too many women down for generations," she said.
She said the global issue of period poverty was close to her heart – revealing she was subject to fierce trolling after sharing a photo of herself holding a sanitary pad with her two million Instagram followers.
The model said she received around 5,000 comments in less than ten hours and the reaction of Russian women to the image was "crazy".
"Most of it was harsh criticism saying 'How can you do this? There are teenagers following you. Why don't you start posting pictures sitting on the toilet? Why don't you post toilet paper?' I could not believe my eyes. I am not used to so much hate and criticism thrown my way."
"Then I thought this is really cool actually. iIt proves my point that these conversations are so important. I just did not realise this shame and stigma was so close to home in Russia."
Register for free to continue reading
Registration is a free and easy way to support our truly independent journalism
By registering, you will also enjoy limited access to Premium articles, exclusive newsletters, commenting, and virtual events with our leading journalists
Already have an account? sign in
Join our new commenting forum
Join thought-provoking conversations, follow other Independent readers and see their replies