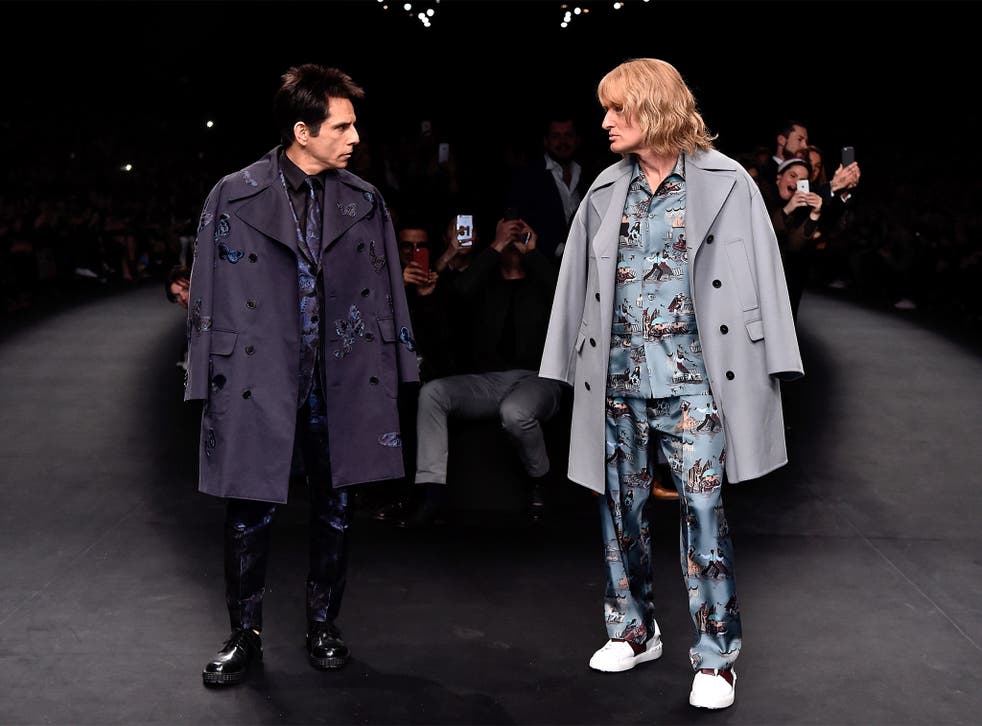 Zoolander moment mangles Valentino's message during Paris Fashion Week 2015
Ben Stiller and Owen Wilson's appearance on the catwalk felt entirely out of place on the penultimate day of the Paris collections
When Ben Stiller and Owen Wilson strode down the catwalk at the end of the Valentino autumn/winter 2015 show, there was a collective gasp – even as the audience whooped and swooped on the two film stars with iPhones. Or perhaps it was just me, in my head.
Why were they here? Why should we care?
It was to advertise a forthcoming sequel to their fashion farce Zoolander, apparently. Pierpaolo Piccioli, who designs the Valentino line with Maria Grazia Chiuri, said it proved they weren't so serious. Quite. Yet it felt entirely out of place on the penultimate day of the Paris collections, particularly at a house known for its rare refinement, a quiet moment amid the circus.
A multitude of blurry snaps of Messrs Stiller and Wilson rapidly pushed images of Valentino's exquisitely crafted clothes out of my Twitter feed. In our digital age, that seemed to symbolise them being bumped out of many people's minds, too. Will this collection be remembered for its artful collaboration with Celia Birtwell, its gossamer evening dresses, or even its dodgier Heffalump jumpers and gowns printed with Chinese dragons? Or will it be remembered as Valentino's Zoolander moment? I know where I'd put my money.

It reminded me of when Robert Altman filmed his own ill-fated fashion send-up, Prêt-à-porter, during the Paris collections 21 years ago. A few designers collaborated, stiffly parodying themselves and the industry. Karl Lagerfeld refused – maybe because Chanel, and its fashion, is bigger than Hollywood. Or maybe he just didn't want to play second fiddle. No one puts Kaiser Karl in a corner.
As usual, this season Lagerfeld played it to the cheap seats at the back, kitting out his venue as a picture-perfect recreation of a French brasserie, and sending his models out as its gussied-up denizens.
Paris Fashion Week autumn/winter 2015:

Show all 44
Lagerfeld loves those kind of mise-en-scènes: sometimes, like Valentino's Zoolandering, they miss, overshadowing the clothes, bogging the whole thing down in set dressing and gag-laden ensembles. This time, like fine French cooking, there was a lightness. Nothing sat heavy on the stomach, nothing stuck in your gullet. You left this show feeling sated, your mind fed with fresh produce.
The visual language of those eating establishments – bentwood chairs, marble-topped tables, lots of brass and mirror – have become visual shorthand. More often than not it's all ersatz, but our minds read it as quintessentially Parisian. That's true of Chanel, too, whose clothes are clichéd – in the best possible way. For winter Lagerfeld coupled the stereotypical Chanel tweeds, chains and pearls with café society puns, embroidery like iron latticework, lean aprons wrapped over trousers, a couple of Raggedy Ann skirts made of tiers of embroidered napkins winding around the brasserie tables.
The postmodern fashion ideal is of designer as DJ, artfully tinkering with archetypal aesthetic elements and mixing them together, constantly, into new iterations. It's an approach that genuinely originated with Lagerfeld, and he's still the designer who does it best.
It's a challenge that Sarah Burton at Alexander McQueen is grappling with – especially as, despite its founder's death, the label's legacy is alive, well, and awe-inspiring. Savage Beauty is about to open at the V&A, coinciding (as does this show) with the fifth anniversary of Lee McQueen's death.
Beauty is always Burton's focus, rather than savagery – the beauty of technique, frequently, and often the fragile beauty of nature. This season Burton was inspired by roses – but unlike McQueen, hers have no thorns. That, indeed, is what Burton has brought to the label. Her McQueen has soul, but without darkness.
Register for free to continue reading
Registration is a free and easy way to support our truly independent journalism
By registering, you will also enjoy limited access to Premium articles, exclusive newsletters, commenting, and virtual events with our leading journalists
Already have an account? sign in
Register for free to continue reading
Registration is a free and easy way to support our truly independent journalism
By registering, you will also enjoy limited access to Premium articles, exclusive newsletters, commenting, and virtual events with our leading journalists
Already have an account? sign in
Join our new commenting forum
Join thought-provoking conversations, follow other Independent readers and see their replies