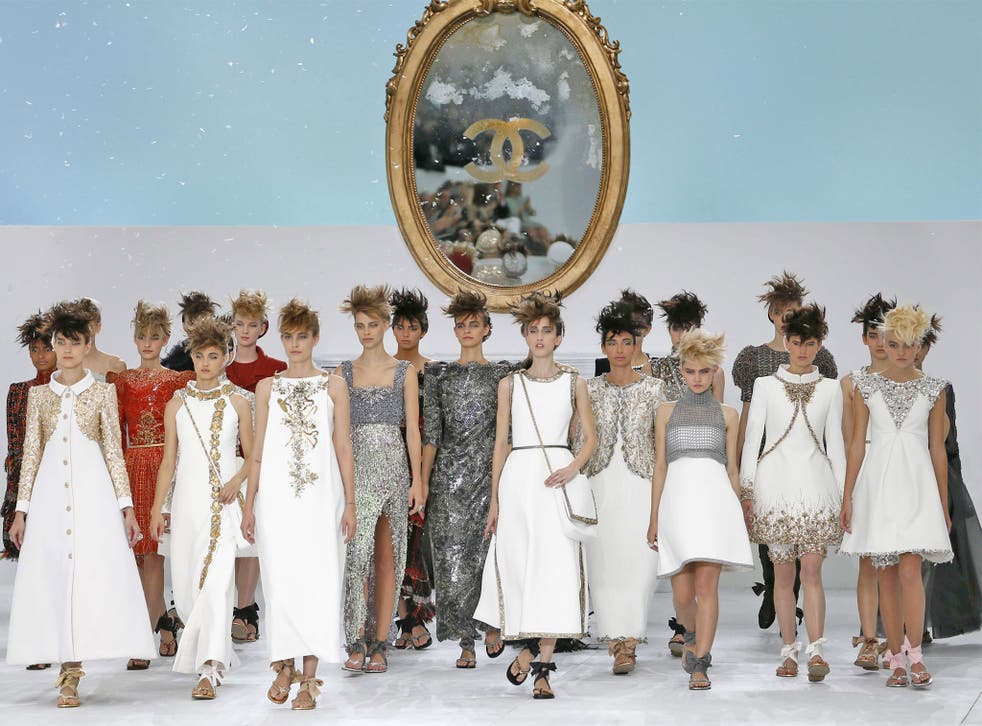 Paris haute couture season: Chanel's fashion show was not just mere decoration
The designs were more complex than they first appeared
Alexander Fury
Thursday 10 July 2014 12:11 Comments
Louis Quatorze meets Le Corbusier. Chanel's Karl Lagerfeld is probably the only fashion designer with the chutzpah to take on not one, but two of the greatest architects of Gallic style.
In the case of the latter, quite literally, while the reign of le Roi Soleil fundamentally shaped both France and Europe, politically, aesthetically, and indeed sartorially. Come to think of it, Gabrielle Chanel was also a revolutionary architect of French style - the main difference being that her work took place on people's backs rather than above their heads, or on a battlefield.
That's a hefty preamble to a fashion collection, but Lagerfeld has never been a man to do anything by halves. In the Grand Palais, a vast venue bogarted years ago by Chanel as the venue for their P.T. Barnum-level feats of fashion theatre, Lagerfeld erected a salon that fused those two great Frenchmen.
Rococorbusier? Something along those lines. Translating that to the clothes actually made more sense: strict, modernist silhouettes, embellished to the hilt.
They were more complex than they first appeared. The embroidery, by craft houses such as Maison Lesage, owned and financially supported by the might of Chanel for over a decade - was dazzling, resembling the Verbeckt-carved panelling of Versailles' boiseries in contrasts of gilt against nimbus white, but the cut was more compelling.
Haute Couture autumn/winter 2014 fashion shows

Show all 23
Lagerfeld sought to create "sans couture", a seamless initial appearance, banishing construction lines to the back of his silhouettes. Those seams were often them turned into points of emphasis, breaking into rivulets of fullness in back of sequin spackled day suits, or delineated by bands of golden braid on sculpted neoprene dresses. Others were beaded with microscopic cubes of concrete, smothered in ostrich feathers, or blanketed with billions of paillettes.
For all that embellishment, this show didn't feel like mere decoration. Unlike many other loss-leading houses's haute couture, Chanel's actually sells. Why? The status of the name? Perhaps. But also because Lagerfeld's clothes invariably have a dialogue with contemporary life, a currency despite their painstaking craft. These clothes may be precious, but they're not precious about it.
The same is true of Bouchra Jarrar, a young Parisian designer whose haute couture is bought and worn by a cadre of modern, urbane women. There's an effortlessness to what she does which is admirable, even if occasionally the wearability she strives after can make her shows seem tame. We're used to fireworks at couture, meaning Jarrar has to work harder to make her subtlety sparkle. This season she did just that, literally in terms of a bespoke boucle she dubbed "tweed de lumière," and figuratively in a tightly-edited collection of wickedly inventive clothing. Her slender trousers are cultish items on the French fashion scene: for winter, her Perfecto jacket with an asymmetric frill swelling over one hip will doubtless generate similar gusto.
Jarrar's "reale couture" finds a natural counterpart in Giorgio Armani. His shows are packed to the rafters with clientele - or at least, the front row is, the rafters reserved for those who watch clothes go by, rather than... well, buy. Armani Privé clients generally resemble female versions of Mr Armani himself, with the same perennially permatanned skin, slightly quizzical expression, and shock of white hair.
They are, of course, dressed in Armani, and they're hungry for more. They applaud wildly when he sends out his couture suiting, sleeves abbreviated and bell cuffs rippling into fullness above slender wrists, trousers invariably flared. They applaud because they know these clothes will translate easily to their lives. They applaud his granular-textured coats with sloping shoulders and generous sleeves, his bead-pocked dresses and fluted brocades in shades of red, black and white because, again, they have a place in their life for such clothes. They are perhaps slightly perturbed by the eccentricities he seems prone to at couture, models in coats fluffed with feathers like dandelion clocks, dresses pebbled with enormous polka-dot sequins, ruffled in glistening nylon with mantillas to match, or limbs lassoed by mille feuille miles of tulle.
If they question Mr Armani's sartorial sensibilities when confronted with such oddities, their faces don't change. And they applaud all the same, possibly caught up in the pomp and circumstance of couture. Sometimes, you wonder if that happens to Armani himself when designing those clothes.
Register for free to continue reading
Registration is a free and easy way to support our truly independent journalism
By registering, you will also enjoy limited access to Premium articles, exclusive newsletters, commenting, and virtual events with our leading journalists
Already have an account? sign in
Join our new commenting forum
Join thought-provoking conversations, follow other Independent readers and see their replies