Paris Spring/Summer 2014: Fashion loves a man in uniform, but it's a style that now comes in many guises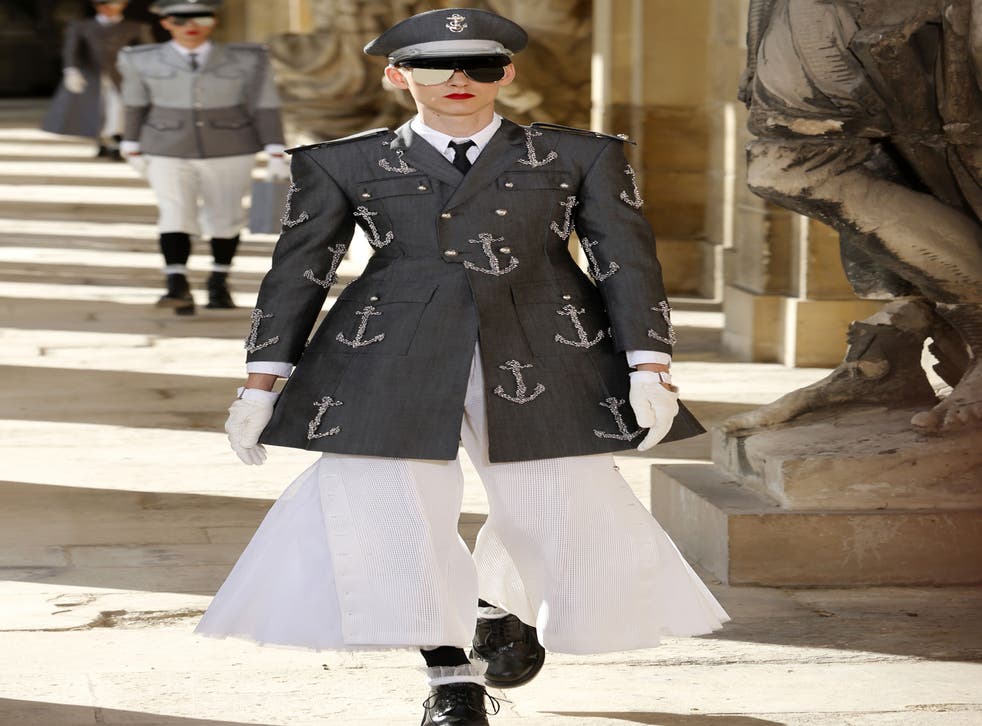 Menswear revolves around uniforms. That sounds like an overly simple statement, but the final day of Paris' spring/summer 2014 menswear shows has kitted out man in a variety of guises, each, in one way or another, a uniform.
That doesn't mean Village People drag, though. Schoolboy shorts and tugged-up socks, a high-buttoned military greatcoat, even classic suiting: they're all a uniform. And there will always be men willing to button themselves into them, just as there will be those longing to break loose.
Alber Elbaz and Lucas Ossendrijver's spring collection for Lanvin seemed fixated on uniform, from the boiler-suits, nylon and plastic buckles of blue-collar workwear, through city boy suiting to the blocked singlet and shorts of the modern athlete. Or, indeed, the schoolboy - those shorts rose higher-than-thigh, teamed with tightly-tugged calf-length socks like an especially diligent Parisian student.
What struck you were the plays with proportion - small heads, hair shaved or slicked down, legs elongated by hyper-short shorts or full, slouched trousers, your eye tricked by dropped crotches and tightly-buttoned jackets that cropped or lengthened the torso, a wide shoulder and roomy sleeve adding heft.
Interestingly, for all the uniforms there was no uniformity in silhouette: the full and flowing contrasted with the skinny and short. If the collection lacked a single overriding message, it also lacked the dull, didactic homogeny of many of the season's single-note shows. What's more luxurious than choice?
The Thom Browne look is all about uniformity: he's shown droves of office-drones in identical grey tailoring, and his shrunken suiting is echoed season in and out. This time he showed in the École Militaire.
You don't need a translator to catch his drift. Cue PVC-clad, plumed Nutcracker soldiers, frogged Prussian pinafores and beefy biceps incongruously alongside lipstick and high-heels. What is uniform, after all, but institutional drag? If Browne's femme-fatigues were aiming for the kind of debauched decadence of Helmut Berger as Martin Von Essenbeck in The Damned, it honestly ended up more Herr Otto Flick from 'Allo 'Allo - not helped by the peaked caps and jacquard jodhpurs. It was fun, although in fashion terms less than inconsequential.
Despite appearances to the contrary, Hedi Slimane's reincarnated Saint Laurent is also offering a uniform: that of disaffected and dishevelled youth. His first two collections have already achieved cult status, waifish armies of bowl-cut, leather-clad Laurent lads roaming Paris, hungry for more. That felt like a reference for Slimane's spring show - the 1983 David Bowie vampire flick The Hunger.
Actually, it was more its Californian equivalent, Lost Boys - as Slimane has transplanted the Saint Laurent studio to Los Angeles, the Santa Cruz undead seem more appropriate. His most overt reference was a menacing set of fangs beaded on a satin bomber jacket.
Otherwise, these boys wore garb that plucked from half-a-dozen subcultures, some past but most present, booted with winklepickers, trousers tugged high and tight around preternaturally spindly limbs. It's questionable whether these garments really have life everlasting. But Slimane's corps have undoubtedly found their new liveries.
Register for free to continue reading
Registration is a free and easy way to support our truly independent journalism
By registering, you will also enjoy limited access to Premium articles, exclusive newsletters, commenting, and virtual events with our leading journalists
Already have an account? sign in
Register for free to continue reading
Registration is a free and easy way to support our truly independent journalism
By registering, you will also enjoy limited access to Premium articles, exclusive newsletters, commenting, and virtual events with our leading journalists
Already have an account? sign in
Join our new commenting forum
Join thought-provoking conversations, follow other Independent readers and see their replies