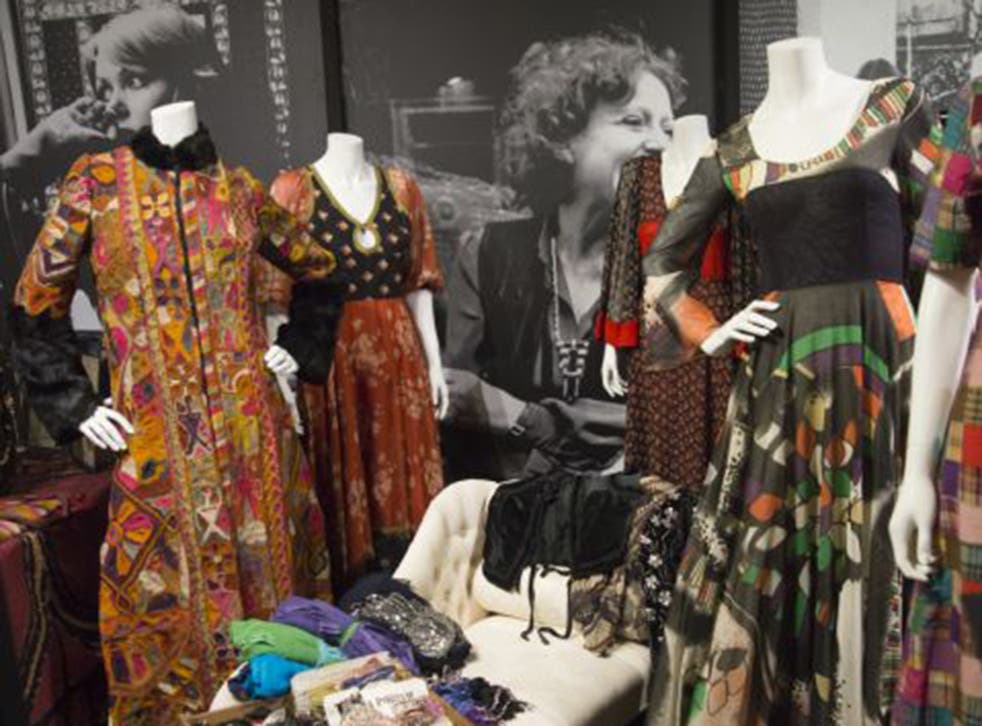 Pret-a-Porter, again: A flamboyant designer from the Seventies has a new following
Thea Porter is back in vogue, thanks to the international fashion pack – and Kate Moss
Three years ago, when the idea for an exhibition dedicated to the designs of Thea Porter was first mooted, no one could have guessed that the exhibition would open just as the shops filled with spring/summer collections which seem to have been influenced by Porter's sumptuous haute-hippie aesthetic.
On the catwalk at Valentino there were ankle-grazing gowns in a patchwork of swirling Persian florals akin to those which Porter imported from Syria and Lebanon; intricately embroidered cinched-waist dresses resembling the Gypsy style which was a Porter signature were a standout at Etro; and a flowing, rust-hued kaftan at Chloé recalled her easy designs which were beloved of Elizabeth Taylor.
Anna Sui's collection, which featured diaphanous chiffon dresses with billowing sleeves, owed so much to Porter that Sui has lent a selection of pieces to the exhibition for display, as has Matthew Williamson. The high street is following suit with Porter-esque pieces at Zara, Topshop, and Asos. "Her clothes really were about creating a fantasy image. She adored the legend of the harem," says Porter's daughter, Venetia, who has inherited her mother's love of the Middle East and is a curator of Islamic collections at the British Museum.
Thea Porter: 70s Bohemian Chic, which opened last week at the Fashion and Textile Museum in London tells the story of the designer who was born in Jerusalem in 1927 and grew up in Damascus, where her Father was a Presbyterian minister. After boarding school in England, Thea moved to Beirut – "the Paris of the Middle East" – where she became a painter and glamorous society figure. She married a diplomat, Bob Porter, but soon became restless and moved to London.
The shop that she opened in Greek Street, Soho, in 1964 drew Pink Floyd, Elton John and Mick Jagger, who flocked to have clothes made from the exotic fabrics which were hung from the ceiling. She was a contemporary of Ossie Clark and Zandra Rhodes. Talitha Getty, Barbra Streisand, Faye Dunaway and Joan Collins – who once claimed Porter's were the only clothes she'd never throw away – were among her clients.
She eventually opened stores in New York and Paris as well as hosting trunk shows in LA. So why isn't she remembered in the same way as her counterparts?
"Some designers are very good self-publicists while others ensure their place on the historical record by having their memoirs published. Thea Porter did not meet the criterion," explains Professor Amy De La Haye, joint director of the UAL Centre for Fashion Curation at London College of Fashion. Porter was not as gifted at financial administration as she was in design and in the 1980s her business faltered. She died in 2000, after suffering from Alzheimer's.
"The stars seem to have finally aligned," Venetia Porter says; she has tried for years to have her mother's legacy recognised.
"Many of the big names from the past 50 years have been picked over so much there is nothing new to offer," is how fashion journalist David Hayes explains Porter's resurgence. As a result, and in large part thanks to the constant demand for "newness" in fashion, "the focus has turned to the slightly unsung innovators – names you won't easily find on Google," he adds.
Porter was in the spotlight again when Kate Moss wore a turquoise Porter Gypsy dress during her wedding rehearsal dinner in July 2011.
"There's a large group of people who are fierce collectors of her work such as Kate Moss, Mary-Kate and Ashley Olsen and Julia Roberts," says Laura McLaws-Helms, who has guest-curated the exhibition and co-written a book with Venetia.
Kerry Taylor, a vintage fashion auctioneer, is aware of Porter's value. "Thea's clothes exude exoticism and a sense of luxury. They transform the wearer from an ordinary woman into a Scheherazade.
"Her pieces are consistently popular, especially with American buyers. She is better known in the US than the UK."
It's this exoticism which plays most pertinently into the current fashion zeitgeist, says Natalie Kingham, the buying director at matchesfashion.com. "We've noticed a rise in the popularity of our vacation studio designers such as Talitha, Lisa Marie Fernandez and Figue, who draw influences from bohemian icons and eras, using embroideries, fringing and embellishments.
"All the It girls from LA to London are enjoying the nostalgia of this look," she adds. Just as their predecessors did, wearing Thea Porter 40 years ago.
'Thea Porter: 70s Bohemian Chic' is at the Fashion and Textile Museum, London SE1, until 3 May (ftmlondon.org)
Register for free to continue reading
Registration is a free and easy way to support our truly independent journalism
By registering, you will also enjoy limited access to Premium articles, exclusive newsletters, commenting, and virtual events with our leading journalists
Already have an account? sign in
Register for free to continue reading
Registration is a free and easy way to support our truly independent journalism
By registering, you will also enjoy limited access to Premium articles, exclusive newsletters, commenting, and virtual events with our leading journalists
Already have an account? sign in
Join our new commenting forum
Join thought-provoking conversations, follow other Independent readers and see their replies