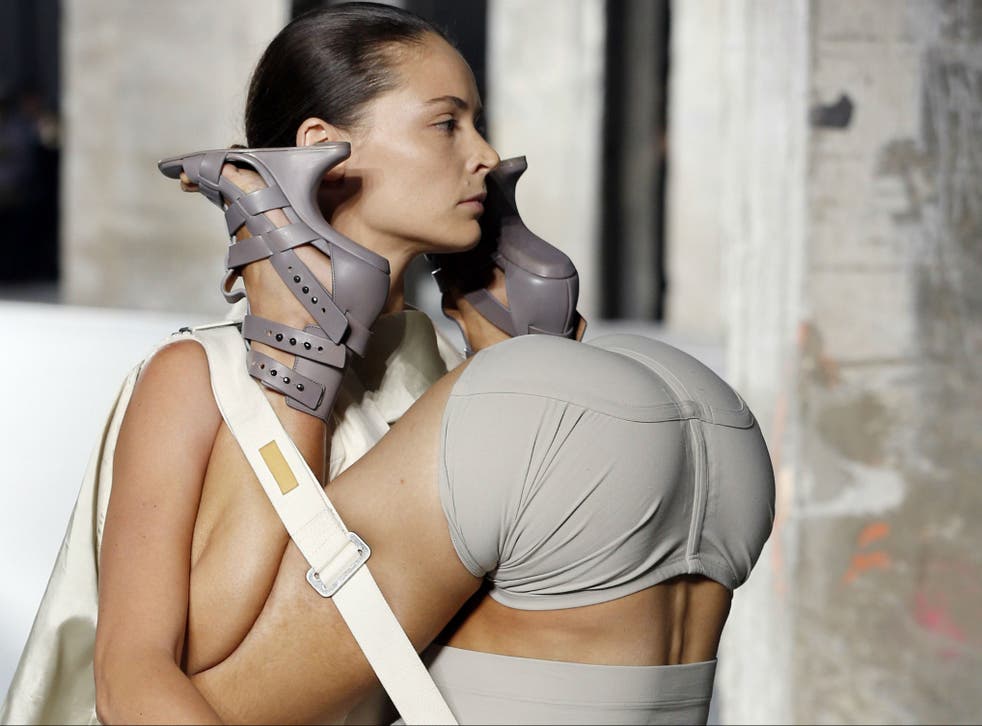 Rick Owens makes women the latest fashion accessory with models wearing models on the catwalk
First penises, then this. The cult designer pushes bounderies once again with models attached to other models in a symbolic dedicated to women's sisterhood 
Cult designer, Rick Owens is known as something of a rebel in the fashion world who continuously pushes boundaries and addresses difficult social issues but women wearing women was something we didn't see coming.
You might remember his menswear show from earlier this year which revealed the male models' penises on the catwalk.
As he continues to surpass his previous shows, this season was no exception. For its spring/summer 2016 womenswear show during Paris Fashion Week the New-York based designer had models walk the catwalk with other models clinging to their backs, strapped upside-down, with arms and legs hanging like they were some sort of accessory - human backpacks if you will - both models (the one walking, and the one hanging) were sporting the designer's latest collection - a tricky one for those models cast to take part in the show, we think.
But whilst it undoubtedly got everyone talking, it had a deeply symbolic meaning, referring to women's ability to support and nurture each other in a strong sisterhood.
"In the Spring men's collection which shares the same name (Cyclops), that focussed vision was propulsive and aggressive. When applied to women's, I see that focussed vision being more about nourishment, sisterhood/motherhood and regeneration," explained Owens.
Rick Owens' SS16: Women for women

Show all 12
"Women raising women, women becoming women, and women supporting women – a world of women I know little about and can only attempt to amuse in my own small way…Straps can be about restraint but here they are all about support and cradling. Straps here become loving ribbons."
"With the help of God I know I can be strong were the lyrics sang live by a singer named Eska who performed The Exodus Song (The Land Is Mine).
Register for free to continue reading
Registration is a free and easy way to support our truly independent journalism
By registering, you will also enjoy limited access to Premium articles, exclusive newsletters, commenting, and virtual events with our leading journalists
Already have an account? sign in
Register for free to continue reading
Registration is a free and easy way to support our truly independent journalism
By registering, you will also enjoy limited access to Premium articles, exclusive newsletters, commenting, and virtual events with our leading journalists
Already have an account? sign in
Join our new commenting forum
Join thought-provoking conversations, follow other Independent readers and see their replies