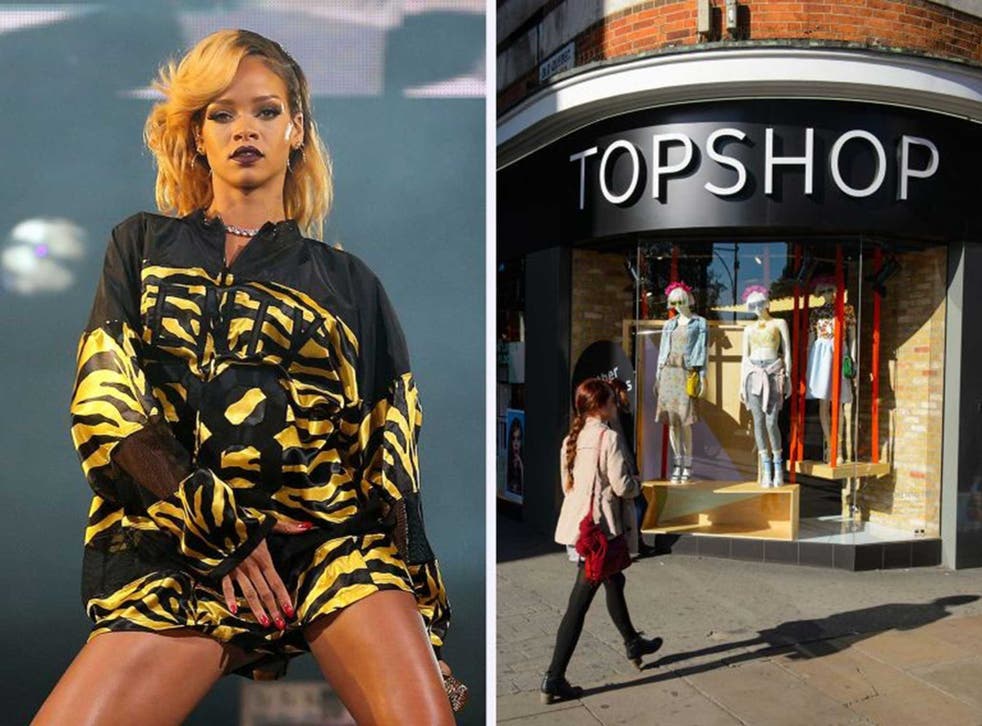 Rihanna v Topshop: Court dismisses high street store's appeal over use of her image
The Court of Appeal upheld a ban on the store selling a Rihanna "tank" sleeveless T-shirt without her permission
John Aston
Thursday 22 January 2015 11:39 Comments
Pop star Rihanna has won a legal battle with high street store Topshop over a T-shirt with her image.
In an important ruling on celebrity "image rights", the Court of Appeal upheld a ban on the store selling a Rihanna "tank" sleeveless T-shirt without her permission.
Three appeal judges agreed with an earlier High Court ruling that marketing the fashion item without the 26-year-old singer's approval amounts to "passing off", a term used to enforce unregistered trademark rights.
Topshop lawyers had urged the appeal judges - Lord Justice Richards, Lord Justice Kitchin and Lord Justice Underhill - to rule that High Court judge Mr Justice Birss had misunderstood the law on celebrity merchandising.
The three judges unanimously dismissed the Topshop appeal.
Rihanna's lawyers said the image was from an unauthorised photograph taken while the star was filming a video in Northern Ireland for one of her singles in 2011 and Topshop should remain banned from exploiting it.
Geoffrey Hobbs QC, appearing for Topshop, which is part of the Arcadia Group, had argued at the hearing that the court was dealing with a "decorated T-shirt" in a tradition of the merchandising of star images over the decades, including those of Elvis Presley, Jimi Hendrix and Prince.
Mr Hobbs submitted Rihanna was in reality using the law wrongly to claim that "only a celebrity may ever market his or her own character".
Rihanna has various lucrative endorsement deals with retailers including Topshop's high-street rival River Island.
Mr Hobbs contended the public had no expectation that clothes bearing an image were authorised by people shown in that image.
He challenged Mr Justice Birss's ruling that, although celebrities had no general right to control the reproduction of their image, Topshop's use of RiRi's image did amount to passing off.
The judge had observed the use was damaging to the star's "goodwill" and represented loss of control over her reputation in the "fashion sphere".
During the recent hearing that led to today's ruling, Court 68 at the Royal Courts of Justice in London was given a shopping mall makeover with racks of T-shirts on display.
Press Association
Register for free to continue reading
Registration is a free and easy way to support our truly independent journalism
By registering, you will also enjoy limited access to Premium articles, exclusive newsletters, commenting, and virtual events with our leading journalists
Already have an account? sign in
Join our new commenting forum
Join thought-provoking conversations, follow other Independent readers and see their replies