Sherlock chic! Fashion? It's elementary, thanks to BBC
The sweeping capes and high collars favoured by Conan Doyle's creation are all the rage on the catwalk and high street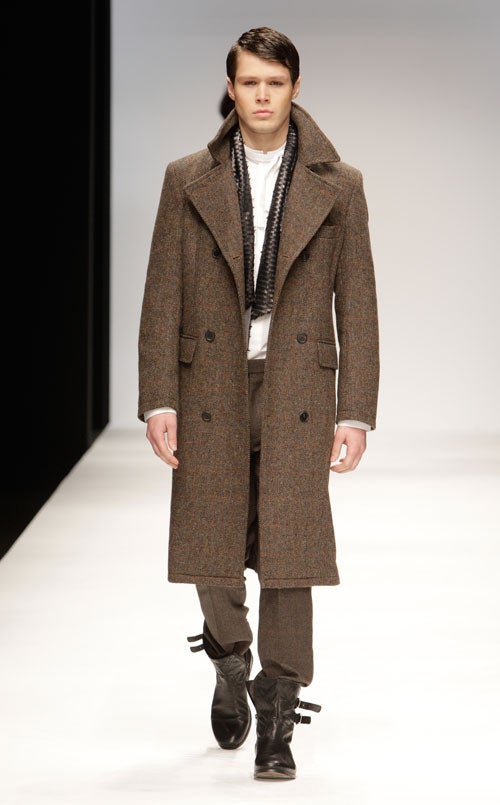 They are calling it "Sherlock chic", but there isn't a deerstalker hat or pipe in sight. Better known for his precise turn of phrase and uncanny powers of deduction, Arthur Conan Doyle's fictional detective is now a fashion icon, with top designers channelling his distinctive look and retailers reporting a flood of customers queuing to emulate the distinctive detective.
Savile Row tailors have reported a jump in enquiries from gentlemen keen to copy the extra-long tailored coats sported by actor Benedict Cumberbatch, who plays Holmes in the new BBC series, Sherlock, which drags Holmes into the 21st century.
Though the series, which ends tonight, has only aired for three weeks, it has won both critical and fashion plaudits. Debenhams' menswear department has already reported a surge in enquiries for similar coats. Designer Paul Costelloe moved to meet the demand, offering tailored coats and scarves based on the series, while Savile Row bespoke tailor John Pearse said many of his clients were inquiring about the actors' clothes.
Ruth Attridge, a spokeswoman for Debenhams, said: "Although it's early days for autumn/winter fashions to hit the high street, our menswear department is already seeing interest in modern re-workings of these Victorian designs, as modelled by Cumberbatch on screen. Dark, extra long tailored coats with pronounced collars and raised lapels are a key look for the new season."
Womenswear designers have also taken inspiration from the sweeping cape worn by earlier incarnations of the detective. Designers interpreted the trend in different ways at the autumn/winter 2010 shows, from Aquascutum's dramatic dark wool cape to Celine's tan leather version, and Yves Saint Laurent's pink satin number.
"Capes are going to be massive. We've seen them around for the last two seasons, but a lot of people chose to open their shows with capes this time around," said Emma Elwick, market editor of Vogue.
Celebrities such as model Daisy Lowe are getting in on the act and sporting cloaks, despite the warm weather. The website style.com noted that Dolce & Gabbana was already channelling "Sherlock Holmes chic" in its spring 2010 show, while US Vogue dedicated a double page spread in this month's issue to the cape.
Emma Elwick added: "There is something elegant and dramatic in the swoosh of a cape. They are also a really practical item, with all the bikes popping up all over London; you can easily cycle in them."
It's not the first time the Victorian detective's attire has caught the public imagination. Last year's film Sherlock Holmes, directed by Guy Ritchie, brought the Victorian steam-punk look into the mainstream, with actor Robert Downey Jr's striped coat becoming a coveted item.
Sarah Arthur, costume designer for the BBC series, explained how she achieved the detective's look: "Holmes wouldn't have any interest in fashion so I went for classic suits with a modern twist: narrow-leg trousers and a two-button, slim-cut jacket. I also went for slim-cut shirts and a sweeping coat for all the action scenes – it looks great against the London skyline."
Those wanting to buy the original coat, worn by Cumberbatch, may be disappointed to learn the £1,000 Belstaff coat has been discontinued. But then, there are always vintage shops.
Join our commenting forum
Join thought-provoking conversations, follow other Independent readers and see their replies