Slash fashion: Forget flim-flam and cheap frills, in Paris the intellectuals have taken over the catwalk as Japanese designers reign supreme

Show all 3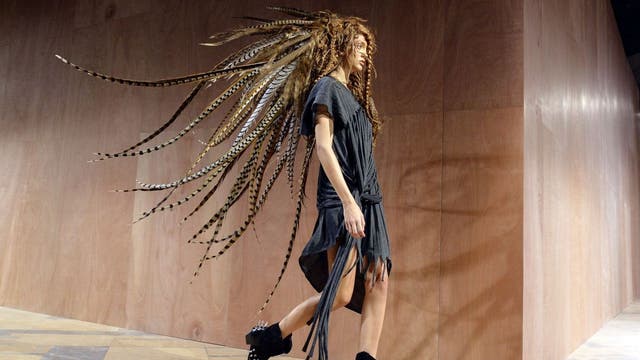 Slash fashion: Forget flim-flam and cheap frills, in Paris the intellectuals have taken over the catwalk as Japanese designers reign supreme
Two labels, Junya Watanabe and Rei Kawakubo, of Comme des Garçons, stand head and shoulders above most other designers in Paris. In fact, in the world. Their clothes are often dismissed as "intellectual" – frequently a pejorative term in fashion, when flim-flam and cheap thrills (or frills) are often preferable to clothes that question and provoke. That is intellectual, of course, but first and foremost they make fantastic fashion that propels us to something new. It is no coincidence that many of the ideas hurrahed in the collections of other designers can be traced back to the catwalks of these two Japanese giants.
Christian Lacroix once referred to the Italian inter-war couturier Elsa Schiaparelli's collections as "a laboratory of ideas". Comme des Garçons and Watanabe are fertile Petri dishes for future fashions.
They are also a breath of fresh air in an industry that, increasingly, is focusing on the bottom line. The bottom line, understandably, is best fed by simple clothes, tried-and-tested styles. Strangely enough, for an industry obsessed with relentless renewal, the new is feared in fashion when it comes to sales. Retailers, by and large, don't want exciting and fresh clothes. They want ideas they know consumers have bought, and will buy again. It builds a strong retail base but it doesn't make for exciting fashion.
We cheer, then, for a strong showing from both Comme des Garçons and Watanabe. It seems wrong to group them together purely because of personality but Kawakubo was Watanabe's mentor when he was at Comme des Garçons. Hence their thought processes are very much the same, even if the aesthetic outcome differs wildly.
Watanabe presented his collection in Paris's Grande Galerie de l'Évolution. The audience clambered under the skeleton of a dinosaur to enter his show. Inside, he showed a collection of slashed, fringed and braided jersey, matched by intricately plaited hair. The final few were adorned with 6ft-long feather plumes from Yokohama hens.
This was an exceptional fashion show. The slashing and braiding was the simplest of ideas. Watanabe pushed them both to the point of abstraction, shredding trenchcoats and ponchos, lashed layers criss-crossing until they resembled exoskeletons. Maybe that's the dinosaur talking. In any event, it felt like an exciting evolution.
Exciting was the word for Comme des Garçons. And confusing – bamboozling even. The models exited with hair tonsured high off their heads, reminiscent of tribal headpieces and the intricate coiffures of Sixties couture hairdresser Alexandre de Paris. There was something couture about the clothes, too, packed with ruffles exploding through fabric surfaces or boxed in with cage crinolines, channels padded like jumbo trapunto stitching. Some swelled to the size of tyres.
Several of the Comme des Garçons models seemed trapped inside their clothes, literally in the case of swollen black gowns encasing arms in layers of frills, or an ivory cage structured around an otherwise frou-frou organza party dress in shocking cerise (the collection's only colours were white, pink and black). One dress dripped golden chains, another appeared branded with the Chanel double-C logo, again trapping the model.
"Where money rules, the appreciation of the value of true creation is low," said Kawakubo earlier this year in a rare interview. One wonders if she was thinking about the trappings of today's voracious luxury goods market – in the truest sense of the word "trap".
Several other creatives have become victims of that desire for more, more, more. Viktor Horsting and Rolf Snoeren were once top of the class in Paris fashion. Now they sport twin dunce's caps. That's a witless school-based pun but so was their collection. Composed of nothing more than simple-minded reinterpretations of schoolgirl attire, chopped-up blazers, white shirts and the like, it was banal but, thankfully, relatively benign. After exiting the show, it was easily removed from your brain without further injury.
Vivienne Westwood has a history that garners her respect, and relevance. Her back-catalogue is constantly pillaged – even that Viktor & Rolf show referenced her punk, her shrunken school blazers, her twisting of uniforms out of uniformity. Yesterday's collection was messy, and felt packed with product rather than ideas. The knitwear was good, the rest quickly unravelled.
Register for free to continue reading
Registration is a free and easy way to support our truly independent journalism
By registering, you will also enjoy limited access to Premium articles, exclusive newsletters, commenting, and virtual events with our leading journalists
Already have an account? sign in
Register for free to continue reading
Registration is a free and easy way to support our truly independent journalism
By registering, you will also enjoy limited access to Premium articles, exclusive newsletters, commenting, and virtual events with our leading journalists
Already have an account? sign in
Join our new commenting forum
Join thought-provoking conversations, follow other Independent readers and see their replies