Ten Miss Universe contestants show what they look like without makeup
Contestants have taken selfies without makeup on, posting them on Twitter using the hashtag #ConfidentlyBeautiful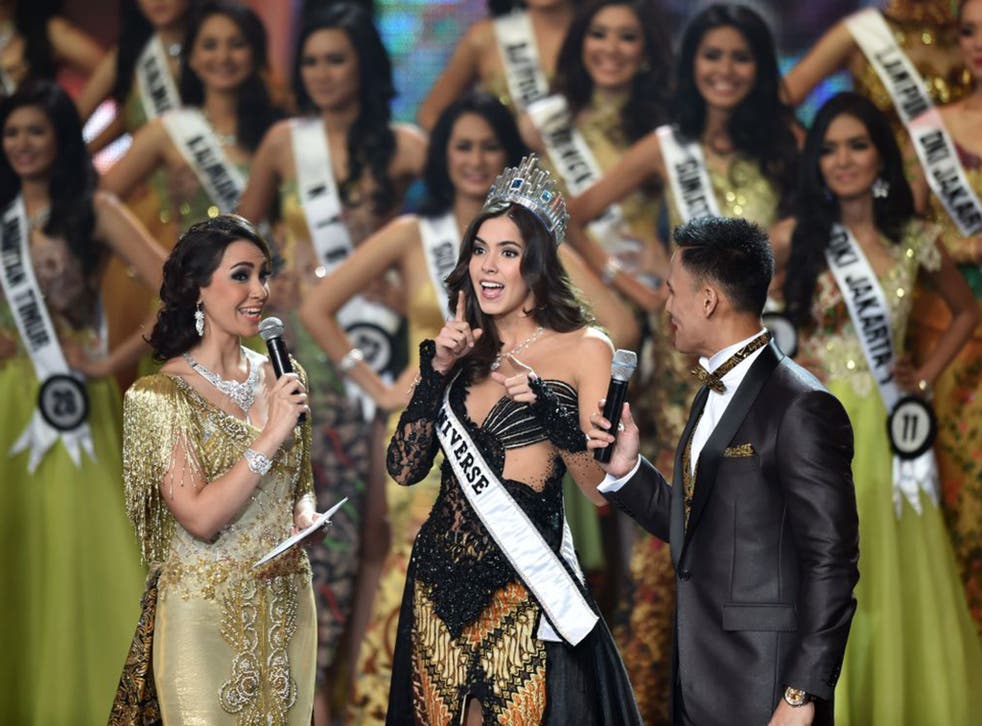 In what appears to be an attempt to combat some of the recentnegativity surrounding beauty pageants, Miss Universe is encouraging this year's contestants to show that their beauty is more than skin deep.
Several Miss Universe contestants have taken selfies without a stitch of makeup on, posting them on Twitter using the hashtag #ConfidentlyBeautiful.
While the #NoMakeupSelfie became popular in 2014 to raise funds for cancer research, the idea spread like wildfire, empowering high-profile celebrities and everyday women to confidently share their faces sans makeup.
Now, even beauty-pageant contestants are getting in on the fun. Women from 80 countries will compete for the title of Miss Universe on 20 December.
Miss Universe Australia, Monika Radulovic, with her regular pageant makeup on.
Here's Radulovic without makeup.
Here's the official headshot of Miss Universe Bahamas, Toria Nichole.
Nichole's #ConfidentlyBeautiful selfie.
Behold, the official headshot of Miss Universe Peru, Laura Spoya.
Here's Spoya's more recent, gorgeous selfie.
Miss Universe South Africa, Liesl Laurie, shares her more done-up look.
And here, Laurie poses for her playful #ConfidentlyBeautiful selfie.
Miss Universe Dominican Republic, Clarissa Molina, strikes a fierce pose for a traditional photo shoot.
Here, Molina posts her no-makeup selfie.
Beautiful Miss Universe Haiti, Lisa Drouillard, poses backstage.
Drouillard snapped her #ConfidentlyBeautiful shot while on the go.
Miss Universe Argentina, Claudia Barrionuevo, shows off her beautiful dress.
Here, Barrionuevo smiles big for her #ConfidentlyBeautiful selfie.
Miss Universe Ecuador, Francesca Cipriani, on her way to a big event.
Cipriani is on the go again, this time sans makeup.
Miss Universe Indonesia, Anindya Kusuma Putri, on interview day.
Putri again, this time getting ready in her hotel room.
Miss Universe Ghana, Hilda Akua, on a regular Miss Universe photo shoot.
Akua here shows her wonderful #ConfidentlyBeautiful selfie.
Read more:
• BANK OF AMERICA: IT'S BOND CARNAGE
• The Chinese billionaire that disappeared last week is now in the US
• David Cameron has done the impossible in Brussels — he has found a 'pathway to a deal'
Read the original article on Business Insider UK. © 2015. Follow Business Insider UK on Twitter.
Register for free to continue reading
Registration is a free and easy way to support our truly independent journalism
By registering, you will also enjoy limited access to Premium articles, exclusive newsletters, commenting, and virtual events with our leading journalists
Already have an account? sign in
Register for free to continue reading
Registration is a free and easy way to support our truly independent journalism
By registering, you will also enjoy limited access to Premium articles, exclusive newsletters, commenting, and virtual events with our leading journalists
Already have an account? sign in
Join our new commenting forum
Join thought-provoking conversations, follow other Independent readers and see their replies