Victoria's Secret renames 'Perfect Body' campaign following 'body-shaming' backlash
The lingerie brand has responded to consumer complaints and renamed it's campaign.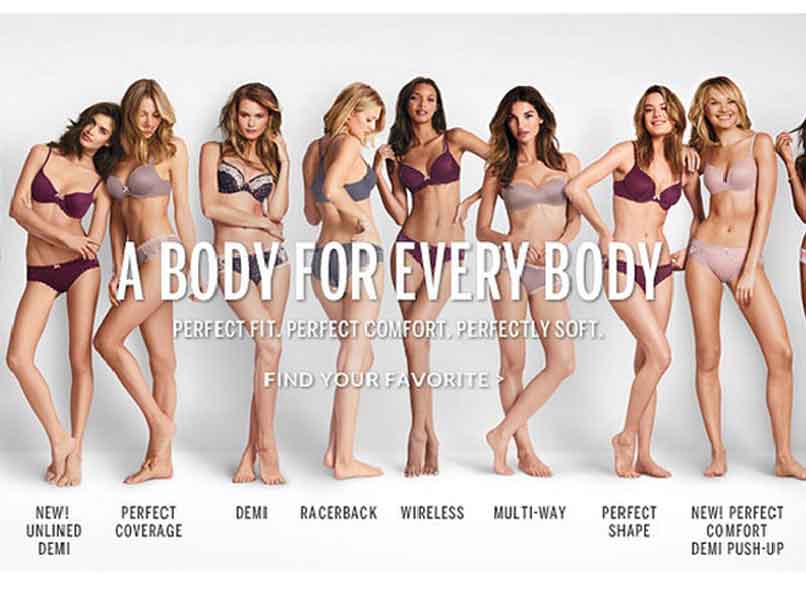 Victoria's Secret has renamed 'The Perfect Body' campaign following backlash from customers.
The campaign slogan now reads: "A Body For Every Body."
Over 26,000 people signed the petition on change.org which called for the company to 'apologise for, and amend the irresponsible marketing of your new bra range Body.'
Campaigners say the alteration to the slogan is a step in the right direction for the lingerie brand in a week in which body-image has hit the headlines.
Topshop was at the centre of a row after a customer tweeted an image of a store mannequin that deemed "shocking" in its skinniness.
Responding to the row a spokesman for Topshop commented that it "made it a priority to showcase a healthy size image."
"The mannequin in question has been used in stores the past four years and is based on a standard UK size 10. The overall height, at 187cm, is taller than the average girl and the form is a stylised one to have more impact in store and create a visual focus.
"Mannequins are made from solid fibreglass, so in order for clothing to fit, the form of the mannequins needs to be of certain dimensions to allow clothing to be put on and removed; this is therefore not meant to be a representation of the average female body."
Frances Black, one of the students behind the Victoria's Secret campaign commented:
"We are absolutely overjoyed by the news that Victoria's Secret have changed the wording on their website from 'The Perfect 'Body'' to 'A Body For Everybody'. We feel that this change reflects a more inclusive and healthy message."
Meet Victoria's Secret Angels 2014
Show all 37
The criticism comes in the run-up to the annual Victoria's Secret show which this year will be taking place in London.
The Independent has contacted Victoria's Secret for comment.
Join our commenting forum
Join thought-provoking conversations, follow other Independent readers and see their replies