Noah Cyrus sparks comparisons to toilet paper and bed sheets with Grammys outfit
The look sparked comparisons to everything from toilet paper to a bed sheet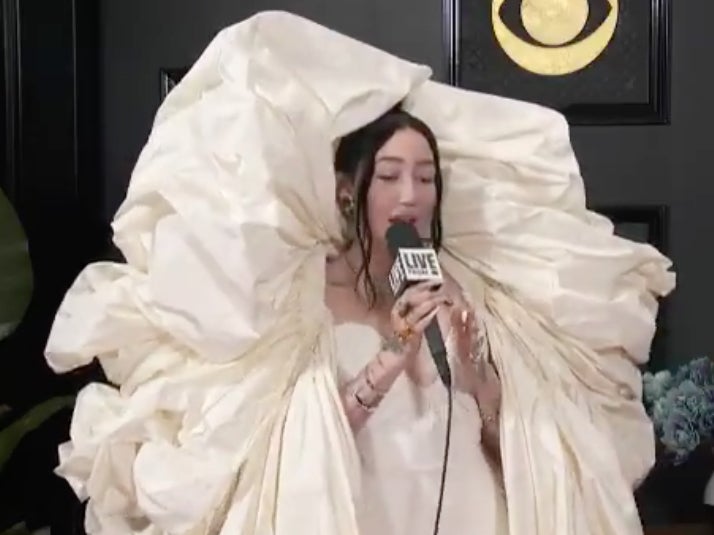 Leer en Español
On a red carpet of memorable looks, Noah Cyrus managed to stand out at this year's Grammy Awards with a white Schiaparelli Couture gown.
The singer arrived at the 63rd annual awards on Sunday, where she posed on the red carpet in the white outfit, which features oversized billowing details that circle her head.
"I feel so honoured to be able to wear this piece tonight," she told Giuliana Rancic ahead of the ceremony.
But on social media, the gown prompted a range of amusing comparisons, with viewers comparing it to everything from an unmade bed to whipped cream or toilet paper.
"Noah Cyrus is wearing a comforter," one person tweeted, while another said: "Noah Cyrus dressed as my bed for the #GRAMMYs."
Read more: These are the best-dressed celebrities at this year's Grammy Awards
"Now we know where all the toilet paper went during the pandemic.#NoahCyrus #grammys," someone else joked.
Others compared the July singer's look to a "piece of popcorn," with another viewer tweeting: "Noah Cyrus has arrived dressed as a piece of popcorn."
However, despite the memes, an equal number of viewers praised the unique red carpet gown, with some suggesting that the 21-year-old was one of the night's best-dressed celebrities.
"I think Noah Cyrus just stole my heart #Grammys," one person tweeted about the singer, who is up for Best New Artist.
Join our commenting forum
Join thought-provoking conversations, follow other Independent readers and see their replies