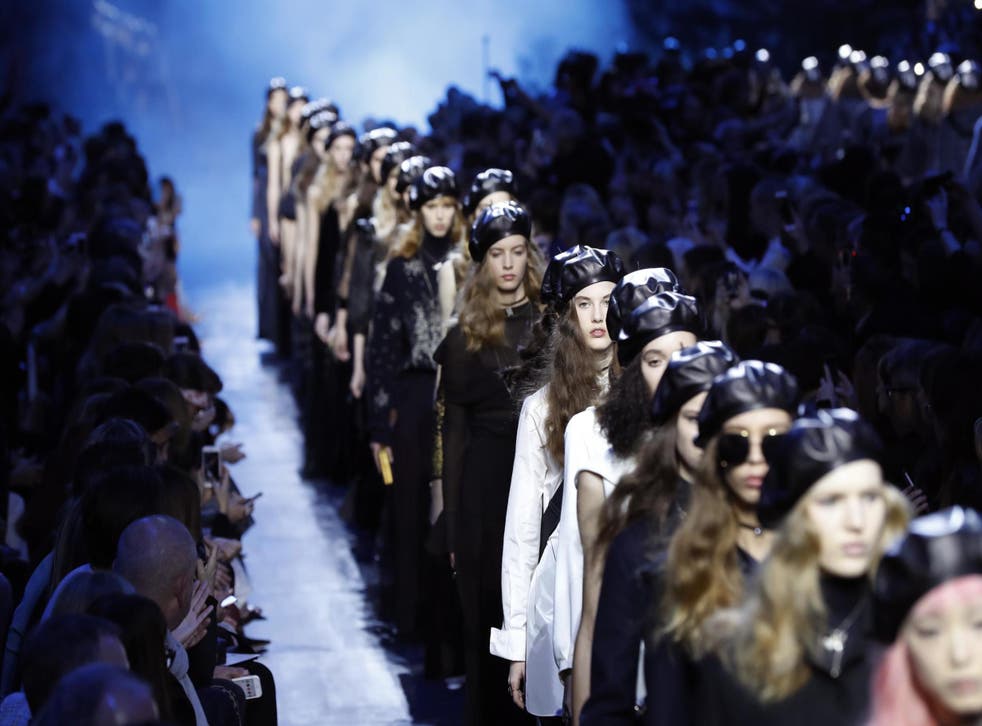 Paris Fashion Week 2017 preview: What trends, designers and shows to watch out for
The finale of fashion month is looming
Paris Fashion Week marks the climactic conclusion to a frenzied Fashion Month.
It will host some of the most highly-anticipated collections of the season, including Dior, Valentino, Saint Laurent, Louis Vuitton, Alexander McQueen and of course, Chanel.
Every show is a showstopper, with each playing a vital role in dictating which trends will permeate the high street in months to come.
So, what can eager fashion fans expect from the week-long affair, which kicks off on Monday with fashion editor-favourite Jacquemus?
If the New York, London and Milan collections are anything to go by, expect a sartorial smorgasbord consiting of nostalgic prints, political defiance, and hoards of celebrity offspring, peppered with the elevated sense of grandeur that never fails to distinguish the Parisian shows from their predecessors.
One of the most hotly-anticipated shows this season will be Chloé, who announced that Natacha Ramsay Levi would take the reigns following Clare Weight Keller's migration to Givenchy in March.
This will be her first collection for the French house, which she joined from Louis Vuitton.
Her minimalist-meets-androgynous approach is set to inject a vibrant edge into the bohemian Chloé aesthetic.
London Fashion Week 2017: Street Style
For more on what trends, models and famous faces you can expect to percolate the Paris shows, read on, my fashionista friends.
The Trends
If the New York, London and Milan catwalks were anything to go by, the beloved shade-du-jour, millennial pink, isn't going away any time soon.
From fuchsia silks at Roksanda and dusty ruffles at Erdem to peachy hues at Mary Katrantzou and Molly Goddard, prepare for a season of rose-tinted love.
Glitter fiends will be delighted to hear that lashings of Studio 54 sequins slid their way into a number of collections this season.
Inaugurated at Tom Ford and Marc Jacobs with glitter-drenched gowns and iridescent sleeves, the trend was fully cemented into the sartorial sphere by none other than Gucci, who revived the globular tack variation by employing it on sweatshirts in a collection inspired by Elton John - Alessandro Michele seldom shies away from the demure.
With a perennial preference for all things sparkly (remember those silver boots?) expect to see this sparkling trend championed in by Saint Laurent.
Romance is making a catwalk comeback too, and we're not talking the "boy-meets-girl" romcom narrative kind that perpetuates a Richard Curtis film.
Think wallpaper florals at Prada and tulle skirting at Temperley London, set to epitomise modern elegance by accentuating and flattering the feminine form.
The Frow
The Paris shows always boast the starriest of frow-ers.
From the Kardashian clan migrating from Bel Air to Balmain, to the French cool-girls like Caroline de Maigret frequenting the frow at Isabel Marant and Commes Des Garcons (whose distinctive aesthetic was deemed so monumental that it set the entire theme for last year's Met Gala).
Dior tends to boast the most A-listers, with Rihanna, Kate Moss, Sienna Miller and Karlie Kloss all making a stylish appearance last year.
However, fashion's recent changing of the guards will bring a whole new host of faces to the front row, mostly thanks to the appointment of Edward Enninful, who succeeded Alexandra Shulman as editor of British Vogue in July.
Expect to see him sitting catwalk-side along with BFF - and Vogue's contributing editor - Naomi Campbell, and Venetia Scott, his newly appointed fashion director.
The Models
Expect to see catwalk regulars like Kendall Jenner, Gigi Hadid and Adwoa Aboa marking their fashion month finales on the Parisian runways.
Last season saw all three walking for the galactic-themed Chanel show, and it's likely they'll reappear this season.
One model who fans are hoping will make her Chanel debut is Kaia Gerber, daughter to none other than modelling maveerick Cindy Crawford.
16-year-old Gerber made her fashion week debut in New York at Calvin Klein, and has been making waves ever since with appearances in practically every major show on the fashion line up including Marc Jacobs, Burberry and Fendi.
It's very likely that she'll walk for Chanel, given that her Fendi appearance means she's clearly got creative director Karl Lagerfield's seal of approval.
We wouldn't be surprised if she sashayed down the Dior runway either.
Diversity
Ah, fashion's very own Achilles heel.
Critics have praised this season's shows for featuring models of all races, ages and even genders this season (men, women and transgender models have braced the catwalks so far) and one can hope that this will transcend to Paris.
However, one thing that few brands have yet to fully embraced is the concept of body diversity.
Plus size models are still rarely cast in major shows, something that US Vogue editor Anna Wintour finds particularly problematic on British designers, who she believes fully subscribe to the idea that the "cool girl" is still very much also "the thin girl," as she explains in the above clip.
Is Paris likely to subvert this concept?
They might, given that luxury French retail giants LVMH and Kering recently banned size zero (UK size four) models from appearing on the catwalks.
Here's hoping that Saint Laurent, Dior and Louis Vuitton - all owned by the fashion powerhouses - will lead the way in diverse representation this season.
Join our new commenting forum
Join thought-provoking conversations, follow other Independent readers and see their replies