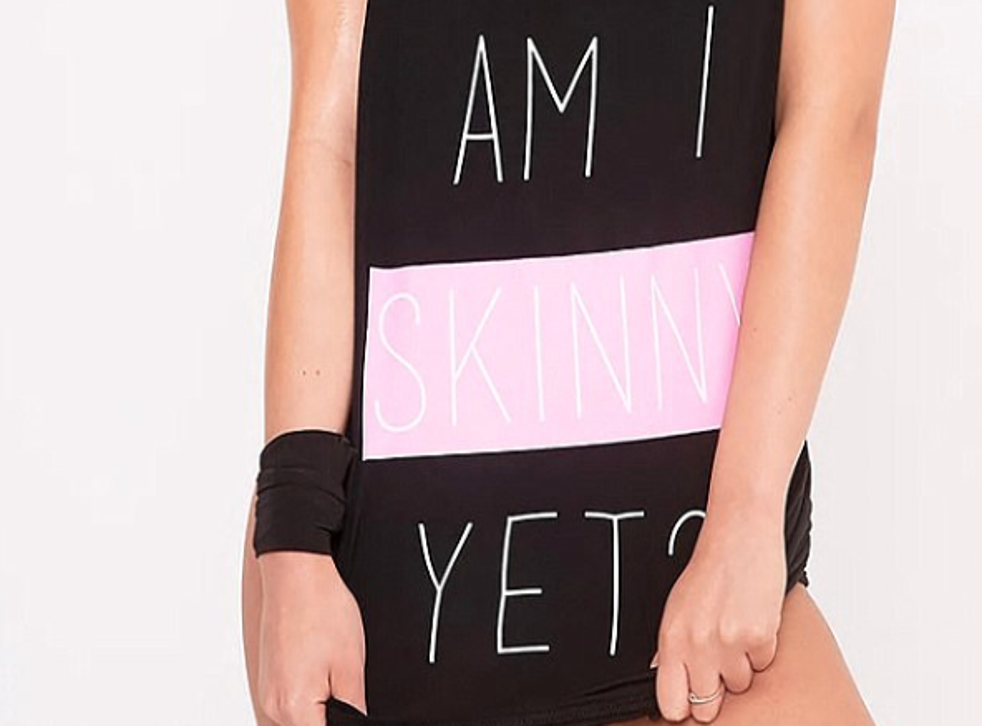 Pretty Little Thing remove gym vest with logo 'Am I Skinny Yet?' from sale
'Please explain what the actual f*** this shirt is?'
Online fashion retailer Pretty Little Thing has been forced to remove a slogan vest from sale after it was slammed for promoting eating disorders.
Emblazoned with the words "Am I Skinny Yet?", the £4 gym top has left shoppers shocked with one former anorexia sufferer claiming that it could influence customers to aspire to be skinny and promote negative body thoughts.
"The best way to describe my feelings towards the vest is I'm disgusted in it. I was horrified when I saw it," Jess Mell, a former anorexia sufferer told The Sun.
"I think it would make people think they have to aspire to be skinny and consequently promote eating disorders.
"I think everyone should be trying to promote body confidence and not body shame.
"This top just promotes negative thoughts."
And, she's not the only one troubled about the repercussions the piece of clothing could have on impressionable customers.
Taking to Twitter, other worried shoppers shared their concern and criticised the retailer for promoting unhealthy weight loss.
"Please explain what the actual f*** this shirt is? As a brand do you mean to encourage body hatred amongst women in order to sell your products?" one person wrote.
"As if body dysmorphia / hatred aren't common enough amongst women you want to sell them sports wear literally telling them they're not "skinny" yet and potentially promote unhealthy weight loss?"
A spokesperson for Beat Eating Disorders has also spoken out adding, "Sadly, this vest top is not the first example of how eating disorders can be trivialised or glamourised.
"We know clothing such as this vest top can trigger negative behaviours in people who are affected by these complex mental health issues, which can cause serious harm.
"We urge the company responsible to stop making this vest top, and call on all retailers to refuse to sell it."
In response to the controversy surrounding the top Pretty Little Thing told The Independent, "We'd like to apologise to Jess and any of our customers who felt any offence by this. We take these allegations extremely seriously and encourage young girls to be happy and healthy whatever their weight, shape or size.
"The t-shirt in question has been removed from our website and we will be working with our teams to ensure this does not happen again."
Join our new commenting forum
Join thought-provoking conversations, follow other Independent readers and see their replies