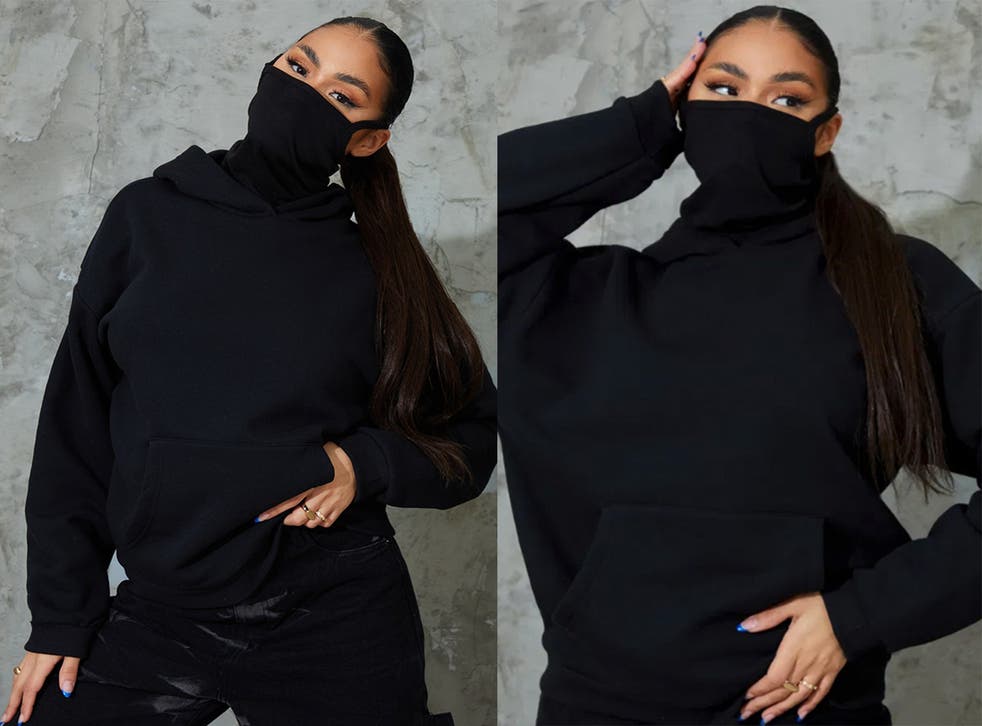 PrettyLittleThing selling £16 'mask hoodie' with built-in face covering
'Mask hoodie' comes after brand launched hugely popular 'mask dress'
PrettyLittleThing has released a hooded sweatshirt that comes with a built-in face mask.
The "oversized mask hoodie", as it's called, costs £16 and comes in grey and black.
According to the brand's website, the sweatshirt is hugely popular and has already sold out in most sizes.
The launch comes after the fast fashion brand released a dress featuring an in-built mask design that also proved very popular.
The unconventional bodycon dress, which retails for £15, caused a stir when model Lottie Moss was spotted wearing it in London in late September, so much so that it quickly sold out on the site.
On its website, PrettyLittleThing clarifies that the mask attached to the garment is not a medical face covering.
"Please note that this mask is not personal protective equipment, PrettyLittleThing do not claim any medical benefits of using this product," its description reads.
"Therefore please still follow and practice all relevant social distancing guidelines."
The government website states that it does not require any particular mask or face covering, but it does state that the risk of transmission for Covid-19 may be reduced by wearing masks made from thicker fabrics or multiple layers.
According to a recent study conducted by researchers at the University of Cambridge and Northwestern University, most of the fabrics commonly used for non-clinical face masks are effective at filtering ultrafine particles that may contain viruses such as SARS-CoV-2, the virus which causes Covid-19.
For the study, researchers tested everything from t-shirts and socks to jeans and vacuum bags to uncover which type of mask material was most effective at filtering the particles at high speeds, which reflected how they'd work if someone coughed or breathed heavily into the mask.
They also examined the effectiveness of N95 and surgical masks, which are more commonly worn by healthcare professionals.
PrettyLittleThing was criticised in November for selling clothes for as little as 8p on Black Friday.The brand was accused of promoting fast fashion and unsustainable consumption and offered selected items at 99 per cent off their full price.For example, high-heeled shoes were on sale for 25p while some dresses were being sold for 8p.
One Twitter user shared that they had purchased 56 items from the website for just £28.
In response to the criticism, a spokesperson for Pretty Little Thing confirmed that its Black Friday sale would continue to run until stocks ran out.
Join our new commenting forum
Join thought-provoking conversations, follow other Independent readers and see their replies