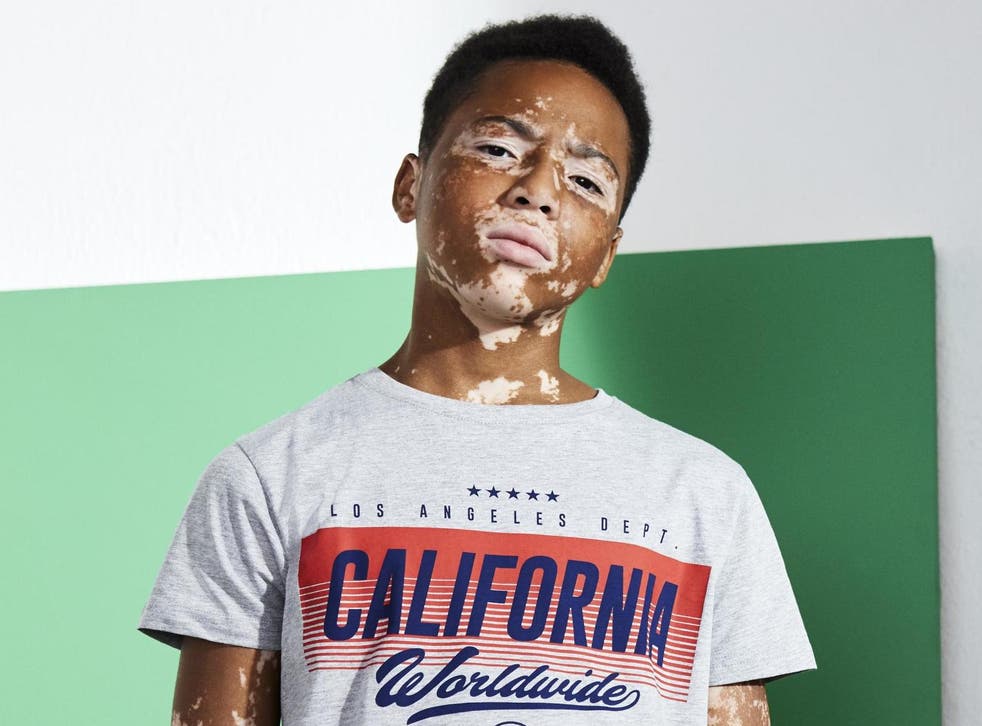 Primark praised for featuring model with vitiligo in fashion campaigns
'This is why representation is so important'
Sabrina Barr
Monday 14 January 2019 17:18 Comments
Primark has been commended for setting a "brilliant example" to other fashion brands by featuring a young boy with vitiligo in its latest clothing campaigns.
Vitiligo is a long-term condition that involves pale white or pink patches appearing on the skin due to a lack of the skin pigment melanin.
It's a fairly common condition, affecting approximately one per cent of the world's population, and can develop at any age.
Some people with vitiligo face discrimination due to the appearance of their skin, which is why greater representation of it in mainstream media can have such a positive impact.
Professional model Winnie Harlow, who has vitiligo, has modelled for publications including Glamour, Ebony and Complex.
People have long-praised Harlow for talking about the condition publicly, having previously spoken at a 2014 TED event and at the 2015 Women in the World Foundation Summit about her experiences.
Shoppers have applauded Primark for raising awareness of the skin condition by choosing to include a model with vitiligo in the campaigns for its new ranges of children's activewear and casualwear.
One woman was delighted when she spotted a billboard of the model in a Primark store.
"Big up @Primark for including models with vitiligo in their stores," she tweeted.
"I showed this to my mum, who always struggled with my vitiligo, and she smiled."
"My aunt would have been so amazed if she had seen this," another person commented in response.
"Always think of her and how much she struggled with it since people thought she was dirty. She would have been amazed that there are now adverts like this."
"This is why representation is so important," someone else remarked.
Becky Hewitt, CEO of charity Changing Faces, tells The Independent why it's so significant to see someone with vitiligo featured by such a well-known fashion brand.
"Ensuring that people with visible differences are seen and heard across the fashion industry, in the media and in public life is so important," she says.
"The people we support often tell us that they have never seen anyone who looks like them in fashion magazines and ad campaigns, and this has a huge effect on their self-esteem.
"Primark are setting a brilliant example and we hope to see many more brands following suit, so that fashion is truly accessible to all.
"The overwhelmingly positive response to this campaign shows that featuring more people with visible differences will help address the stigma around 'looking different' and prove that true beauty is about being proud to be yourself."
A Primark spokesperson highlighted the retailer's commitment to inclusivity in a statement sent to The Independent.
"At Primark everyone is invited and our customers are at the centre of everything we do. We always strive to represent diversity and inclusivity, and our brand imagery reflects this," they said.
"We want people to see our campaigns and be able to relate to them."
In February 2018, cosmetics company CoverGirl featured a model with vitiligo in a campaign for the first time.
The advert shows model Amy Deanna applying the brand's trueBlend Foundation in a way that accentuates her vitiligo.
"Why try to blend in when you can choose how to stand out?" the voiceover asks in the advert.
Support free-thinking journalism and attend Independent events
Changing Faces is a UK charity for anyone who has a mark, scar or condition that makes them look different. For more information, including online resources and information on skin camouflage services, you can visit their website or call 0345 450 0275.
Register for free to continue reading
Registration is a free and easy way to support our truly independent journalism
By registering, you will also enjoy limited access to Premium articles, exclusive newsletters, commenting, and virtual events with our leading journalists
Already have an account? sign in
Join our new commenting forum
Join thought-provoking conversations, follow other Independent readers and see their replies