Puffer jackets: How one fashion trend united models, skiers and prime ministers
It's time to pack a puffer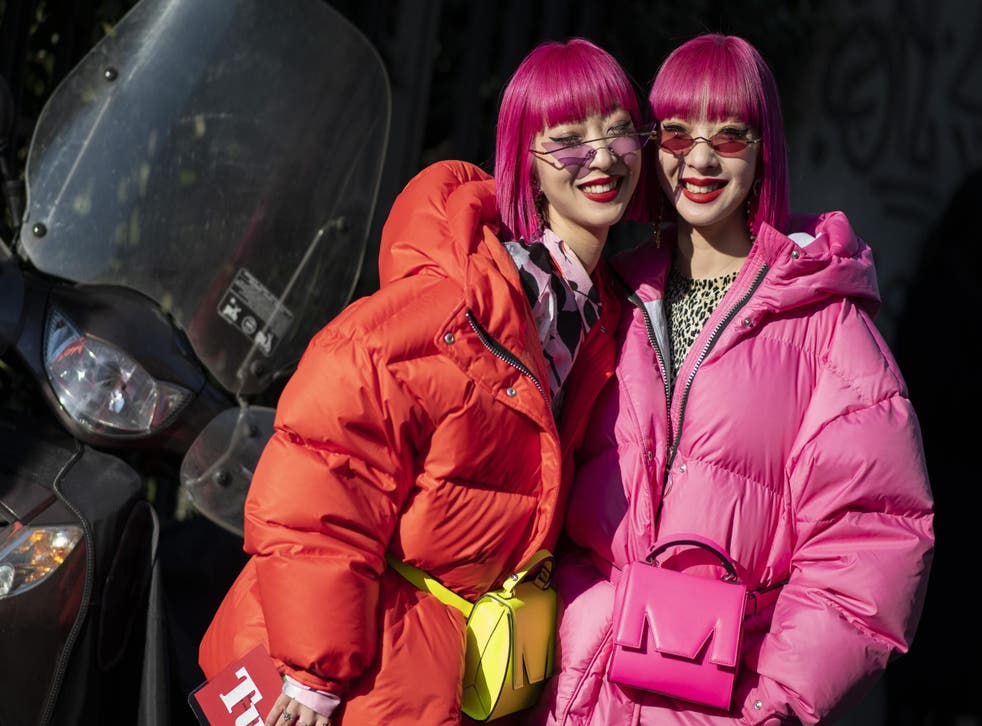 As we try to adapt to these cold climates, there's only one jacket worth wearing right now, and it looks a bit like a duvet.
The humble puffer jacket has acquired cult status in recent years, and its trajectory is impressive, having gone from cushioning outdoorsy types on their morning dog walks to snuggling some of the most famous torsos in fashion.
Its versatility is reflected by its eclectic fanbase, with lithe-limbed models on one end – Karlie Kloss, Hailey Baldwin and Gigi Hadid are all puffer fans – and world leaders on the other; Theresa May has been spotted wearing hers outside No 10 Downing Street.
The puffer is no stranger to the runway either, with Vetements, Balenciaga, and Burberry all taking their turn to step into the sartorial ring.
Most recently, it made an appearance at New York Fashion Week via Tom Ford's autumn/winter 2019 collection.
Celebrities in puffer jackets: The latest outerwear trend to note

Show all 10
Clearly this is not a trend that's going anywhere, anytime soon.
According to online retailer Net-a-Porter (NAP), the puffer jacket is one of the most popular styles on its site, with sales up by 41 per cent since 2018.
Best-selling brands championing the jacket style on their websites include Fendi, Ganni and Alexander Wang.
But when it comes to puffer jackets, there's one brand that reigns supreme: Moncler, whose sales have surged by 46 per cent this year on NAP.
The luxury Italian label might make some of the most expensive jackets in the business – prices range from £950 to £5,795 – but they're some of the comfiest and indeed the warmest around, thanks to their signature down quilting. It's no surprise, then, that Moncler also happens to be the label of choice for celebrity skiers – think Kim Kardashian West and Rosie Huntington-Whiteley.
Designer versions of the puffer jacket have been around since the Eighties, explains Dr Harriet Atkinson, senior lecturer in design history at the University of Brighton.
"The history of these coats can be traced both through the influence of expeditionary outdoor clothing and through the history of bedding," she tells The Independent, adding that it is thought to have been developed by US inventor and adventurer Eddie Bauer.
"The catalyst for Bauer's invention was a fishing excursion in 1935 during which Bauer suffered hypothermia, inspiring him to create his first quilted-down jacket designed in 1936. The quilting allowed him to keep the down in place, spreading the warmth across the jacket, which received patent approval in 1940."
How then, did this swashbuckling staple become the versatile outerwear it is today? One that is as much associated with Nineties fashion and streetwear as it is with parents on the school run?
"In 1973, New York-based designer Norma Kamali launched her full-length 'Sleeping Bag coat'," Atkinson continues, "a style that has been produced ever since".
It is this that is largely viewed as the fashion moment that catapulted the puffer jacket out of campsites and into the mainstream.
As for why its popularity persists today among such a wide-range of clientele, celebrity stylist Alex Longmore tells The Independent that this is all part of a wider resurgence in functional fashion.
"There's been a massive interest in making functional cool again," she tells The Independent, referencing the recent surge in hiking boots, a style with similarly practical roots.
"Streetwear is the biggest business in the fashion industry right now, and puffers fall under that category having once been deemed as an urban staple, so it's no coincidence they have been made cool again," she adds.
"To be honest they never really went out of fashion, especially overseas in the US."
Whether you choose to wear yours like a politician or a pop star, chances are that so long as the weather is frightful, the warmth of a puffer will be eternally delightful.
Join our new commenting forum
Join thought-provoking conversations, follow other Independent readers and see their replies