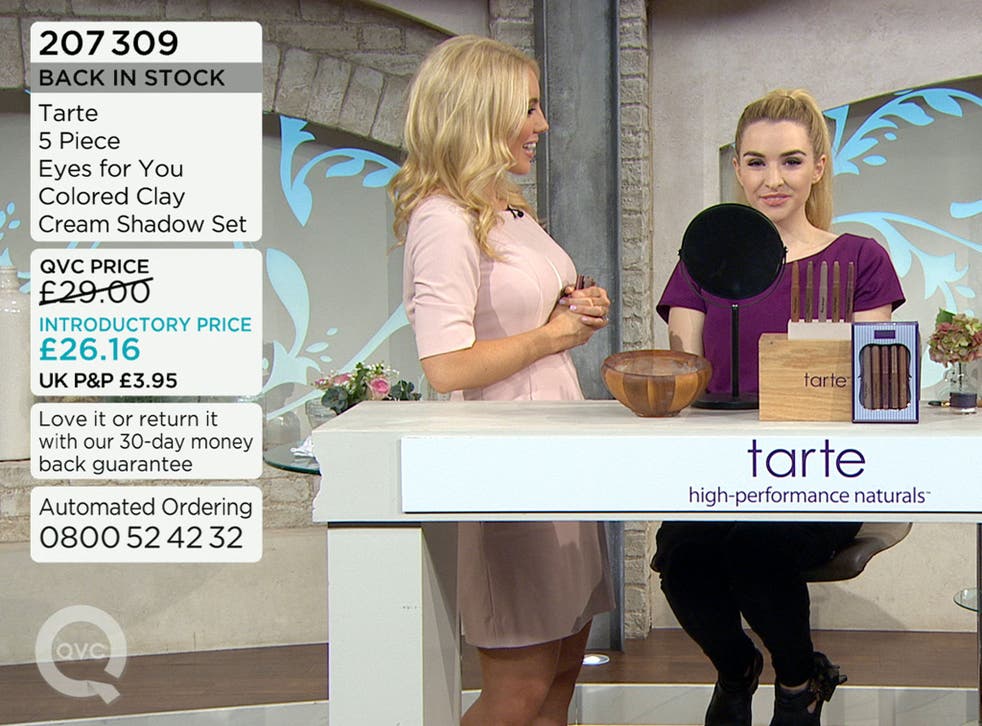 QVC: How the American home-shopping channel became one of the biggest players in British beauty
The channel broadcasts live 364 days a year, for 16 hours a day, and is accessible to 27 million homes in the UK. In 2014 its UK turnover was a staggering £450m, as Rebecca Gonsalves reports
Rebecca Gonsalves
Saturday 14 November 2015 03:09 Comments
In a studio in Chiswick, west London, two women sit in comfortable chairs catching up. But on the table between them, where you might expect two mugs of coffee or glasses of wine, there is a display of colourful Murano glass earrings and bracelets. And actually it's not just the two of them, there is also a camera operator and sound technician, and up to a million customers at home. These are presenters on QVC – the home shopping channel that began broadcasting in the UK 22 years ago.
From my vantage point in the control room, I watch as the programme's director updates presenter Chloe Everton on sales of the pendant she's currently praising, telling her to sell the last few in stock before leading on to the next item. Everton follows the voice in her ear seamlessly drawing Francesca Randazzo, the jewellery designer, into a conversation about her designs and, in this way, ensuring that almost every item does indeed sell out during the hour-long  programme. A monitor shows a live feed of the broadcast with sales data overlaid. Red lines with spikes flash up as demand for each item peaks before stock in QVC's Liverpool distribution centre runs out. By the look of it, things are going very well indeed.
Back in 1993, a TV shopping channel was a pretty foreign concept. But spurred on by its success in America, where it had launched on 24 November, 1986 – the first thing sold was "Windsor Shower Companion" shower radio – founder Joseph Segel decided to bring the format here. A dozen years later its British arm was reporting a profit of £12.5m.
Today, QVC – which stands for quality, value, convenience – broadcasts live 364 days a year, for 16 hours a day, and is accessible to 27 million homes in the UK. In 2014 its UK turnover was a staggering £450m.
Still, despite the success and its growth into a global behemoth, with a listing on the New York Stock Exchange and a presence in seven countries, it has a reputation for being a little, well, naff. It has been the butt of countless jokes over the years, and no more so than when it comes to its beauty and fashion section.
Beauty is by far QVC's biggest selling sector and those spikes on the screen represent big money. The company has a massive 247 beauty brands in its portfolio and selling out a product in minutes is not unheard of. While on the high street that would give retailers nightmares, QVC works very differently. Just what has made QVC one of the biggest – and perhaps most surprising – success stories in British beauty retailing?
One of the main reasons ascribed to its success is technical. It's governed by the Advertising Standards Authority, so any claim made on air needs to be backed up by substantial evidence, which isn't the case when you visit your local beauty hall. Anyone who has done that will have inevitably experienced the pressure of the hard sell and the peculiarly British response of buying products out of politeness. If a QVC presenter starts coming on too strong you can simply change the channel or turn the TV off. If you don't like your order when it arrives, you have 30 days to return it, even longer for some electrical items. That changes the whole sales dynamic.
As does the money-back guarantee, another reason shoppers are so enamoured of QVC. But an even bigger part of its appeal is its presenters.
Alison Young has been with the channel since its launch, and as one of the most popular beauty presenters is something of a celebrity: "I get recognised in everyday life – buying a train ticket, changing tyres or even up a ski lift," she says. Young's popularity comes, in part, from her years of beauty experience but also from the honesty with which she presents the products.
"I hate hearing [from brands], 'what do I have to do to sell?'. Imagine being the customer, we hate being sold to – so I focus on the conversation and the individual language." What that means is that Young and her colleagues are just as likely to explain who a product won't benefit as those it will, so customers who don't have false expectations are inevitably happier with their purchases.
In QVC's early days, there were no more than 10 beauty brands willing to take a risk with this new-fangled way of selling. Those that did have since reaped huge rewards. "In the five years that I've been here there have been perceptions and stigmas about QVC, about TV shopping that we've had to get over," says Sandra Vallow, beauty buying director. "But I've also seen a number of premium brands that aren't selling with us knock on our door, because they've realised it's just a different way of retailing and they've opened their minds."
Liz Earle was someone who recognised QVC's potential from the beginning. She chose to launch her brand with the station in 1996 and it has since sold more than 75,000 gallons of her signature Cleanse and Polish cleanser. Spa brand Elemis has been selling on the channel for two decades, and in 2013 QVC sold 105,000 units of one of its six-piece collections in 28 hours. That was one of the channel's signature "Today's Special Value" offers, a limited-time product promotion that goes live at midnight and is invariably the best-selling item of that day.
While that is the channel's biggest ever sales figure, Vallow emphasises it's anything but a one-off: "We have times when we've bought enough of a "Today's Special Value" to last 24 hours and we've sold out before we even get to work in the morning. The Elemis figure is big, but we have a number of other sales that aren't far off." Value for money is clearly important to the QVC customer. All the more so when the brands being sold are also available on the high street – names such as Bobbi Brown, Bare Minerals, and Benefit.
To ensure that they can compete with the convenience of a department store or high street retailer, Vallow and her team have to work hard to ensure exclusives. That exclusivity runs to the newer brands QVC launches too, like US-based eco-friendly Tarte cosmetics which sold out in minutes when it launched last March. In fact, explains Vallow, the buying team at John Lewis will often send new brands in her direction, knowing that her retail model has the power to introduce a new product to a huge market and do much of the necessary educational legwork which will ensure success.
Vallow and her team of eight buyers are responsible for finding those new brands. And also for letting down gently some of the hopefuls who are not right. "Lots of brands come to us," explains Vallow, who also scours new trade shows and US stores for products. "And they've read figures like Elemis's 105,000 units sold, but we often have to say no, because they just don't have the support structure in order to meet demand."
But success isn't just down to production capacity. Whereas a bricks-and-mortar store would measure productivity in pounds-sold-per-square-foot – with profitable or exclusive brands being given more space or prominent positioning – QVC works on a pounds-per-minute basis. To ensure that each brand in the portfolio is successful, it's important that no new brand will cannibalise the sales of an existing one.
Then there are the different types of show. There are two types of beauty programme on QVC: generic shows which look at a range of products from multiple brands, such as Friday Night Beauty Fix presented by Alison Young, and dedicated hour-long branded shows, where a presenter is joined by a guest from the brand who can help communicate its key benefits or explain the science behind its ingredients.
Finding the right guest presenter is key to how successful a new launch will be. And so the audition process is tough, with about half of prospective presenters failing first time. That sounds harsh, but presenter training is offered to those whose beauty and brand knowledge may be second to none but who are perhaps camera-shy. "In a perfect world we'd have the founder of a brand as the guest presenter or someone integral to the business, but what we don't want is an actor who is paid to go on air," says Vallow. "It's like a life-time commitment, the customers build up this relationship, and they really trust that we've given them 'the' expert."
That expertise is unmatchable, says Fiona Embleton, acting beauty editor at Stylist: "It's like a facialist or make-up artist's expertise is being beamed directly into your living room. You have brand ambassadors explaining the benefit of ingredients and application techniques, and live demonstrations on models where you can see the desired results with your own eyes. That's far more persuasive than the girl behind the counter in Boots or an online beauty site where you rely on dubious colour swatches and miss out on that try-before-you-buy experience."
As Embleton points out, buying beauty products online is a process that still leaves a lot to be desired and often requires a huge leap of faith unless you're making a repeat purchase. QVC has this covered, too. In 2010, it launched a dedicated beauty TV channel, which helps drive sales online and through its apps: now online accounts for 35 per cent of total UK sales.
As Christmas approaches you might expect that those red sales spikes would peak even faster, but says Vallow, they are actually at a steady stream throughout the year. "It does get a bit busier, sales-wise in the lead up to Christmas, but January is a brilliant period for us." In part that's due to Vallow and her team's ability to stagger new releases, but there's another factor: the annual Beauty Bash where 5,000 of the top-spending customers descend on Old Billingsgate market in January to meet the presenters and experience their favourite brands without the dividing presence of a TV screen.
As well as queuing up to see Young and her co-stars, those voracious beauty customers will also provide invaluable feedback to those who sell on QVC. "The customers know everything about QVC," says Vallow. "But they really want to meet the guest presenters and they talk to them like they're friends. The feedback we have is, 'I don't feel lonely when I'm watching' or, 'I feel like I've got a friend in the house'. It's all built on trust really."
In an industry known for selling snake oil and false promises, it's easy to see why that is a very attractive prospect.
Register for free to continue reading
Registration is a free and easy way to support our truly independent journalism
By registering, you will also enjoy limited access to Premium articles, exclusive newsletters, commenting, and virtual events with our leading journalists
Already have an account? sign in
Join our new commenting forum
Join thought-provoking conversations, follow other Independent readers and see their replies