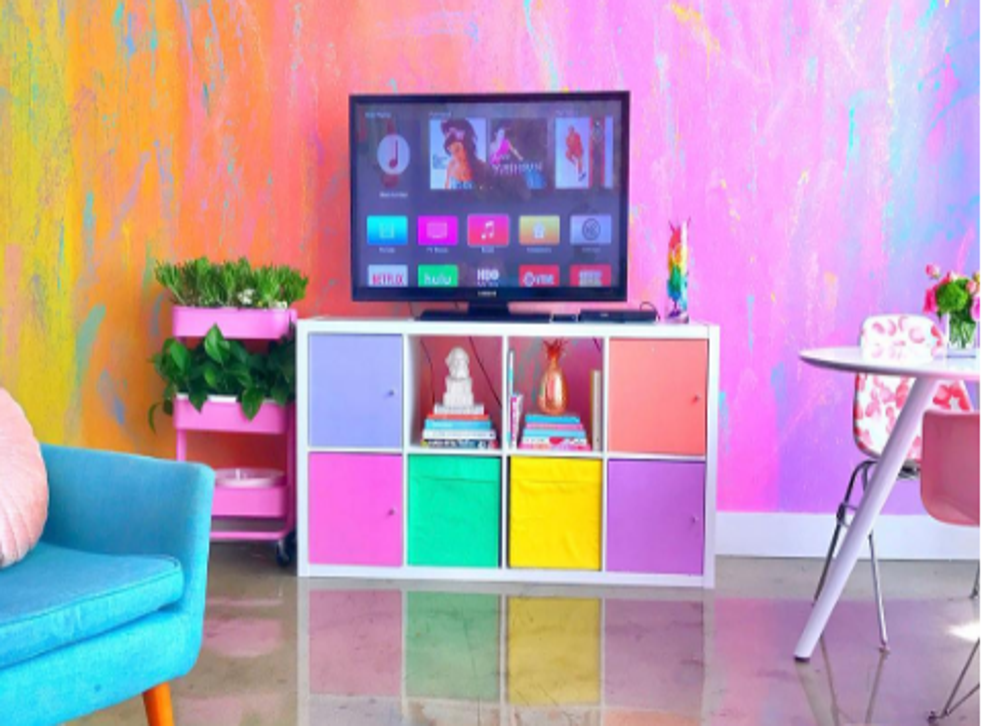 This woman's rainbow house has become an Instagram sensation
Amina Mucciolo is living the colourful life we all dream of.
Or so her beautifully curated Instagram account would suggest, anyway.
34-year-old Mucciolo lives in downtown Los Angeles and has transformed her flat into a rainbow home.
With lilac walls, huge windows and colourful sofas, it's a light, bright and inspiring place. The style completely taps into the current unicorn trend too.
One of the walls is painted in rainbow splatters, another is covered in flowers and everything is in complementary pastel shades.
There are even origami birds hanging from the ceiling.
Mucciolo has launched her own design company, Studio Mucci, which is "based on the idea that we can bring a dream-like whimsey into the every-day. Joy, excitement and inspiration is what we strive to communicate through our items."
And that's exactly what she does through her Instagram feed, which has 159,000 followers.
"I wanted this place to feel like a living art installation," Mucciolo said, adding that she wanted the flat to feel like it was always spring, as it's her favourite season.
"There's something about what happens in spring - the holidays, the colours, that fresh feeling of happiness. It's so inspiring for me."
The flat is 650-square foot and Mucciolo refers to it as "Cloudland."
She lives there with her husband Salvatore and they transformed the flat themselves.
"It's really important to me that where I live is a reflection of me and my personality, and also of my husband," she told the Mail Online. "We like for our space to be fun and happy and inspiring."
One of her favourite parts of the flat is the rainbow-splattered wall, but she was nervous about doing it:
"I knew I wanted for there to be a rainbow element in my home, at least one really strong rainbow statement," she said, adding that it took two days to do.
"I love it so much because I knew it would be great but I was still so scared to do it... But I followed my instinct and I knew it was gonna be good."
Mucciolo's own style is as colourful as her flat, with multi-coloured hair and bright makeup.
Although the flat may be considered traditionally girly, Salvatore is on board:
"My husband is such a good sport," Mucciolo said. "He loves it. It makes him happy too. He's been doing this business with me, so it's what our lives look like now."
Join our new commenting forum
Join thought-provoking conversations, follow other Independent readers and see their replies