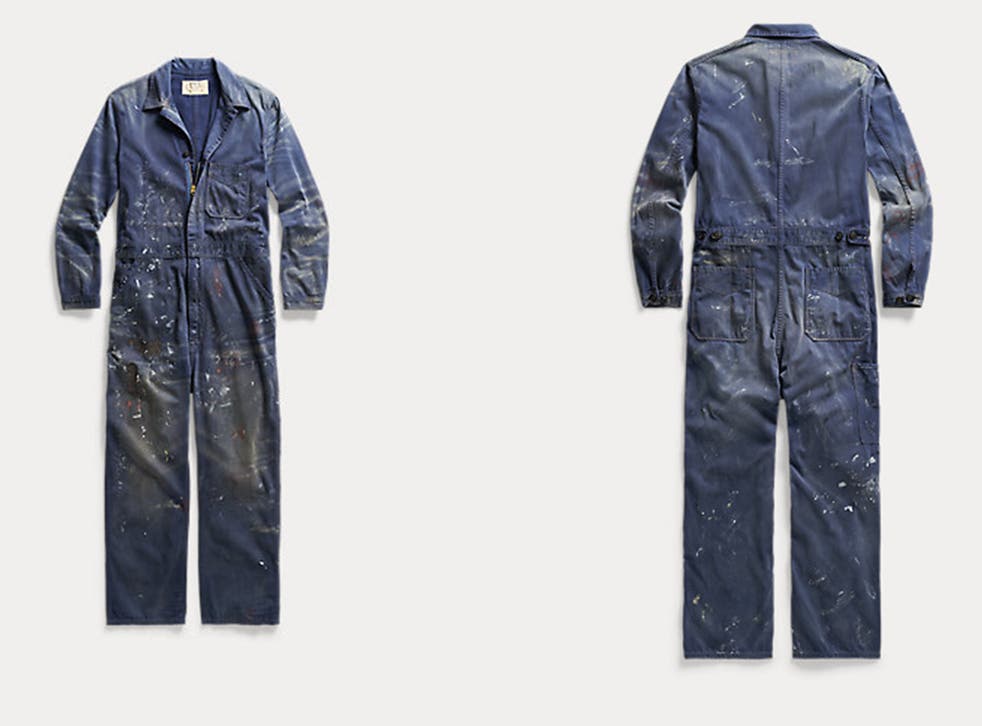 Ralph Lauren selling paint-splattered overalls for £620
'Come on all you painters and decorators, sell your kit on e-bay and make a fortune,' teases Twitter user
Olivia Petter
Thursday 08 October 2020 16:07 Comments
Ralph Lauren is selling a pair of paint-splattered overalls for £620, prompting ridicule and confusion on social media.
The full-length, dark denim boiler suit is made from Japanese cotton satin and comes complete with utility pockets, a zip at the front, and allover paint splatters.
The garment has caused amusement on social media, with users mocking the luxury American label for selling it at such a premium price.
"If you fancy a laugh just know Ralph Lauren are selling an overall with paint splatter for £620," wrote one person.
"Seeing that Ralph Lauren are selling a boiler suit splatted in paint for £620 , might start selling my work trousers, anyone interested pm me," teased another.
Another Twitter user joked that real-life construction workers should start selling their garb.
"Come on all you painters and decorators, sell your kit on e-bay and make a fortune out of the idiots. Yay!" they wrote.
Someone else added: "But unless there is a visible label, how will anyone know you were stupid enough to fork out £620 on something you could have bought for a fraction of that. They look identical to the set I've had for years."
It's not the first time that a luxury label has been criticised for selling clothes that have been intentionally made to look dirty.
Last month, Gucci started selling denim dungarees with a grass "stain effect" for £850 as part of its new autumn/winter 2020 collection for men.  
The Italian fashion house's "eco-washed organic denim overall", which has dark muddy-looking stains on the knee and thigh area, had already sold out in one size online within weeks.
Gucci said of the product: "This denim overall is crafted from organic cotton and specifically treated for a stained-like, distressed effect", describing it as a "grunge vibe".
"Gucci explores new takes on the cult fabric, reinterpreting it with different designs and washing techniques that blur the line between vintage and contemporary," it added.
Register for free to continue reading
Registration is a free and easy way to support our truly independent journalism
By registering, you will also enjoy limited access to Premium articles, exclusive newsletters, commenting, and virtual events with our leading journalists
Already have an account? sign in
Join our new commenting forum
Join thought-provoking conversations, follow other Independent readers and see their replies