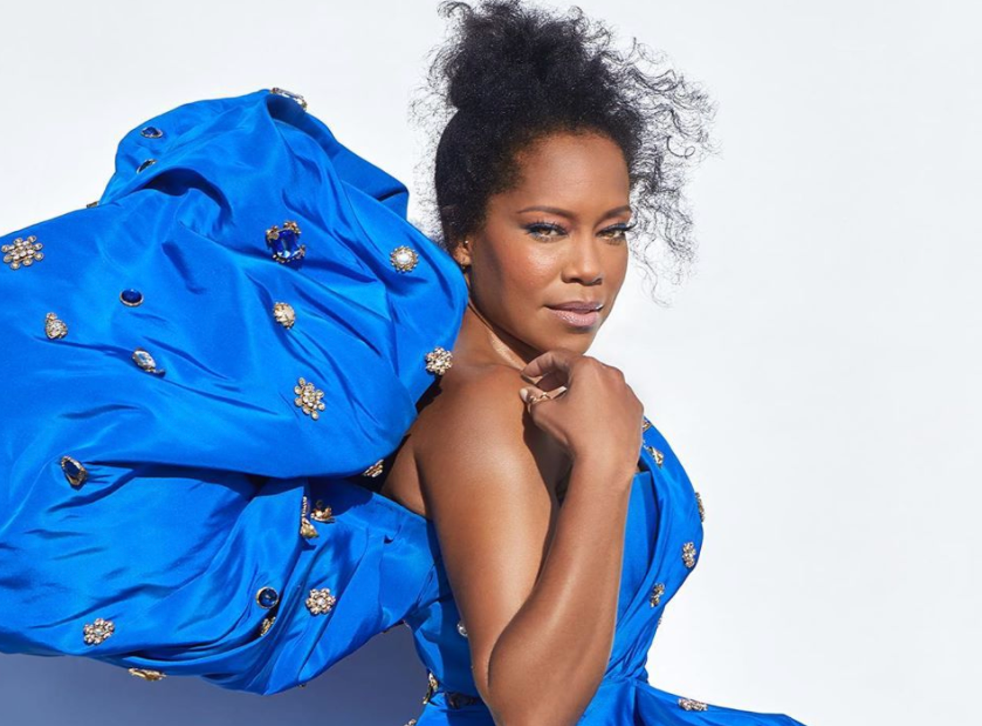 Regina King is auctioning her Emmy Awards looks to raise funds for the Obama Foundation's Girls Opportunity Alliance
Schiaparelli will also be gifting the original sketch of each look
Regina King is selling a selection of custom looks designed by Italian couture house Schiaparelli to raise money for charity.
Hosted by auction house Christie's, profit from the sales will go toward the Obama Foundation's Girls Opportunity Alliance, which helps to empower adolescent girls around the world through education.
The two outfits up for auction were both designed by Schiaparelli's artistic director Daniel Roseberry and worn by King to the 72nd Emmy Awards, where she accepted her award for Outstanding Lead Actress in a Limited Series for her role on HBO Max series, Watchmen.
The first is a haute couture asymmetric bustier dress in electric blue, which is made from embroidered faille, features 250 multi-coloured jewels, and required 270 hours of work and 12 meters of silk faille to construct.
The second is a ready-to-wear double-breasted wool suit in the label's signature "shocking pink" colour. King styled the look on the night with her own T-shirt honouring Breonna Taylor, a young black woman who was fatally shot by police earlier this year.
In addition, Roseberry's original sketches for the looks, which are signed by both King and Roseberry, will be gifted to the auction winners.
"Working with Schiaparelli has been very gratifying," King said.
"They are an historic brand that represents class and a positive work ethic which are the same values I try to live by. Supporting the Obama Foundation's Girls Opportunity Alliance is another example of why working with Schiaparelli has been so rewarding."
Roseberry added: "Ms King is an icon, both of her craft and of this moment.
"I couldn't be more honoured to have dressed her for the 2020 Emmy Awards and am proud to support the Girls Opportunity Alliance.
"We at Maison Schiaparelli join the Obama Foundation in celebrating the inherent power of women and are committed to inspiring and supporting adolescent girls through the empowering nature of fashion."
The auction is now open for bidding at Christie's here, until 30 October.
Join our new commenting forum
Join thought-provoking conversations, follow other Independent readers and see their replies