The Independent's journalism is supported by our readers. When you purchase through links on our site, we may earn commission.
River Island hires seven-year-old amputee to model new activewear
She has also walked in London Fashion Week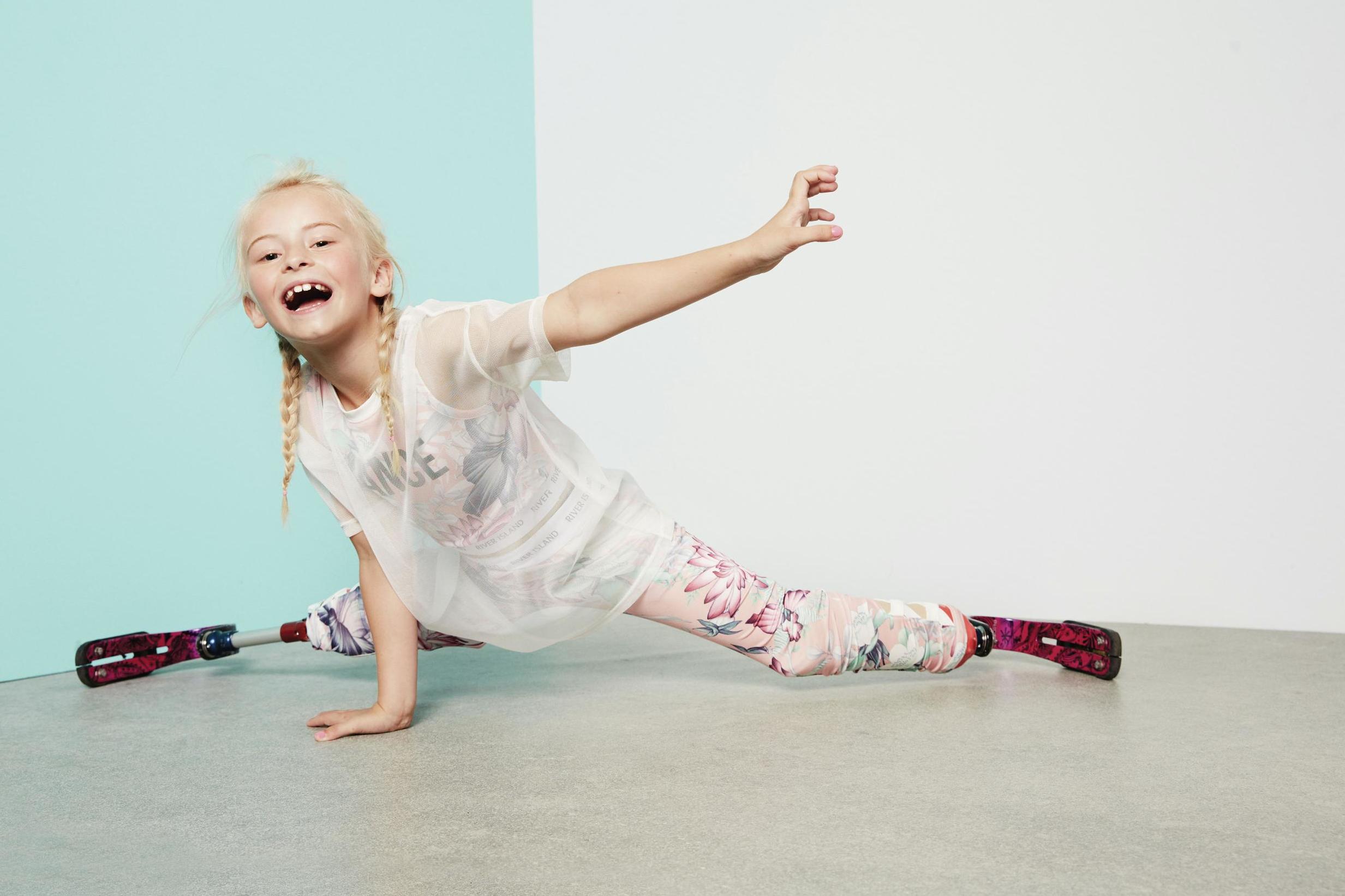 A seven-year-old double amputee from Birmingham has been chosen by River Island to model the high street store's latest activewear collection for children.
Daisy Demetree had both of her legs amputated when she was 18 months old due to a birth defect.
She started modelling six months ago after she was signed to Zebedee Management, an agency which specialises in clients with disabilities.
Since then, she has taken part in a number of childrenswear campaigns and has walked the catwalk at London Fashion Week.
In addition to modelling, she is also a keen gymnast.
"Daisy is a wonderful example to us all that no matter what life throws your way we can choose to make the best of it," said Zebedee director, Zoe Proctor.
"She and all our other models are our passion and our drive and the reason we work so hard behind the scenes, so we can help make dreams become realities for some of the best people we know."
It was Demetree's father, Alex, who first proposed the idea of modelling to his daughter after he saw someone from Zebedee speaking about the agency on ITV's This Morning programme.
"When Daisy came back from school I put the idea to her do you want to be a model of course she said yes," he said.
"At that moment, I made her a promise that I would help her be the best model she could possibly be and told her that I will get her in the high street shops pictures everywhere - exactly what we are achieving right now.
"My original statement, which I stick by now, is that she will be the most influential inspiring double amputee to have ever lived."
Alex added that his daughter's success has inspired him to tackle some of his own personal battles with alcohol and gambling, which he turned to following her amputations.
"Watching her fight back has got me to stop drinking and gambling," he said, "not by seeing a professional but seeing what she is about and how inspiring she is."
Demetree's casting comes after River Island marked its 30-year anniversary in February with a campaign celebrating diversity which featured six children with disabilities, all of whom are signed to Zebedee Management.
"River Island and Zebedee Management have worked closely together during all their diverse campaigns which have been release over the past 18 months," Proctor adds.
"They genuinely care about representing diversity and differently abled models as the norm which is how every big fashion company should be."
Join our commenting forum
Join thought-provoking conversations, follow other Independent readers and see their replies