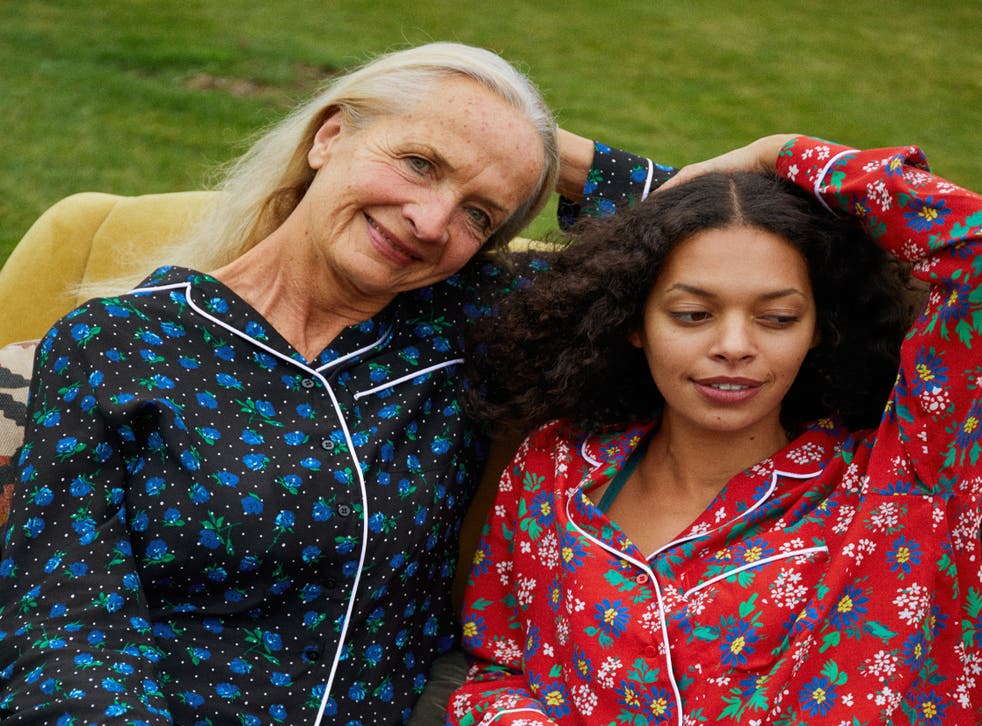 Rixo launches debut loungewear collection just in time for the second lockdown
British brand has traded party dresses for pyjamas
Rixo has launched its first loungewear and sleepwear collection just in time for the second lockdown.
On Monday, the London-based brand, whose printed dresses have become a cult wedding guest favourite, released a limited edition 13-piece range of traditional pyjama sets. But, in true Rixo fashion, these aren't any ordinary PJs.
Perfect for upgrading your working-from-home style, the pieces are made using the same recognisable prints that Rixo's party dresses have become so well-known for, including silky pyjama bottoms and matching collared tops featuring the brand's iconic Garden Party florals (£195) and Ibiza Star motif (£175).
The collection also includes a 100 per cent silk slip dress in Rixo's Vintage Rose print (£120), a matching robe (£180) and a range of eye masks (£55) designed to match your pyjamas of choice.
The brand's co-founders, Henrietta Rix and Orlagh McCloskey, have also introduced a blue gingham print set (£150) with Victorian-inspired elasticated cuffed trousers (£150) and a co-ordinating balloon sleeve night dress that can be worn on or off the shoulder (£125).
Elsewhere, a boxy cotton short-sleeve shirt comes with a floral embroidered scallop collar (£75), while a relaxed-fit T-shirt (£85) features the slogan "Eat, sleep, be happy, repeat". 
Made to stand the test of time, all pieces come packaged and delivered in a protective certified organic cotton pouch.
Speaking to British Vogue, Rix and McCloskey said they designed the new loungewear collection during the first lockdown as people began looking for in-between clothing options that weren't as restrictive as usual daywear but still retained some semblance of style.
"We're driven to be agile and make sure we're adapting to what's going on," Rix said. "We are the customers of Rixo, so it's a case of knowing what we want right now."
McCloskey added: "The prints aren't toned down just because they're pyjamas."
With the majority of us spending more time at home than ever before, you'd be forgiven for wanting to stay in your comfy pyjamas all day – and now you can, all without raising any eyebrows during last-minute Zoom calls.
The demand for loungwear during the first lockdown skyrocketed with retailers such as Vestiaire and Net-A-Porter reporting an increase in sales for the category of up to 70 per cent, while ASOS experienced a 329 per cent rise in annual profits, much of which it stated was largely due to sales of casual clothing.
You can read our roundup of the best stylish loungewear to keep you warm while you're at home here.
Register for free to continue reading
Registration is a free and easy way to support our truly independent journalism
By registering, you will also enjoy limited access to Premium articles, exclusive newsletters, commenting, and virtual events with our leading journalists
Already have an account? sign in
Register for free to continue reading
Registration is a free and easy way to support our truly independent journalism
By registering, you will also enjoy limited access to Premium articles, exclusive newsletters, commenting, and virtual events with our leading journalists
Already have an account? sign in
Join our new commenting forum
Join thought-provoking conversations, follow other Independent readers and see their replies