Rosamund Pike sports chic red tulle gown with combat boots at the Golden Globes
The actor won Best Actress in a Musical or Comedy Motion Picture and gave her acceptance speech in style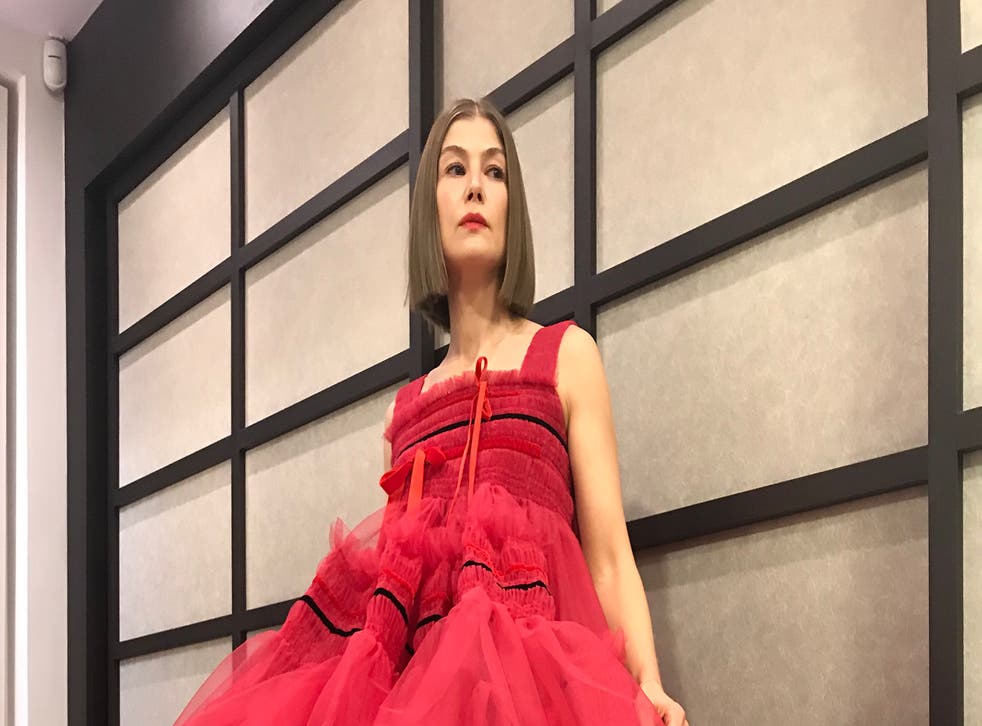 Appearing virtually at the 78th annual Golden Globe Awards, Rosamund Pike wore a bold red tulle gown, with bright red lippy, her hair in a straight blunt bob cut, and paired with black combat boots.
The striking large tutu dress, with thick straps, velvet bands, and bow details, was created by Molly Goddard, and became one of the ensemble highlights of the ceremony, which was conducted online due to coronavirus.
"It's extraordinary to be all dressed up in a hotel room on your own," said Pike on her outfit, during the virtual press conference.
"I did have some more sensible options. But this is an outlying year for outlying options. You've got to express what it feels like to be all dressed up with nowhere to go. This dress just felt like, whatever happens, I would have fun and I'd find something to laugh about and smile about ...I'd float down a corridor in a deserted hotel and find some fun in that, like a pink ghost."
The Brit won the award for Best Actress in a Musical or Comedy Motion Picture for her Netflix film I Care A Lot, in which she plays a court-appointed guardian and con artist Marla Grayson.
Pike wore a similar rock style at Netflix's Nominees Toast virtual event, when she had on the same biker boots with a high-waisted floor-length leather skirt and a cropped puff sleeve blouse.
The actor posted about the importance of film and TV during the pandemic: "As [Netflix CEO] Ted Sarandos said, what these films and television shows have given us this year is 'a sense of connection at the time we need it most'. I second that.
"The response to #ICareALot has been collective almost in a way I would have imagined it had we been in cinemas. Quite an extraordinary effect. Thank you all of you who have watched the film and thank you @Netflix #NetflixNomineesToast,"
In her acceptance speech at the Golden Globes, the actor thanked the Hollywood Foreign Press Association and her fellow nominees Michelle Pfeiffer for French Exit, Kate Hudson for Music, Anya Taylor-Joy for Emma, and Maria Bakalova for Borat Subsequent Moviefilm.
"HFPA, thank you for recognising, I suppose, the dark side of comedy. My fellow nominees, I am so honoured to be in this room with you."
Pike joked about a scene Maria Bakalova had to do for Borat Subsequent Moviefilm.
"In my movie, I had to swim up from a sinking car. I think I probably would rather do that than be in a room with Rudy Giuliani," before humorously thanking; "America's broken legal system for making it possible to make stories like this."
Register for free to continue reading
Registration is a free and easy way to support our truly independent journalism
By registering, you will also enjoy limited access to Premium articles, exclusive newsletters, commenting, and virtual events with our leading journalists
Already have an account? sign in
Register for free to continue reading
Registration is a free and easy way to support our truly independent journalism
By registering, you will also enjoy limited access to Premium articles, exclusive newsletters, commenting, and virtual events with our leading journalists
Already have an account? sign in
Join our new commenting forum
Join thought-provoking conversations, follow other Independent readers and see their replies