RuPaul's Drag Race UK finalists star in glamorous Rankin photo shoot

Show all 7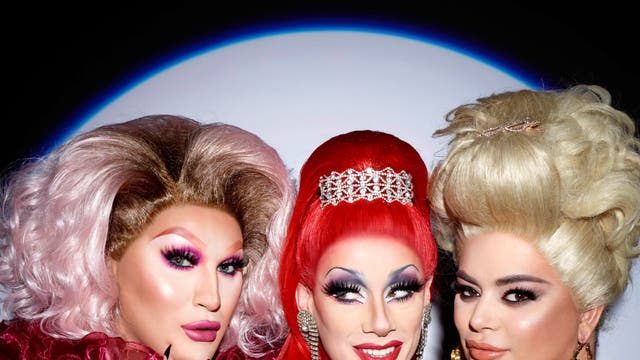 RuPaul's Drag Race UK finalists star in glamorous photo shoot by fashion photographer Rankin
Baga Chipz, The Vivienne and Divina de Campo to fight for the crown in Thursday's final
The finalists of the first series of RuPaul's Drag Race UK have been captured by esteemed fashion photographer Rankin in an elegant photo shoot.
Over the past eight weeks, drag queens The Vivienne, Divina de Campo and Baga Chipz have been put to the test by television personality RuPaul to determine who should be named the UK's first Drag Race Superstar.
On Thursday evening on BBC Three, the nation will discover who is to receive the coveted crown, as well as the opportunity to star in their own series in Hollywood.
Prior to the grand finale, the three finalists have appeared in a glamorous photo shoot, which is featured in the latest issue of Grazia magazine.
The queens each don their own signature style of drag in the photo shoot; Divina in her recognisable red wig and tiara, The Vivienne in a femme fatale-esque ensemble and Baga with bouffant blonde hair and "Queen" gold hoops.
Speaking to Grazia, Divina said she disliked the competitive nature of the show.
"You have to put yourself into positions that make you uncomfortable. It took me out of my box, completely," she said.
RuPauls Drag Race UK finalists star in glamorous photo shoot by fashion photographer Rankin
The Vivienne described the television series as "the Dragon's Den of drag queens", summarising the experience by saying: "You go in, you pitch what you're good at, then hopefully the world falls in love with you."
The drag queen added the UK version of RuPaul's Drag Race appears to be a "lot friendlier" than the original American show.
Baga said that her experience in the competition has made her "more professional" as a drag queen.
Earlier this month, it was announced that RuPaul's Drag Race UK will be returning for a second season.
The final of RuPaul's Drag Race UK is on Thursday at 8pm on BBC iPlayer. Grazia is on sale now.
Join our new commenting forum
Join thought-provoking conversations, follow other Independent readers and see their replies