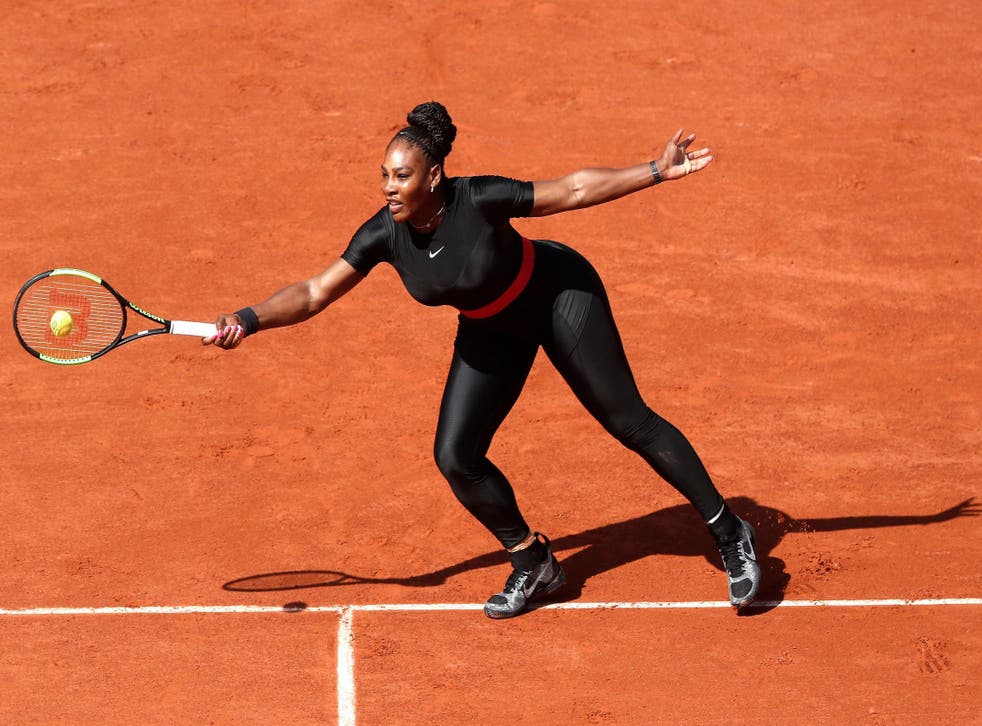 Serena Williams felt like a 'warrior princess' in French Open catsuit
'I feel like a superhero when I wear it'
When 23-time Grand Slam winner Serena Williams steps onto the tennis court, there's little doubt in anyone's mind that she's going to bring her 'A' game every single time.
Williams' sporting prowess wasn't the only thing that caught everyone's attention when she stormed to victory during the first round of this year's French Open, nearly nine months after giving birth.
Many people were overawed with the tennis star's choice of attire, as she chose to wear a sleek black catsuit on the clay court.
The catsuit, which was designed by Nike, made Williams feel like the "superhero" that she'd always dreamt of becoming.
"I feel like a warrior in it, like a warrior princess kind of, [a] queen from Wakanda," she said, referring to the fictional country from which Marvel superhero Black Panther hails.
"I'm always living in a fantasy world. I always wanted to be a superhero, and it's kind of my way of being a superhero.
"I feel like a superhero when I wear it."
While donning the catsuit may make Williams feel as though she could join the ranks of T'Challa and Shuri in Wakanda, she revealed in the press conference following her match with Kristyna Pliskova that it was actually designed prior to Black Panther's cinematic release.
She also stated that the outfit was very comfortable, although she hadn't tried it on in over a month before wearing it for the match.
This isn't the first time Williams has decided to wear a catsuit on the court, as she wore a shorter version during the 2002 US Open.
To mark her first tennis match back since giving birth to her daughter Alexis Olympia Ohanian Jr., the 36-year-old gave a shout-out to all her fellow mothers out there on social media.
"Catsuit anyone? For all the moms out there who had a tough recovery from pregnancy - here you go," she wrote.
"If I can do it, so can you. Love you all!!"
Many people on social media have praised Williams for championing mothers recovering from pregnancy and for continuing to inspire with her incredible sporting achievements.
"She's probably the closest thing to a superhero I've ever seen in real life," one person wrote on Twitter.
"You're a total rockstar," another expressed. "From one mama to another, thank you!"
Some dubbed Williams the "GOAT" - "Greatest Of All Time."
Last January, Williams obtained her 23rd Grand Slam title while pregnant at the Australian Open.
Register for free to continue reading
Registration is a free and easy way to support our truly independent journalism
By registering, you will also enjoy limited access to Premium articles, exclusive newsletters, commenting, and virtual events with our leading journalists
Already have an account? sign in
Register for free to continue reading
Registration is a free and easy way to support our truly independent journalism
By registering, you will also enjoy limited access to Premium articles, exclusive newsletters, commenting, and virtual events with our leading journalists
Already have an account? sign in
Join our new commenting forum
Join thought-provoking conversations, follow other Independent readers and see their replies