Sales shopping: Tips and tricks from the experts
Ignore the seduction tactics of the sales to avoid expensive mistakes. Stick to your plans, say the fashion experts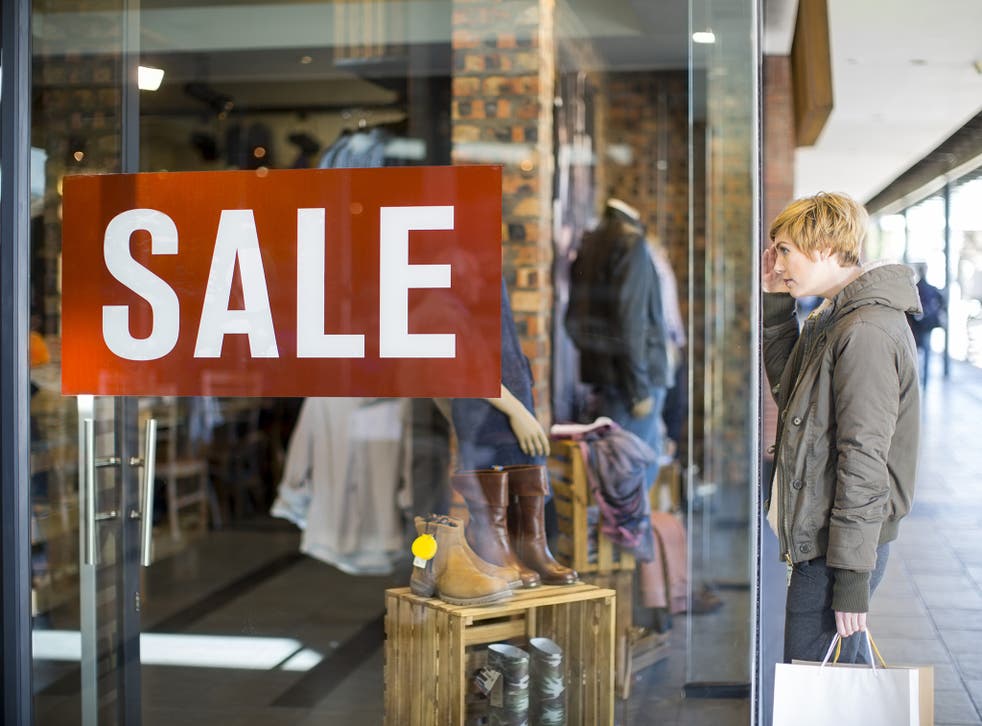 When is a bargain not a bargain? No, that's not a terrible joke that you'll find in your cracker on Christmas Day, but a question that bears repeating – silently – as you browse the sales.
That's an activity that many of us are indulging in already as the big Boxing Day kick-off has been usurped by the gradual introduction of smaller seasonal reductions.
But even those department stores that wait for Christmas to be over before slashing prices on a large scale will offer online discounts or in-store promotions to tempt the budget-conscious among us to open our purses.
Bargains to be bagged

Show all 15
The increasingly fervent popularity of Black Friday isn't solely to blame. Big brands are focusing on pre-collections more than ever, meaning retailers must find the space to showcase them.
But what do the top fashion buyers like to look for in the sales? Here's their guide to bagging a bargain.
ANITA BARR
GROUP BUYING DIRECTOR, HARVEY NICHOLS
Approaching sale shopping in a smart way means that you'll get the most out of your money, walk away with great clothes and avoid any post-purchase feelings of regret. It all begins with preparation – you need to know your current wardrobe inside out and create a list of what you wear often, what you don't have but would like, and the items you really don't need another version of.
Creating a list that you can refer to on the day will help keep you focused on the task in hand. Concentrate on staples that need replacing as well as classic pieces that won't date and quality fabrics that will stand the test of time. Beautifully cut dresses, trousers, blouses and jackets can be cleverly layered to take you from winter to spring.
If sticking solely to the classics feels a little too sensible, it's a good idea to update existing outfits for the trends that you like from the new season. This spring/summer, denim comes in all shapes and forms and it isn't going away any time soon.
NATALIE KINGHAM
BUYING DIRECTOR, MATCHESFASHION.COM
Bags are a timeless sale buy and will prove to be a good investment – Christopher Kane's buckle bag is a really special piece that will work well with the military influences seen on the catwalks for spring/summer, while the neutral tones mean that it won't look dated beyond that.
Another key trend that will be carrying over into next season is elevated denim pieces. These can be dressed up or worn with sneakers for more casual days, so are more wearable than you might think. Stella McCartney has some great polka-dot or studded versions, while flares are always flattering on the wearer.
The best strategy is to think about the timeless investment pieces that you can wear in lots of different ways. Mules are having a moment that will continue well into the new year. This green leather pair by Gianvito Rossi is ideal.
ERIN MULLANEY
FASHION AND BRAND DIRECTOR, AVENUE32.COM
I always find the best things in sale previews – the key is to get on the mailing list of your favourite boutiques and online stores so that you receive their early VIP preview email. I also have a few personal shoppers at my favourite stores, who will know what I've had my eye on all season.
The best tactic is to make a plan and stick to it. Never buy on a whim or impulse – those items tend to sit in your wardrobe unworn. And there's a reason why you might see the same product across several retailers with a 70 per cent discount: it means that it didn't sell well, be it an unflattering fit or bad fabric.
I try to stick to classics: in the winter I always buy a coat, some knitwear and some boots. I don't usually buy statement or show pieces in the sale because they'll have been worn by so many people in the industry. Although, classic handbags rarely get reduced so that's an area you can get a bit more playful with and get something you wouldn't pay full price for.
Register for free to continue reading
Registration is a free and easy way to support our truly independent journalism
By registering, you will also enjoy limited access to Premium articles, exclusive newsletters, commenting, and virtual events with our leading journalists
Already have an account? sign in
Register for free to continue reading
Registration is a free and easy way to support our truly independent journalism
By registering, you will also enjoy limited access to Premium articles, exclusive newsletters, commenting, and virtual events with our leading journalists
Already have an account? sign in
Join our new commenting forum
Join thought-provoking conversations, follow other Independent readers and see their replies