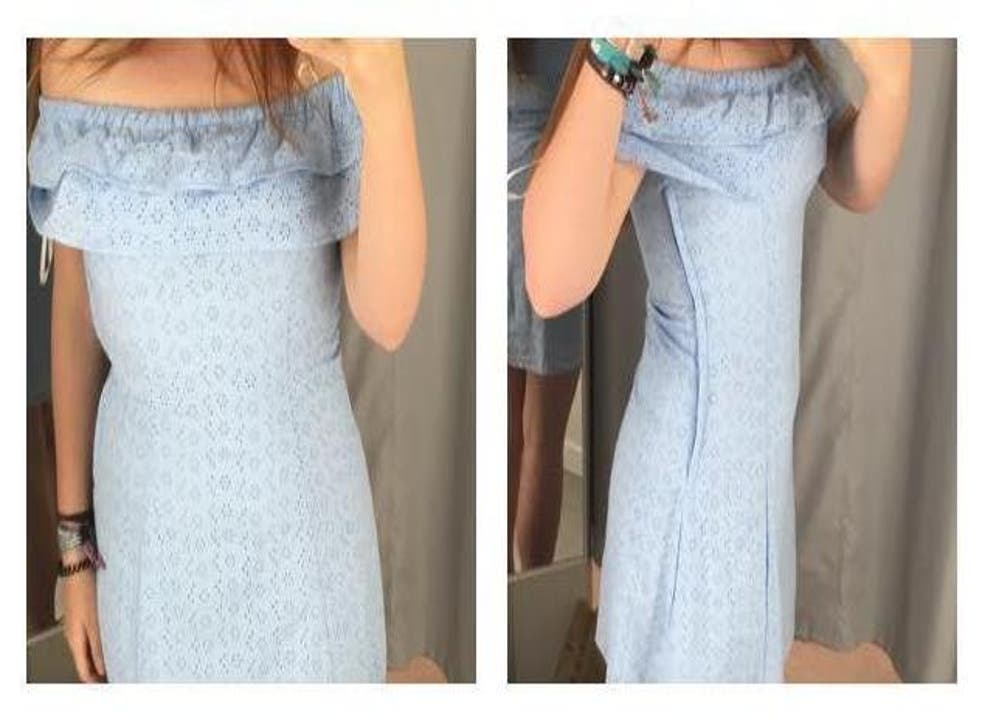 Size 12 woman calls on H&M to 'sort out their sizing' after squeezing into a size 16 dress
She's not the only one
Rachel Hosie
Wednesday 31 May 2017 09:19 Comments
Clothes shopping can be a nightmare - inconsistencies between brands mean half the time you have no idea what size you really are.
And one woman is now taking H&M to task for their clothing sizes.
22-year-old student Lowri Byrne from Swansea shared a post on H&M's Facebook page lamenting their tiny sizing:
"Please sort your sizes out because this is absolutely ridiculous!" she wrote, alongside pictures of her squeezed into one of their dresses
"I'm a size 12 and small busted and today in a H&M store I had to ask if this dress came in a size 18 (it didn't...). The dress I have on in these photos is a size 16, and I could barely breathe.
"Not only was this annoying because I wanted to buy this dress, but so many women take what size dress they buy to heart. If I was one of these girls (thankfully I'm not) requesting a size 18 dress would seriously devastate me!
"When I asked if this dress came in a 18 the store assistant said 'Ahh yeah you have to go up a couple of sizes with these'. A couple?!? Going up three to four sizes surely should make you realise that you need to seriously sort out sizing!!!"
And her post has certainly struck a chord with many other disgruntled H&M shoppers:
"I'm not joking when I say that a size 12 dress I bought from H&M fits my 5 year old Daughter!!! Doesn't fit me of course…" commented one woman.
"I'm a size 10 and have to buy 16/18s in H&M!" said another.
"I'm 'too fat' for this shop because of the sizing… It's ridiculous and a big problem for influential young girls… It could have awful effects to some girls' confidence," pointed out one person.
"I cannot buy H&M trousers for this very reason! When a 6/8 in topshop, I'd be lucky to get into a H&M 12! Safe to say the first time I experienced it, I left feeling very insecure, confused and disheartened," agreed another woman.
Many women complain that H&M sizing seems to be based on the bodies of teenage girls who are yet to finish developing and the clothes are much smaller than the majority of other high street brands.
Commenting on the matter, a spokesperson for the brand said: "H&M hugely values all customer feedback. It is only ever our intention to design and make clothes that make our customers feel good about themselves, any other outcome is neither intended nor desired.
"H&M's sizes are global and the sizes offered in the UK are the same in all the 66 markets in which we operate in and online. As there is no global mandatory sizing standard, sizes will differ between brands and different markets.
"Our dedicated, in-house sizing department works according to an average of the sizes and measurements suggested by the markets we operate in. H&M sizes are continually reviewed by our in-house sizing department."
Register for free to continue reading
Registration is a free and easy way to support our truly independent journalism
By registering, you will also enjoy limited access to Premium articles, exclusive newsletters, commenting, and virtual events with our leading journalists
Already have an account? sign in
Join our new commenting forum
Join thought-provoking conversations, follow other Independent readers and see their replies