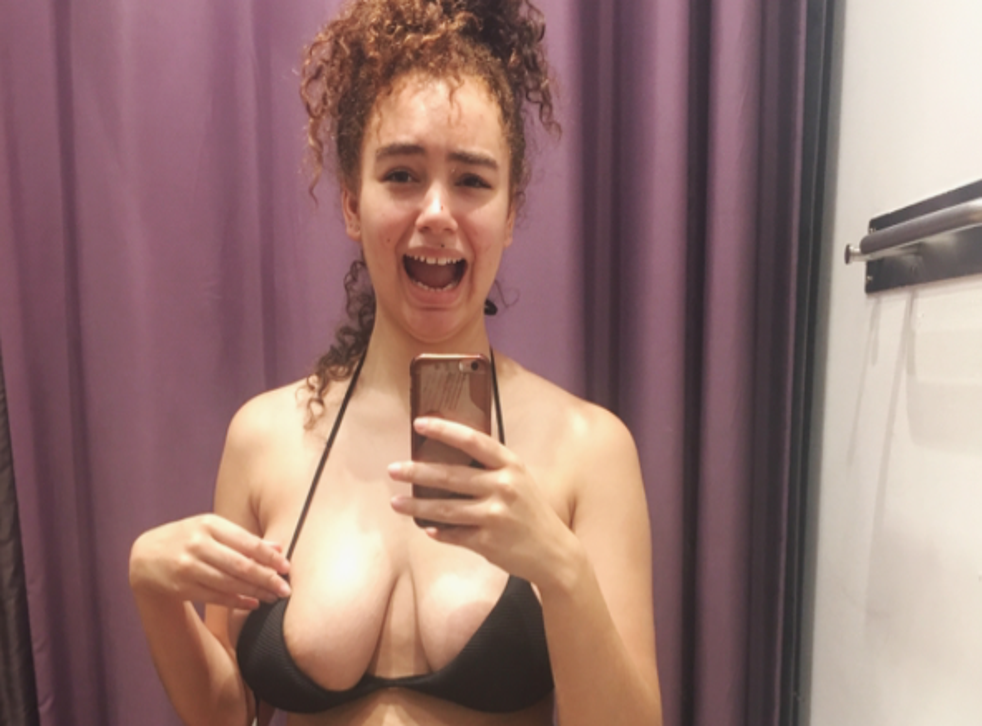 Size 14 model exposes the struggle of bikini shopping for plus-size women
A model has called out high-street stores for the lack of swimwear options available for plus-size women, in an Instagram post that went viral.
Bikini shopping can be a daunting task for many of us – think unflattering changing room mirrors, harsh lighting and the battle with that sticky plastic strip in the bottoms – but, when you're plus size it's even more difficult.
Sonny Turner, a 19-year-old model from London knows the struggle of bikini shopping all too well and has taken to the photo-sharing app to launch a scathing attack on stores that don't cater for women of her body type.
Sharing a trio of images of her trying on a black bikini set in the changing room, Turner, who is originally from the Midlands, penned a convincing rant to demonstrate her point.
"High street store bikinis do not cater for women of my body type. Majority of online stores don't either. NO ONE GETS IT," she vented.
The model who wears a 36DD cup and goes on to explain that the largest size available in store that day was a size 12-14.
In a rage, she even included a list of tips for emerging designers on what plus-size women need from a bikini including, "'bottoms that don't give us wedgies" and "cups that actually cover more than our nipple."
"It's not fair that we can't wear cute swimwear just because we are built differently," Turner concluded.
"We deserve to walk into a store and pay £10 for a nice bikini without breaking the bank and our body confidence. #everyBODYisbeautiful bottom line is: MAKE CLOTHES FOR ALL SIZE & BODIES."
The post clearly struck a chord with women who have shared similar experiences as the post quickly accrued more than 15,000 likes in just two days.
"This resonates with me so so so much. Thank you for sharing and saying what everyone needs to hear ," one woman wrote.
A mother-of-three agreed adding that she felt "devastated" at mot being able to find swimwear that fits her "huge butt and tiny waist."
While there is still a significant gap between the need for realistic swimwear and the products that retailers actually provide, some brands are making waves in the industry.
Take Neon Moon for instance, a clothing brand that hopes to do away with the stress of sizing definitions by selling it's lingerie using terms like Lovely, Gorgeous, Beautiful and Stunning instead of numbers.
Join our new commenting forum
Join thought-provoking conversations, follow other Independent readers and see their replies