The Independent's journalism is supported by our readers. When you purchase through links on our site, we may earn commission.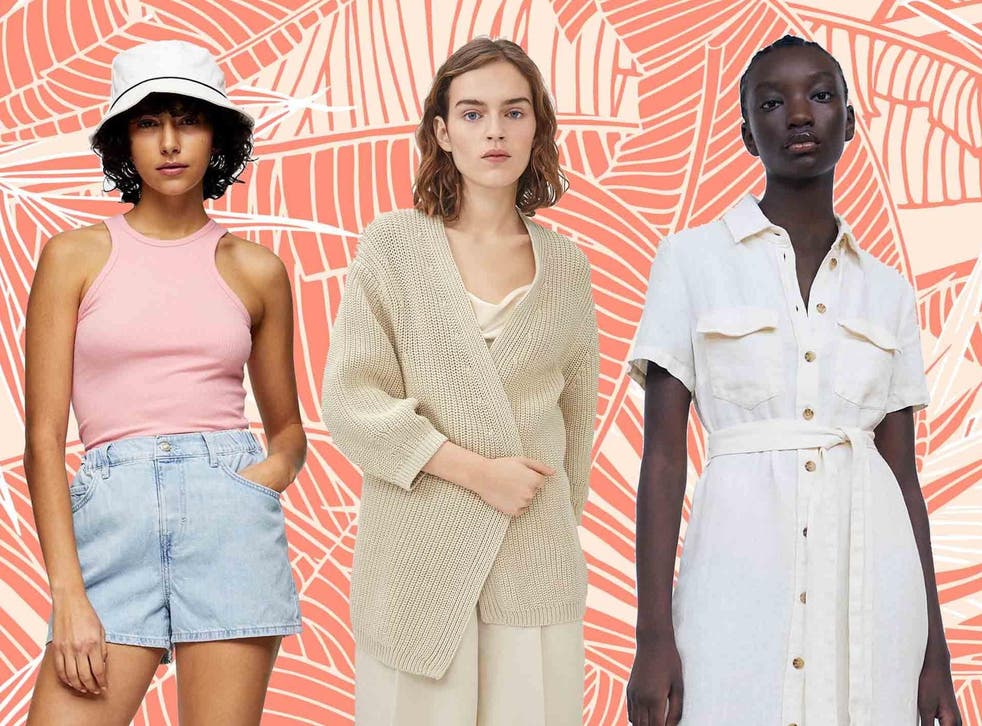 Staycation wardrobe: The fashion pieces to pack, whether you're heading to the seaside or escaping to the country
As many of us swap travelling abroad for trips to the British coast and countryside, our holiday packing lists are going to look a little different
It might feel as though you're the only one that didn't get the memo to plan a last-minute trip to Italy this summer, with 99 per cent of the people you follow currently soaking up the sun overseas.
But when it comes to holidays in 2020, the global travel restrictions that are currently being enforced due to Covid-19 are encouraging more of us to look a little closer to home.
So, instead of sitting around stewing in your FOMO (fear of missing out), why not make like a tourist right here in good old Blighty instead.
Sunny weather and blue skies have made more of a frequent appearance of late but don't let that fool you. Trips to the coast and UK staycations mean unpredictable weather, so a versatile wardrobe is essential.
Emily Sanchez, a fashion stylist who has worked with actors such as Laura Linney and Naomi Watts, explains that while you might not be going far this year, you are still going on holiday, so remember to have fun with your style but pack a raincoat, just in case.
"Given that we've been in lockdown and mostly staying home for most of the year it's the perfect time to show off pieces you've purchased and haven't had occasion to wear," she says. "It's a great time to ditch the sweatpants and pick neglected favourites from your closet or splurge on something special that may be impractical for the new work from home normal. It's about making it a bit fun and special for yourself despite being mere miles from home."
So, whether you're head to the shores, booking a remote cottage, going hiking or staying at a luxury spa for a much-needed change of scenery, here is what you need to pack to nail staycation style.
Oh we do like to be beside the seaside
It might not be quite as idyllic as the glistening waters of Santorini but there's nothing quite like being at the British seaside, from the feeling of the sand between your toes and the salty air to the shrieking of ravenous seagulls vying for your fish and chips.
When it comes to finding stylish outfits you can wear to the beach, the bar and the arcades, Aimee Croysdill, a fashion stylist who has worked with the likes of Michaela Coel and Natalie Dormer, recommends investing in boxy Scandinavian shapes made from easy, breezy linen, like this shirt from Zara.
"Check out Curate and Rotate on Instagram," she says, explaining that they sell second-hand clothes by "the coolest designers", which makes 100 per cent linen pieces more affordable and sustainably savvy.
If you fancy a dip in the water, make sure you pack some swimwear too. For flattering pieces, look to LA-based label Cult Gaia, which has been a favourite among fashion editors since it launched in 2012, thanks to its understated designs. Pair the brand's burnt orange cut-out one piece with a straw hat and cat-eye sunglasses for a timeless vacation look.
Stylish city slicker
Whether you're exploring the history-soaked sights of Edinburgh or Manchester's culinary hotspots, packing for a city break requires a mixture of practical and stylish clothing.
If you want to turn heads while avoiding any sartorial faux pas - or worse, blisters – Croysdill recommends wearing a loose-fitting poplin shirt or heavy weight cotton t-shirt with tailored trousers and some chunky slides for an outfit that sits somewhere in the worlds of Phoebe Philo and The Row. "Arket is a one stop shop to create this look on the high street," she says.
For nights on the town or fancy feasts, Sanchez says it's also a good idea to pack a dress in an elegant dress in a mood boosting print. Bali-based label Faithfull The Brand has quickly become a favourite with fashion insiders thanks to the versatility of its effortlessly romantic floral dresses that are hand-dyed, printed and made by local artisans.
Try pairing its colourful Cosima Shirred Mini Dress with kitten heels, gold jewellery and a raffia mini bag for a look that is sure to make you stand out from the crowd.
The great outdoors
If you're looking to escape to the UK's glistening lakes and breathtaking mountains this summer, you'll probably think a pair of old wellies and a waxed jacket are your only options.
But, there are indeed a host of other rural-appropriate ensembles you can wear for long walks and pit stops at the pub.
If the thought of spending a week doing nothing sends you, quite literally, running for the hills the good news is that hiking boots are now considered a fully-fledged fashion trend – as long as they're the Grenson Nanettes that is. Finished with a utility-style jacket and a slogan tee, this makes for the ultimate walking ensemble.
If a slower pace of life is more your thing, embrace the rustic countryside scenes with a prairie-style dress with puffed sleeves, like this one from sustainable clothing label O'Pioneers. Alternatively, if the weather is cooler, Croysdill suggest packing a pair of light wash jeans with an oversized T-shirt and a Ganni bucket hat.
Indulge in self-care at the spa
With spas given the green light to reopen their doors, spa hotel staycations are finally back on the travel agenda. But, while a long weekend in a Jacuzzi might sound like the epitome of relaxation, it can be tricky to retain your style credentials when most of your time is spent wearing a complimentary fluffy robe.
Between the hot-stone treatments and head massages, Sanchez recommends investing in clothes are comfortable and cosy. "Think luxe thin knits, pyjama dressing, and silky, breezy dresses," she says, adding that wearing lots of neutral colours will make you feel right at home for relaxing at the spa. When you're ready to get dressed after a long day of relaxation, we suggest slipping into a lightweight satin dress like this one from Max Mara and throwing a chunky cardigan over your shoulders for dining al fresco.
As most spas offer full use of the pool facilities, swimwear is an obvious necessity. A stylish bikini and a pair of slip-on sandals like Cos' leather strap versions are all you need for floating from the sauna to the pool lounger in style.
Our fashion roundups are unbiased. On some occasions, we may earn revenue if you click the links and buy the products, but we never allow this to affect our coverage.
Register for free to continue reading
Registration is a free and easy way to support our truly independent journalism
By registering, you will also enjoy limited access to Premium articles, exclusive newsletters, commenting, and virtual events with our leading journalists
Already have an account? sign in
Register for free to continue reading
Registration is a free and easy way to support our truly independent journalism
By registering, you will also enjoy limited access to Premium articles, exclusive newsletters, commenting, and virtual events with our leading journalists
Already have an account? sign in
Join our new commenting forum
Join thought-provoking conversations, follow other Independent readers and see their replies