Style File: Adidas Originals' Stan Smith trainers are back!

Show all 4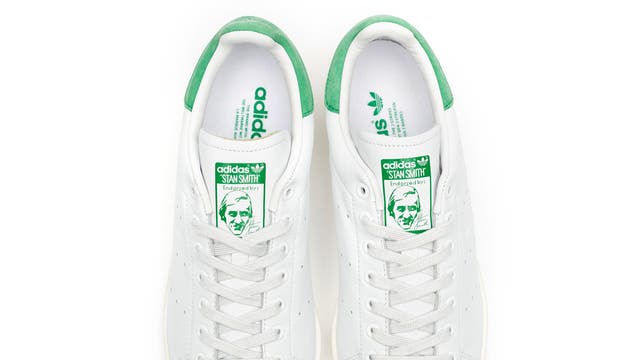 Style File: Adidas Originals' Stan Smith trainers are back!
Sneakerheads rejoice - Adidas Originals' much-loved Stan Smith trainers have been reissued, says Rebecca Gonsalves
While tennis whites and the preppy, affluent lifestyle associated with the game continue to provide fertile ground for fashion designers, the former stars of the game have no small impact on the world of apparel.
Take René Lacoste or Fred Perry, for example, whose polo shirts have been adopted and expanded to create vast empires. Stan Smith is another such player. The former Wimbledon champ first endorsed a pair of Adidas trainers in 1971, and since then, the shoes that bear his name have found favour with sub-cultures and sneakerheads the world over.
Today sees the much-anticipated re-launch of the Stan Smith, a shoe on which Adidas' familiar three-stripe branding is muted to rows of perforations in the white leather. For his part, Smith can only guess at the reasons the shoe has such a diverse fan base. "I don't know why it's so popular with some sub-cultures – you'd think they'd want to have something a little more jazzy," he says on a recent visit to London. Maybe it's because they're a blank canvas – you can wear them with anything. I think it's their simplicity that has the attraction."
Smith may have had a long and fruitful relationship with Adidas, but his signature was not the first to appear on the shoes.
That honour went to Robert Haillet, the French international from whom Smith took over. "I was in the right place at the right time. I just wanted to wear and play with the most hi-tech equipment, and believe it or not, this was the most hi-tech shoe at the time. It's ironic, in a way, that now it's about as low-tech as you can get." says Smith.
At the time of his initial endorsement of the shoe, Smith had no idea that it would be a contract that spanned decades but has no plans to pass on the baton: "I thought it might be a five-year relationship. I feel a pretty strong relationship to it, so it would feel weird to me to have a different name on it – it might feel weird to other people, too."
Register for free to continue reading
Registration is a free and easy way to support our truly independent journalism
By registering, you will also enjoy limited access to Premium articles, exclusive newsletters, commenting, and virtual events with our leading journalists
Already have an account? sign in
Register for free to continue reading
Registration is a free and easy way to support our truly independent journalism
By registering, you will also enjoy limited access to Premium articles, exclusive newsletters, commenting, and virtual events with our leading journalists
Already have an account? sign in
Join our new commenting forum
Join thought-provoking conversations, follow other Independent readers and see their replies