Sustainable beauty resolutions: 5 ways to overhaul your routine for 2020, from face wipes to cotton buds
Sarah Young on how to become a more conscientious beauty consumer this year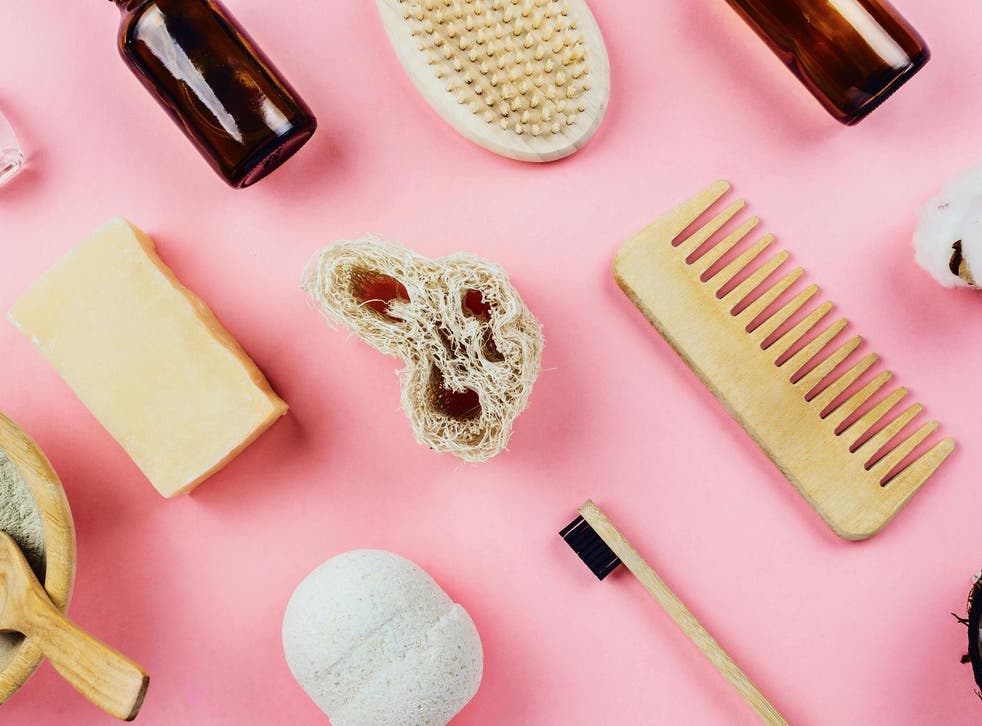 A
s consumers become increasingly aware of the pollution and waste caused by single-use products, items such as plastic straws, water bottles and disposable coffee cups have become maligned. But what about our beauty routines?
A quick glance in your bathroom cabinet or make-up bag is sure to throw up a whole host of products, which are single-use, packaged in plastic, and just as likely to end up in landfill.
It is estimated that there is more than 150 million tonnes of plastic waste polluting the world's oceans with an additional 13 million tonnes being dumped each year.
Scientists estimate by 2050 there could be more plastic, by weight, than fish in our seas.
Ways to reduce your single-use plastic

Show all 6
The government is taking steps to improve this: a manufacturing ban on microbeads – tiny balls of plastic used in body scrubs, toothpaste and facial exfoliators – was introduced in 2018. But there is more to do.
So how can you make your beauty routine more sustainable in 2020? The Independent rounds up five simple beauty resolutions you can make this year to help you become a more conscientious consumer.
Ditch cotton pads and face wipes for reusable and biodegradable versions
Removing your make-up is arguably one of the most time-consuming and, let's face it, annoying parts of a beauty routine.
When you get home from a long day at work or a heavy night out, the last thing you want to do is perform a full-on skincare routine. In this scenario, many of us turn to face wipes, which boast the ability to remove make-up and partially cleanse our faces in seconds.
But while they might be insanely convenient, the damage face wipes are inflicting on the environment is vast.
According to research group Mintel, 43 per cent of women in the UK regularly use face wipes, which take years to breakdown in landfills due to their composition of virtually indestructible materials such as polyester, polypropylene, cotton, wood pulp, or rayon fibres.
Earlier this year, a report by Water UK – the membership body for water providers – also found that wet wipes (including baby wipes) are behind 93 per cent of blockages in UK sewers with 9.3 million of them being flushed down toilets every single day.
While the problem has prompted campaign groups to lobby wipe manufacturers to include a logo on packets reminding people never to flush any kind of wipes, there are alternatives you can use that are less damaging to the environment.
If you can't bear to part ways with a wipe, or need a quick fix for emergency situations, a number of brands now offer biodegradable and reusable alternatives that mean you can remove your make-up conveniently and with a conscience.
Wipes from brands such as Lancer, RMS, Botanics, Simple and Yes To are made from bio-cellulose fabrics, meaning they break down in months rather than years and don't contain any nasty pesticides.
Alternatively, reusable and washable make-up remover pads are now also widely available.
While cotton rounds can work wonders for your make-up routine, environmentally speaking, they are a disaster.
As well as being non-recyclable and non-degradable, it takes a huge volume of water to produce each single-use cotton pad, which, unless it's made from organic cotton, is also grown with pesticides that damage the surrounding environment.
The solution is to invest in reusable versions made from soft bamboo, organic cotton or high-quality microfibre. The Face Halo, for example, is a dual-sided make-up remover that only requires water, is reusable up to 200 wash cycles and replaces the need for up to 500 make-up wipes.
Swap aerosols for natural stick deodorants
Whether you prefer to spritz your armpits with an aerosol or a keep them sweet with a roll-on, it is fair to assume that the majority of us use deodorant every day.
But just how damaging is the packaging used to contain these products that help keep us smelling fresh?
Typically, roll-on deodorants are packaged in two layers of plastic, meaning they are notoriously difficult to recycle.
Considering plastic can take 450 years to biodegrade, and with millions of people using roll-ons every day, the amount of plastic ending up in landfill from roll-ons alone is colossal.
In the same way, the UK uses around 600 million aerosols each year, equivalent to about 10 cans per person.
While the good news is that aerosols are recyclable, the compressed gases that are used in them have a harmful impact on CO2 emissions.
According to a recent study by beauty manufacturer Unilever, if 1 million people switched their regular aerosol for a newer, compressed aerosol, 696 tonnes of CO2, and enough aluminium to make 20,000 bikes, could be saved.
So, what should you be using instead? Natural deodorants, which come with little or no packaging, are a great alternative as they help to keep odour at bay and have minimal impact on the world around us.
Their naturally self-preserving, aluminium-free formulas also mean you can be confident that the ingredients inside them will be kind to your body as well as to the environment.
Nowadays, there's a crop of natural versions hitting the shelves and, surprisingly, they're from some of the biggest names in the beauty business, including Malin + Goetz, Aesop, Cowshed, L'Occitane and Neal's Yard.
Investing in a natural deodorant also offers an opportunity to explore a range of different formulas, from powders and creams to liquid pumps and crystal sticks.
Refill, recycle and invest in naked products
According to research carried out by Garnier and TerraCycle, only 50 per cent of bathroom packaging is recycled, compared to 90 per cent of kitchen packaging.
And, given that the global cosmetics industry produces 120 billion units of packaging every year, that's a lot of waste. ​
Luckily, there is some progress being made in the beauty world. Lush, for example, has massively expanded its 'Naked' packaging-free selection of products, which now makes up 50 per cent of the core range, including shower gels, moisturising bars and wax-covered lipstick refills that slot into reusable cases.
Between 2015 and 2016, the introduction of Lush's naked shampoo bars meant that more than 15 million plastic bottles were never created. They're also much more budget-friendly, with one bar lasting up to 80 washes, meaning it has the potential to outlive up to three regular bottles of shampoo.
A host of other brands are cropping up in response to growing demand for less packaging, with companies such as L'Occitane and Rituals offering refill schemes and brands such as Origins, & Other Stories and MAC Cosmetics offering a reward system when customers return their empty plastic bottles.
Swap plastic cotton buds for bamboo versions
In England alone, it is estimated that we use 1.8 billion plastic-stemmed cotton buds every year, according to government figures.
What's more, an estimated 10 per cent of these cotton buds are flushed down toilets.
Plastic cotton buds are just one of the thousands of sanitary products being improperly disposed of that has resulted in the pollution of waterways and the marine environment, but the difference here is that they also pose a threat to wildlife.
According to the Cotton Bud Project, between 2015 and 2018, cotton buds were in the top 10 items found during the Marine Conservation Society's Great British Beach Clean. During 2018, 21 cotton buds were found for every 100 metres of UK beach surveyed.
A cotton bud's long, thin shape can pierce the internal organs of marine animals that may accidentally ingest them, and plastic stems regularly turn up in the stomachs of seabirds.
While it should go without saying not to flush cotton buds, you also have the option to replace your plastic versions entirely with those with stems made of bamboo, such as Hydrophil's.
Whereas plastic cotton swabs are discarded after seconds of use but live on for years as a pollutant, these versions can simply be thrown in your organic waste or compost bin. What's more, they also come in recycled cardboard packaging, further reducing plastic waste.
In May 2019, the environment secretary Michael Gove confirmed that cotton buds with plastic stems are to be banned in England from April 2020 after an open consultation revealed "overwhelming" public support for the move.
Boycott brands that use too much plastic
As the beauty industry continues to grapple with a plastics problem, many companies have started working towards creating products that include more sustainable packing and ingredients.
However, some are doing better than others.
Of course, what constitutes improvement is an area of contention, but whether it's using biodegradable packaging or harvesting ingredients in a way that's kinder to the environment, there are plenty of brands that are shaking things up.
According to Mintel's Natural, Organic and Ethical Toiletries report, more than 60 per cent of consumers said they would stop using a brand if they found it to have "unethical practices".
Similarly, protecting the environment, recyclable packaging and animal welfare were all listed as top issues by consumers, while 43 per cent of those surveyed said they would consider a brand's stance before buying for the first time.
But, which brands are really making a difference?
As well as the brands this article has already touched upon, consumers can be shop sustainably at a host of make-up and skincare companies, including Disciple, which sells products in glass bottles and uses sustainably sourced essential oils, BYBI Beauty, which uses packaging made from biodegradable sugar cane or glass and sells products that are 100 per cent natural, vegan and cruelty-free, and BECo, which sells biodegradable bar-soap boxes, bottles made from recycled materials and products using cruelty-free and vegan ingredients.
Join our new commenting forum
Join thought-provoking conversations, follow other Independent readers and see their replies