The Independent's journalism is supported by our readers. When you purchase through links on our site, we may earn commission.
FASHION FEATURES
How the humble grandad sweater vest became autumn's most coveted knitwear trend
What was once the uniform of stuffy geography teachers is now enjoying a moment in the style spotlight, says Sarah Young
Friday 16 October 2020 16:53 Comments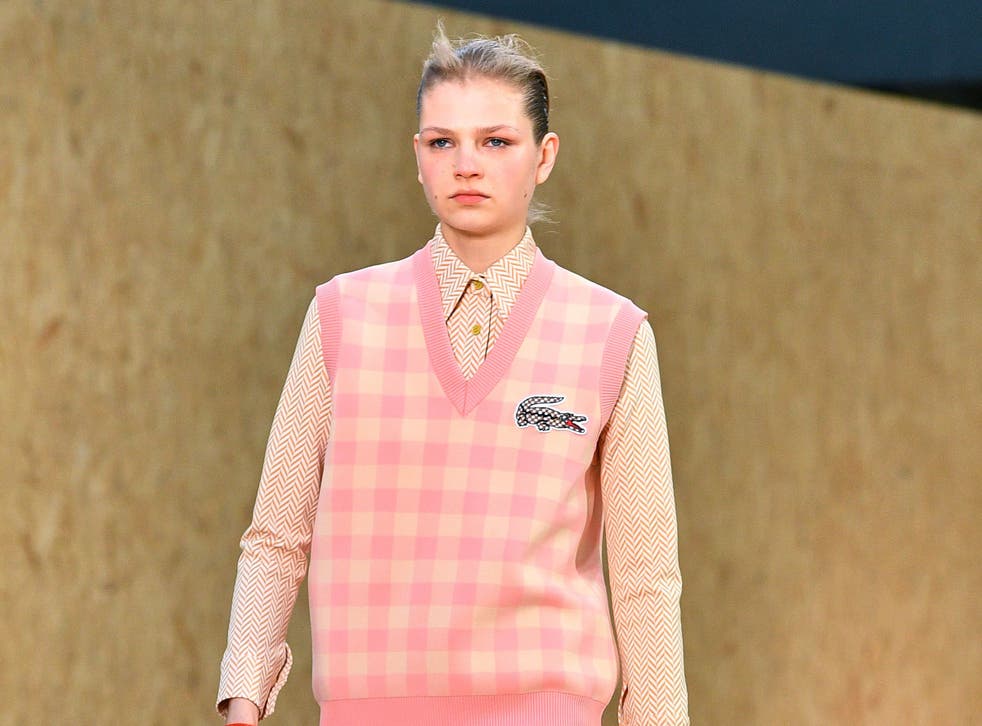 Orthopaedic sandals, baggy jeans and dad trainers are all pieces that the style set would have once considered to be fashion kryptonite, but these days being able to pull off wearing something previously dismissed as heinous like a pair of Crocs with socks is proof of your fashion credentials. 
And now, street stylers and celebrities alike are introducing another garment to the line-up of ironic fashion trends and we might just have hit peak "ugly".
We are, of course, talking about the sweater vest. Sleeveless, typically worn over starchy shirts and often made in a pattern that resembles a 1980s bus seat, sweater vests were at one time considered to be more fuddy-duddy than fashionable.
The garment was first popularised in the 1930s when it was worn for sport, before fading in and out of fashion throughout the 1960s and 70s, during which time it gained intermittent popularity among virtuous bands such as the Osmonds and on TV shows like British sitcom The Good Life.
After this, the sweater vest's credentials became confused as it was adopted by those at either end of the style spectrum: the nerds and the fashion trailblazers, all the way from The Fresh Prince's Carlton Banks to Mick Jagger, Cher Horowitz in Clueless and of course, ultimate sweater vest aficionado, Chandler Bing in Friends.
But, there-in lies its appeal – the sweater vest is all about contradictions. It shouldn't make sense to chop the sleeves off a perfectly good jumper, but doing so helps keep the body warm while leaving the arms free. And, just as much as it has been used by the "ensembly challenged" it has also enjoyed its moments in the style spotlight.
Unsurprisingly, fashion maverick Harry Styles has several in his collection, regularly pairing them with 70s-inspired flared slacks and stripy collared shirts for a look that feels simultaneously retro and modern, as does supermodel Bella Hadid and Normal People's Daisy Edgar-Jones.
The sweater vest has also become the item of choice among street style stars and was spotted on the runways of Dior, Prada, Louis Vuitton and Lacoste during the autumn/winter 2020 season.
Elsewhere, cult brands such as Ganni and The Frankie Shop have tapped into the trend with sell-out cable-knit styles and, according to global fashion search platform Lyst, searches for sweater vests have increased by 133 per cent since the beginning of August, with Acne's beige ribbed version and Maison Margiela's brown mixed wool vest among the most sought after designs.
Need further proof of its popularity? If there's ever a sign that a trend is on the rise, it's when it turns up on TikTok. In recent weeks, the video sharing platform has been inundated with glowing endorsements from TikTok teens, who have been creating videos showing us how to style the trend with oversized shirts and tiny tennis skirts.
So, why are sweater vests proving so popular right now?
The fashion crowd love nothing more than subverting expectations and that ideology is exactly what sparked the current obsession with all things ugly. From baseball caps to Uggs and Birkenstocks, comfortable and often questionable fashion choices are now the calling card of trendsetters thanks to brands like Vetements, Balenciaga and Gucci who have all endorsed the message that it's actually pretty cool to be uncool.
Like many of fashion's recent trends, including the bum bag and tie dye, the rising popularity of the sweater vest has also been attributed to a need for nostalgia. Perhaps wearing a sleeveless pullover, with all its warm, cosy and wholesome goodness, makes total sartorial sense for where we all are right now.
If you're considering adding one to your autumn arsenal, there are plenty of authentic versions to be found in vintage shops or online marketplaces like Depop. 
Those with a penchant for prints should look to Ganni's leopard print version or Dries Van Noten's geometric style, which would both look just as good layered over a classic shirt and jeans as they would over a clashing printed midi dress.  
Alternatively, if you prefer a more muted styles, high street stores such as Cos and Arket have plenty to offer. Elsewhere, Monki's yellow version is great for anyone looking to pay homage to preppy wardrobes, while Mango's turtleneck design is ideal for those who want an extra dose of cosiness.
What was once considered the uniform of geography teachers and library loiters the world over, sweater vests are no longer synonymous with the stereotypically uncool.
Register for free to continue reading
Registration is a free and easy way to support our truly independent journalism
By registering, you will also enjoy limited access to Premium articles, exclusive newsletters, commenting, and virtual events with our leading journalists
Already have an account? sign in
Join our new commenting forum
Join thought-provoking conversations, follow other Independent readers and see their replies