Tailor-made for all pockets

Show all 5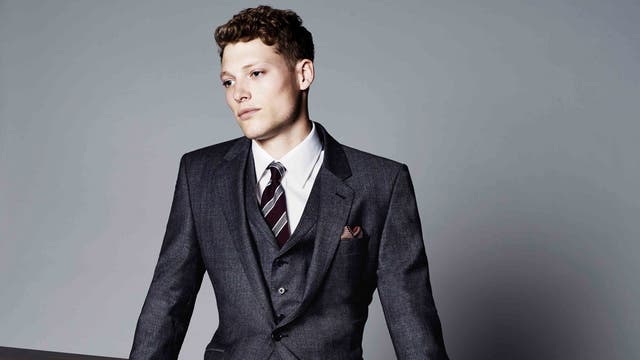 Tailor-made for all pockets
Patrick Grant-meets-Debenhams is a fashion love story. By Lee Holmes
Lee Holmes
Sunday 25 August 2013 20:47 Comments
It is a fact of life that, discounting a lottery win, designer shopping is more a fantasy than reality for most of us. But all is not lost when it comes to buying into the designer lifestyle – thanks in no small part to high-street store Debenhams, which, way back when in 1993, launched its Designers at Debenhams collections. The likes of Ben de Lisi and Pearce Fionda were the Nineties boldface catwalk stars enlisted by the label to zhuzh up its womenswear offering. The tradition continues today with designers such as Marios Schwab and Jonathan Saunders; indeed, the store's customers have been able to buy affordable togs injected with designers' DNA for two decades.
So successful have these collaborations become that Debenhams now has real fashion clout when it comes to dressing the nation, which only continues to grow. This September sees the launch of its first menswear collection in more than a decade.
Enter stage right Mr Patrick Grant of E Tautz, Norton & Sons and Great British Sewing Bee fame, who in partnership with the store has reimagined the 18th-century brand Hammond & Co for contemporary chaps. Grant is an expert tailor so, as is to be expected, suiting is key. If your quest is to find a well-tailored double-breasted suit that won't break the bank, you'll find it here at a very reasonable £299.
And while the collection is strong on Savile Row-inspired pieces, it doesn't disappoint when it comes to coats and knitwear, both of an impeccable standard. The accessories aren't bad, either: footwear aficionados can stock up on monk straps and loafers.
Hammond & Co heralds exciting times for both the designer and the store. For Grant, it allows him to showcase his not-inconsiderable talent at affordable prices at last, while for Debenhams, aligning with Grant is a sure-fire way of getting fashion-savvy gentlemen into the store, and spending.
Lottery ticket optional.
From £20 for a tie, all Hammond & Co by Patrick Grant, from selected Debenhams stores, debenhams.com
Register for free to continue reading
Registration is a free and easy way to support our truly independent journalism
By registering, you will also enjoy limited access to Premium articles, exclusive newsletters, commenting, and virtual events with our leading journalists
Already have an account? sign in
Join our new commenting forum
Join thought-provoking conversations, follow other Independent readers and see their replies