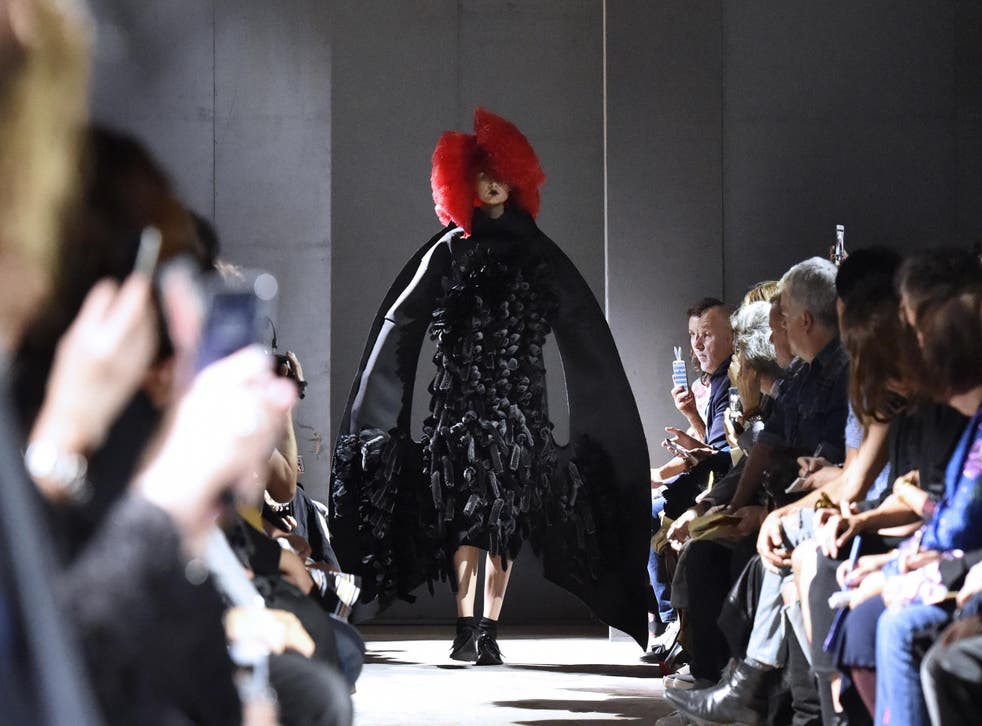 The Witching Hour: from Comme des Garçons to Marc Jacobs, fashion's unseasonable fascination with dark magics
This spring, there's nothing chicer than a coven, apparently. The witch is it, say Alexander Fury. But it's not all about the black arts (or even black clothes).
Alexander Fury
London Comments
There's something a bit witchy going on, across culture as a whole and in fashion in particular. There's a reboot of The Craft on the cards, for one; another film release, a Puritan nightmare (the director Robert Eggers' words, not mine) titled The Witch, is making waves across both sides of the Atlantic; while in New York a Broadway revival of Arthur Miller's The Crucible, starring Saoirse Ronan and Ben Whishaw, has garnered rave reviews.
In fashion, the feeling is arguably even stronger. Of course, that could be the all-black garb traditionally ascribed to the fashion flock. "We were once described as 'black crows' - us fashion folk," commented International Vogue editor (and former fashion editor of the Independent) Suzy Menkes, of the habitual shrouds of Yohji Yamamoto and Comme des Garçons sported by the fashion press throughout the eighties and nineties. Even today, a good majority of the audience at the international shows spend their days watching colourful garments pass by, while trussed in dark duds. It's easy to wear; it travels well; it generally looks good.
This season, however, the witchy-poo stuff is more pronounced. The always-reticent Rei Kawakubo described her spring/summer 2016 Comme des Garçons show, simply, as "blue witches," after she'd sent out perambulating inky masses of fabric shaped like Rorschach test blots in ruffled blue velvet. They were the most extreme manifestations of the feeling, and will be worn by very few, due to the simple fact that they are the size and rough weight of a two-seater sofa. If you're that way inclined, you can marvel at their bulbous surfaces at the new Dover Street Market outpost in London's Haymarket. Extreme they undoubtedly are, but where Kawakubo leads, others follow. Marc Jacobs showed a collection in a palette of blacks, greys and violets for winter, his models smeared with proto-Goth make-up (which is, of course, short-hand for witch). Rodarte's Kate and Laura Mulleavy dressed their models in slick, chic but raggedy collages of semi-sheer black and painstaking embroidery – chic witches, but still recognisable. And Thom Browne showed twisted, topsy-turvy styles that evoked The Wizard Of Oz – right before a house drops on you, say? Although maybe that's pushing the coven theme.
The Coven: the rise of the fashion witch for 2016

Show all 6
It's not all catwalk concepts. A witch could be lurking in your wardrobe right now, without you even realising. The most fashionable shoe? A pancake-flat, sharply-pointed pump straight out of a Grimm fairytale, in shades of black or poison apple red. The most stylish bag? A bucket-like shape, with top handle, that resembles a mini-cauldron of the type children haul Halloween sweets in. We're falling shy of the trademark pointed cap or fluttering cape being declared the dernier cri – but the witch, right now, is scratching a collective cultural itch. Even Marc Jacobs has printed a t-shirt with a pair of ruby-encrusted slippers. And remember, the witch had those way before Dorothy.
What's the appeal? Well, the witch is an alpha female, one of those designers so frequently fall in love with. Many hypothesise that the witches condemned in scenes like those Miller conjured in his Crucible were merely free-spirited free-thinkers, non-conformists who refused to kowtow to demands of religion or society. There's a great appeal for designers there, in these misunderstood, much-maligned women who nevertheless have an intrinsic sense of power. Half the women idolised by designers and wheeled out as biannual inspiration clichés – Marlene Dietrich, the Marchesa Casati, Sarah Bernhardt – would easily have been condemned in earlier centuries. Besides, given the current economic landscape, it'll take some kind of magic to convince us all to invest in a new round of clothes right now.
Register for free to continue reading
Registration is a free and easy way to support our truly independent journalism
By registering, you will also enjoy limited access to Premium articles, exclusive newsletters, commenting, and virtual events with our leading journalists
Already have an account? sign in
Join our new commenting forum
Join thought-provoking conversations, follow other Independent readers and see their replies